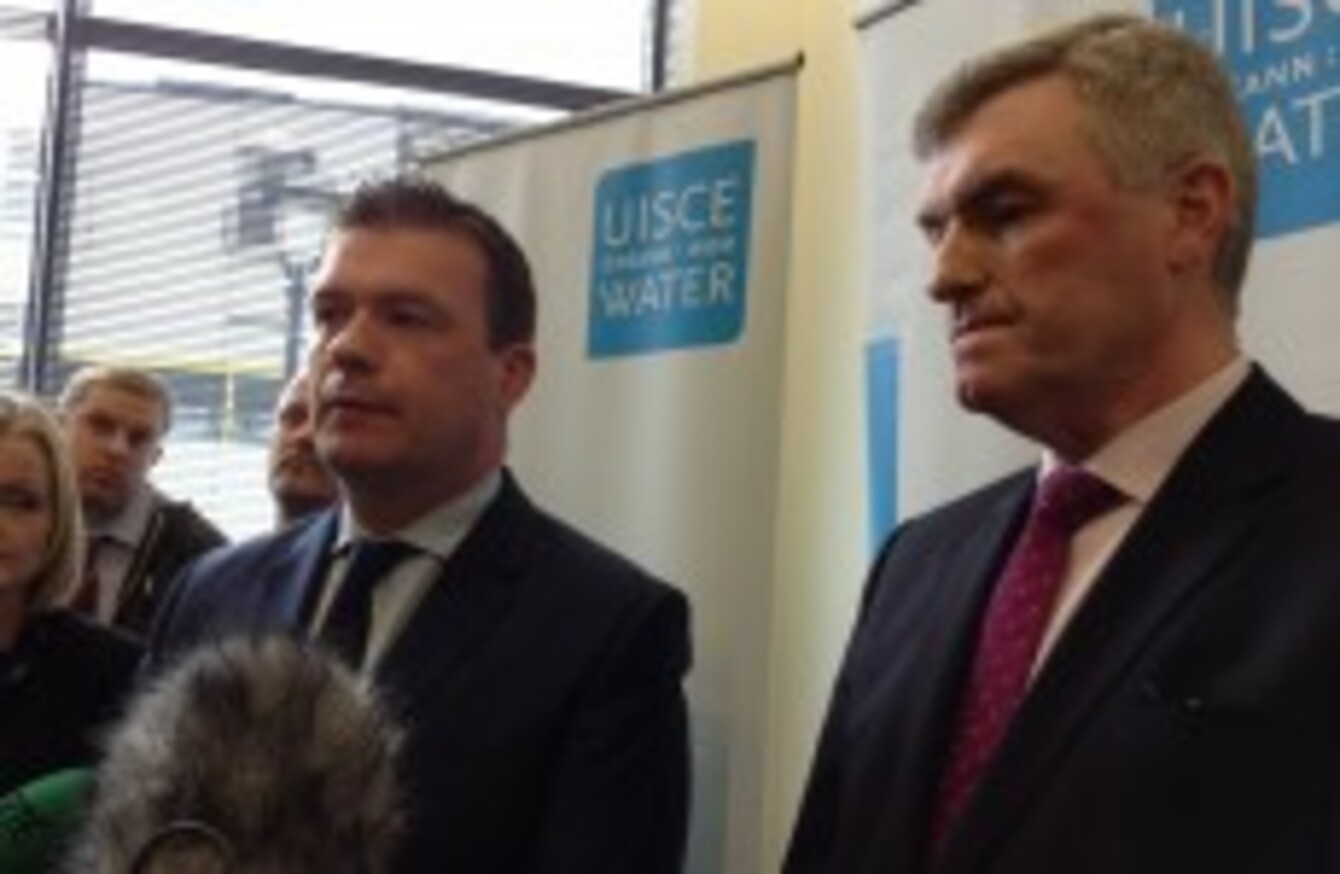 Alan Kelly and John Tierney at Irish Water headquarters today
Image: Órla Ryan/TheJournal.ie
Alan Kelly and John Tierney at Irish Water headquarters today
Image: Órla Ryan/TheJournal.ie
Updated 4.50pm
IRISH WATER MANAGING director John Tierney has apologised to customers for the mistakes made by the utility company in recent months.
Tierney  was speaking to reporters at Irish Water headquarters in Dublin after holding a meeting with Environment Minister Alan Kelly.
"I want to apologise to our customers for mistakes that have been made. We are working with the government to address all of the issues that have arisen," he said.
Kelly admitted there have been "major failings" in the way the semi-state company was set up and indicated that the proposed cap on charges would be extended to 2016 while more meters are installed across the country.
"Being frank about it, there's been a lot of mistakes made in relation to the set up of Irish Water," Kelly said. "I want to acknowledge here and now that there were absolute mistakes made in relation to the scale of this project."
Watch: Alan Kelly says Irish Water is necessary: 
Source: Hugh O'Connell/YouTube
Video: Órla Ryan/TheJournal.ie
He said that idea Irish Water could be set up in a couple of years was "simply wrong" saying it was a five-to-six year project. Kelly said the legislation to establish and subsequent setting up of Irish Water was "rushed" and "inappropriate" but he stopped short of blaming his predecessor Phil Hogan.
As the Government prepares to announce new measures aimed responding to public anger over Irish Water, Kelly said he was pushing for charges to be "defined for a period of time so that Irish Water can be set up fully".
He said that the announcement on charges is likely next week that they "are going to be modest" and "people will be happy with them".
Kelly also acknowledged the people protesting against Irish Water at the weekend and said under no circumstances would he agree with it being privatised. He did not rule out a referendum on ensuring that the public water supply is kept in state ownership.
On bonuses at Irish Water Kelly added: "I don't tolerate them, I don't believe them, I don't think they're appropriate."
Speaking in Dublin this afternoon, the Taoiseach said that the Government needs to be "clear and accurate" about how water charges will be spent so that "people will have confidence" in what Irish Water is doing.
Enda Kenny said that the charges are "obviously on people's minds and very much to the fore of their thinking", adding that the Government is focused on ensuring households and businesses alike receive "water of good integrity".
More protests planned
Meanwhile another day of protest over Irish Water is to take place on 10 December. Over 100,000 people took to the streets across the country on Saturday, demanding the repealing of the controversial charge.
Brendan Ogle of the Right2Water campaign says that the protest will see the handing over of a petition outside the Dáil.
"This is a double tax," he told RTÉ's Morning Ireland today.
The Taoiseach said this weekend that if there were no water charges, the other option would be a 4 per cent rise in income tax. Ogle said that claim was "utter nonsense" and accused the Taoiseach of "talking through his hat".
However, Agriculture Minister Simon Coveney told the same programme that there is no chance of Irish Water going anywhere.
There is one certainty, Irish Water will not be scrapped.
"Irish Water has spent a lot of money to set up a very large new company, which is going to remain in public ownership, and is going to provide water in a much more cost-effective and efficient manner in the future.
"But I think we need to learn from some of the mistakes that have been made over the last six or eight months."
Not paying
Also speaking on the water charges issue on Newstalk Breakfast, Sinn Féin's Mary Lou McDonald further explained her decision announced yesterday that she will not be paying her Irish Water bill:
My concern at this point is for the vast numbers of people who can't pay, it's not a case of them saying they won't pay or won't pay. They simple don't have the resources to pay an existing bill.
"As an act of solidarity to people who can't pay I won't be paying"," she said.
"As angry as people are as regards these charges, what I've picked up in the past few weeks from people in my own community who I represent, is that people are afraid as well, and that's an awful state of affairs."
Elsewhere, South Dublin County Council will vote on a motion calling for the scrapping of the charge today.
- additional reporting by Rónán Duffy, Órla Ryan, and Hugh O'Connell