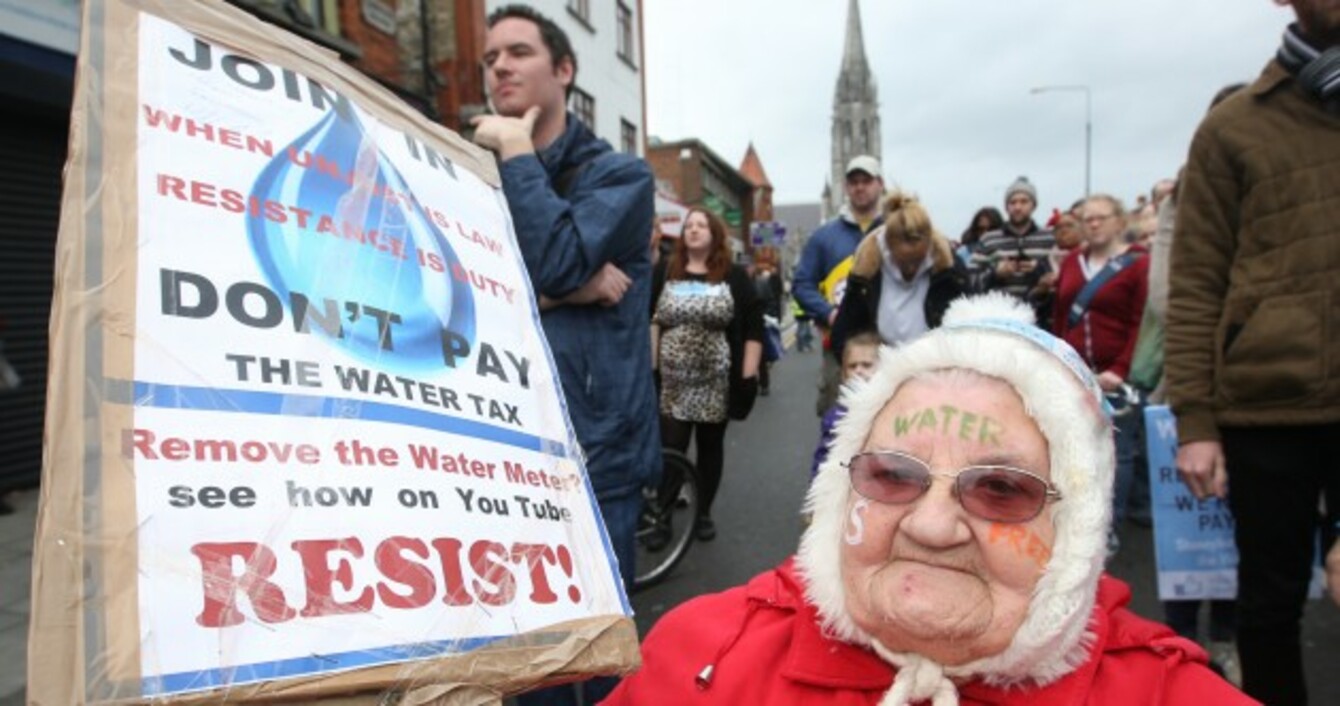 Image: Sam Boal/Photocall Ireland
Image: Sam Boal/Photocall Ireland
Updated at 1.30pm
UNIONS AFFILIATED WITH the anti-charges Right2Water campaign have announced details of their next national rally, at a press conference in Dublin this morning.
Organisers are hoping tens of thousands of supporters turn out for the event, which will be held at the Spire on O'Connell Street this Saturday.
Confirming the details today, the Unite trade union's Brendan Ogle said there would be two assembly points – at Heuston and Connolly stations.
After meeting at 2pm, marchers will proceed to O'Connell Street where speakers will address the crowd.
Referring to the publication last month of payment figures showing less than half of customers had paid their Irish Water bills, Ogle said the non-payment campaign had been "stunningly successful" and appealed to people to make an effort to turn out.
Promising music and activities for children, he said that in keeping with the atmosphere at the other protests it would be a family-friendly event.
And referring to sometimes violent protests that broke out at city centre locations after previous events, he insisted that anyone intent on causing trouble should stay at home.
"If you're so angered that you can't control yourself stay away."
Fifth event
This weekend will be the fifth nationally-organised event from the group – an umbrella organisation that includes politicians, unions and community groups.
Protests organised for last autumn are credited with forcing the government into a massive climbdown on water charges.
As part of the relaunch of the charging regime last November, environment minister Alan Kelly announced that every household in the country would be entitled to a €100 rebate from the Department of Social Protection. Charges were also capped, at a much lower rate than previously mooted by the government.
Speaking this morning, Ogle said a lot had happened since the last mass protest in March, and described the non-payment figures as "a disaster" from the government's point of view.
Referring to confusion last week over whether the conservation grant would be abolished or not, he said Kelly's policy on Irish Water seemed to change every time someone put a microphone in front of him and was "sounding more and more like Phil Hogan".
"Nothing Minister Kelly says is consistent," Ogle said.
"Look it. The problem the government have now is that the non-payment figures are so large people who have paid are wondering why they bothered.
"I think everyone knows Irish Water is a beaten docket – only the government parties support it in its current form. The government parties will not be returned after the next election, and bluff and bluster and threats is just growing this movement. It's just making people more angry and I think that's visible."
Political aspirations 
Asked whether Right2Water would be putting forward candidates to fight the next general election, Ogle, Mandate general secretary John Douglas and other speakers referred to a planned series of "town hall" meetings happening in September and October.
Policies put together through local consultation and published on their website would be discussed at those meetings, Ogle said.
"What that will mean in term of the next general election, in terms of people signing up to those policies, we certainly want that. We want people running in the next election with those ten policies in their manifesto so let's see what happens."
The speakers at this morning's event at Buswell's Hotel – which also included Dee Quinlan of the CPSU, community activist Freda Hughes and TEEU general secretary Eamon Devoy – were all asked whether they intended to run in the election.
All said 'no' while Ogle replied that he hadn't given it any consideration.