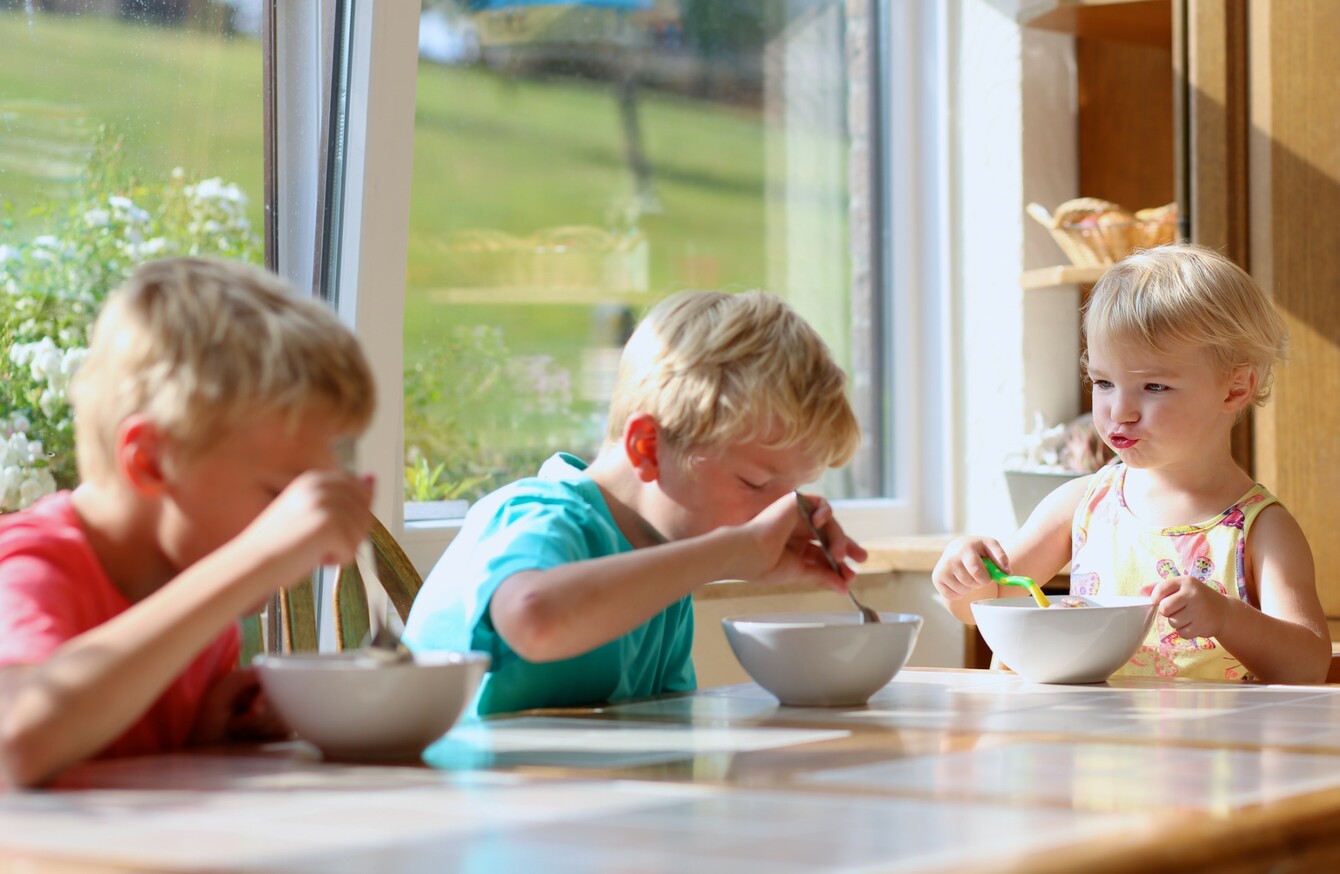 Image: Shutterstock
Image: Shutterstock
EACH WEEK, WE hear from a reader who can't figure out what to do about a tricky parenting situation. To get a balanced take on the dilemma, we ask Irish parenting experts to weigh in.
From choosing whether to push toilet training to allowing a baby to 'cry it out', being a parent involves decision after decision – and a whole lot of questioning yourself.
This week, one parent is conflicted over whether having a routine for her three children is having a positive or a negative impact on them in the long term.
Have a parenting dilemma you're struggling with? Let us know anonymously here and we'll share it with our panel of experts. 
This week's dilemma
I have three kids under five and, admittedly, I'm quite strict with routine. They go to bed at the same time every night (although not always without a fight!) and get up at roughly the same time each morning. The same applies to meals, play time etc. Having a solid routine like this is what makes the day run as smoothly as it can.
A friend recently commented on how inflexible I am with routine, which sometimes means my kids have to leave parties or activities early, and now I'm wondering if I'm doing the right thing. Instead of teaching my kids about the importance of routine, is this just going to make it harder for them to adapt in future? Am I being unreasonable by never wavering from routine?
What the experts have to say…
You're being a bit unreasonable. I have no doubt that your parenting style evolved to enable you to best manage and enjoy your growing family. From time to time, we end up reviewing our parenting style and checking out whether it's still a good fit for us and our family. It sounds like that's what you are doing right now. In general, routines are helpful parenting tools as they provide a sense of security for children and help parents manage a busy family, but sometimes it's good to build in some flexibility and think about rhythms rather than routines.
Being responsive and flexible are life skills. In fact, the capacity to effectively respond physically and emotionally to life's stresses is considered the definition of 'health'. Modelling the capacity to respond to your children is something you will more than likely do over your parenting lifetime. Only you will know whether it feels right to do that now. If it does, you can start with being open to small changes in your daily rhythm, for example being open to not always leaving activities early. Your children are still very small so you have plenty of time to find a good balance between routine and flexibility!
  - Krysia Lynch, Maternity Care Expert at Krysia.ie.
You're not at all being unreasonable. The priority for our children is that we make sure they have everything they need, are happy, content and feel secure in themselves and what they do. While it might work out for some parents not to have a routine for their children, for those who do encourage one it can be of such great benefit. The reality is that children feel a lot happier and cope well when there is a routine as it creates predictability and consistency. On the other hand, as they get older there is no reason why we can't move the goalposts from time to time because they will cope with this flexibility too. I always say to parents to trust your own instincts. As parents, we know our own children best, we can all vary in our parenting and that's okay, but keep doing what feels right!
- Aoife Lee, Parent Coach at @parentsupport.

You're not being unreasonable. I could talk all day on the importance of routine, especially at this young age. It provides them with a sense of security and predictability in a crazy world, not to mention boundaries. In my opinion, routine helps this age group thrive. I bet your kids sleep through the night, nap well and eat a varied diet! Why would I bet this? Because normally with a parent investing as much as you do, you get these results like sleeping through the night and "good" eaters. Not to mention the direct effect it will have on their general development and behaviour.
Comments on someone's style of parenting, in my experience, tend to be a deflection of their own concerns or even a insight into what they don't understand and are ill-informed about themselves. You do you and reap all the rewards while you do!
 - Deirdre Holland Hannon, Behaviour Specialist at @deehollhan.
So what's the final tally? Is this reader being unreasonable?
Yes – 1
No – 2
Tell us your thoughts in the comments!
Have a parenting question you want answered? Let us know anonymously in our survey here or email us on family@thejournal.ie and we'll put it to the experts.