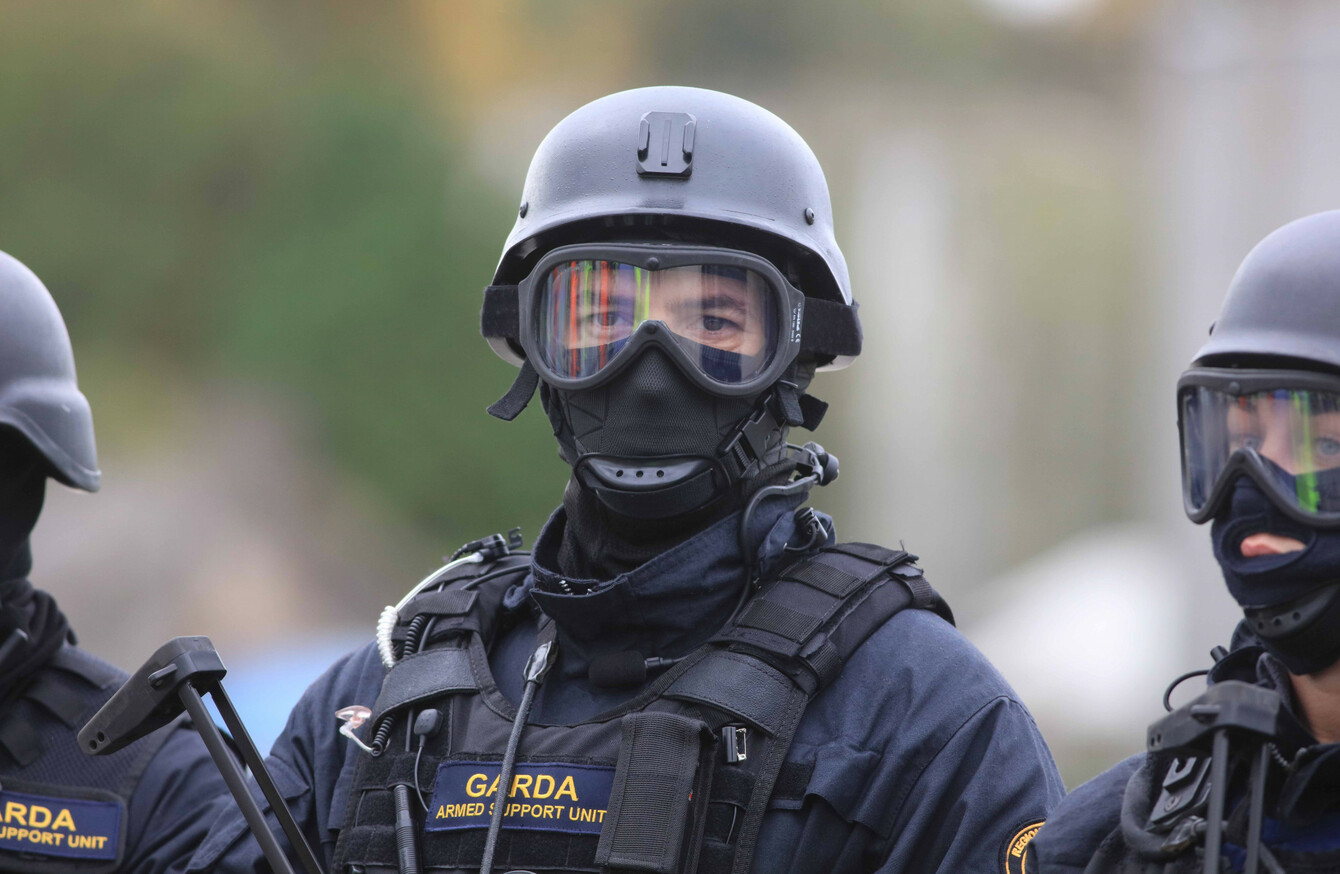 Assistant Commissioner O'Sullivan said he believes the force's armed units have the capability to deal with lone wolf attacks.
Image: Eamonn Farrell/RollingNews.ie
Assistant Commissioner O'Sullivan said he believes the force's armed units have the capability to deal with lone wolf attacks.
Image: Eamonn Farrell/RollingNews.ie
GARDAÍ BELIEVE THE majority of Islamic extremists who left Ireland to fight alongside Islamic State in Syria or Iraq are either dead or missing.
Speaking at the Interpol conference in Dublin this morning, Assistant Garda Commissioner for National Security and Intelligence, Michael O'Sullivan told reporters that it is estimated that there are approximately 2,000 foreign fighters left in the theatre of war, which is "diminishing in size".
"There is concern internationally in relation to where they may go next. At the moment there isn't real evidence that they are returning to Europe, including Ireland," he said.
Around 30 extremists are thought to have left Ireland to join the fighting and he said gardaí believe "quite a number of those are deceased" and others are missing. Only a small number are known to still be alive.
We have a small number that we believe are still alive in Syria and Iraq. They may go to other theatres of war in the Philippines, in the horn of Africa, North Africa.
O'Sullivan said they are also concerned about families of deceased Isis fighters who may return to Ireland.
"These may have been families not involved directly in the war, but their children, particularly young males may have witnessed some of the most appalling crimes known to man," he said. When they return, a multi-agency effort will be required, he said, to provide welfare and education.
When asked about the potential for lone wolf attacks in Ireland, O'Sullivan said they are probably the greatest concern for all police and security services throughout Europe, including An Garda Síochána.
"I have to say the Muslim community here – 60,000 in the last Census – is a very law abiding, very genuine community – and there is a lot of work going into those communities by our own ethnic liaison officers and community guards," he said.
"But that's not to say we're not concerned about [lone wolf attacks], of course we are. If you go back to the preachings of [Usayd] al-Adani in 2014 when he said to attack the Western world with a stone, with a car, with a knife and that was just before the Woolwich attack in London so you can see the connection and how even the internet – social media – is used by ISIL to promote attacks in the West.
Our assessment at the moment is with the defeat of ISIL or Daesh, whatever term you use, in Syria and Iraq, they are going to focus, they are going to regroup, they are going to look how now to attack the Western world and we would still be concerned about the preachings from the likes of al-Adani.
There are a small number of sympathisers in Ireland who he said are currently being monitored.
O'Sullivan said he believes gardaí have the resources and capability to handle a lone wolf attack as well as the police forces in other European countries. He referenced two incidents in Dublin city – one involving a man on a Dart with an imitation firearm and another involving a man with an axe near O'Connell Bridge – which gardaí responded to and diffused in five minutes or less.
The assistant commissioner himself also conducted an exercise after the London Bridge attack to assess the response times of armed units.
He used Temple Bar as an example possible target and checked the GPS locations of the units. Three Armed Support Unit cars could have been there within three minutes, there were two Emergency Response Unit vehicles in standby at Harcourt Square and three other armed units could have reached the scene within seven minutes.
At the conference this morning, Minister for Justice Charlie Flanagan announced that an Irish Passenger Information Unit will begin its work collecting data from airlines on 25 May.
The body will receive Passenger Name Recognition (PNR) data from air carriers, and exchange data and processing results with other EU member states and Europol.
The minister said PNR data "has obvious potential value as an information resource to police and law enforcement services in the context of investigating and preventing serious crime, such as human trafficking, drug trafficking and international sex tourism".
#Open journalism No news is bad news Support The Journal

Your contributions will help us continue to deliver the stories that are important to you

Support us now
"It also serves as an invaluable support in combating international terrorism."