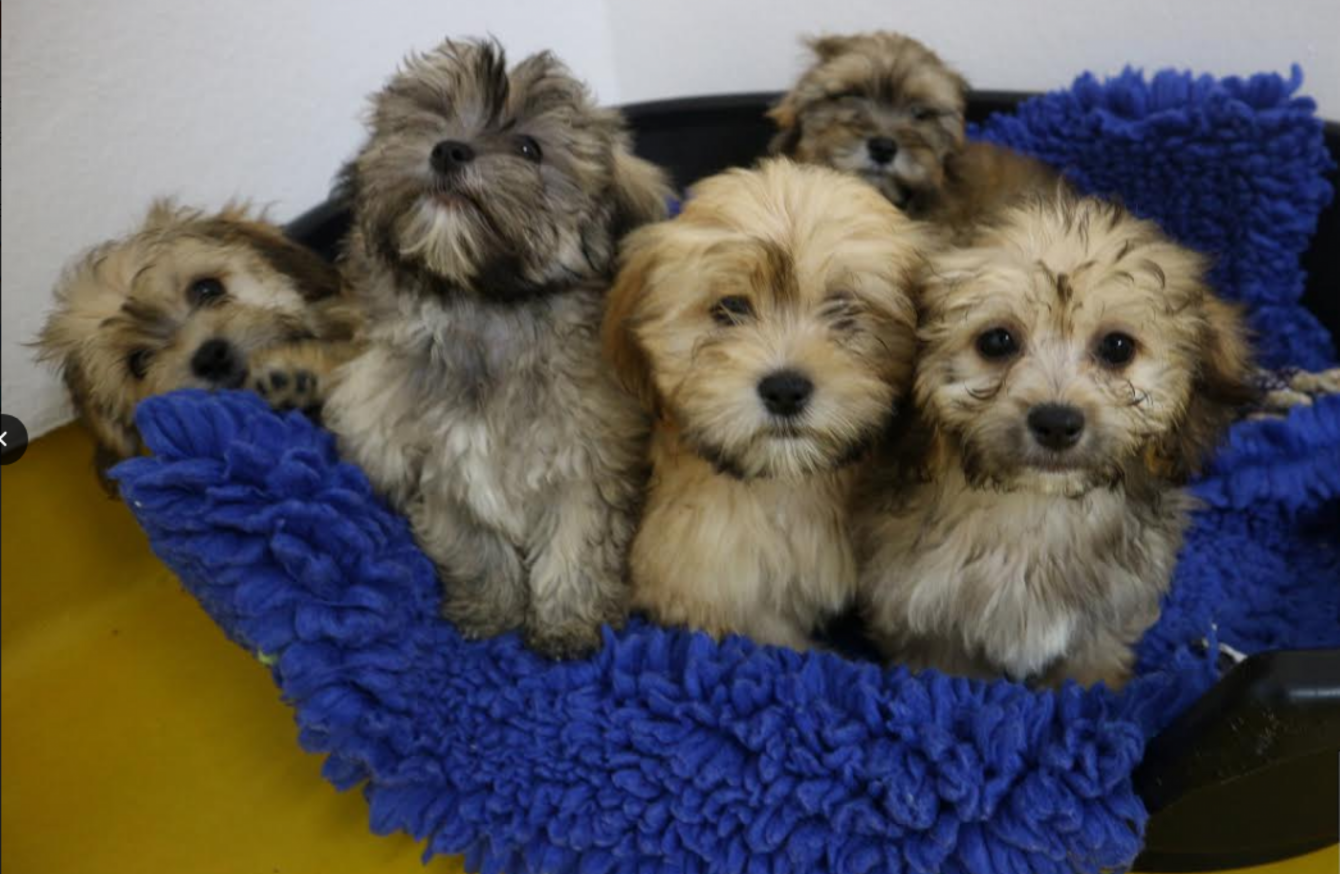 Shih Tzu puppies in ISPCA care
Image: ISPCA
Shih Tzu puppies in ISPCA care
Image: ISPCA
OVER ONE HUNDRED dogs and puppies have been rescued by the ISPCA from an illegal dog breeder and a private residence over a three-day period last week.
Following a visit from an inspector and the county dog warden recently, 86 dogs were removed from an unlicensed dog breeder in Co Roscommon.
The dogs, including 23 puppies were being kept in very poor conditions with 19 of the dogs suffering from mange, eye conditions and ear infections.
Under the Dog Breeding Establishments Act 2010 dog breeders are required to be registered and licensed if they have six or more dogs over the age of six.
"This particular property did not appear to have a licence and I can confirm over the last couple of days Roscommon County Council has issued a closure order in respect of this property," Senior ISPCA Inspector Kevin McGinley said on RTÉ Radio 1 this afternoon.
The dogs, which include Shih Tzus, Cocker Spaniels, Jack Russell Terriers, Pugs, French Bulldogs and other various mixed breeds, are currently being cared for at the ISPCA's animal centres in Longford and Donegal.
A further 17 Jack Russell puppies were removed from a house in the east of the country where the owner had allowed his dogs "to breed without consideration for the consequences".
The animal welfare organisation said that the puppies removed from that private dwelling were the result of the owner failing to get his dogs neutered.
The ISPCA will now ensure that the dogs at that property are neutered to avoid a repeat of this incident.
McGinely said the estimated cost associated with the rescues is €20,000 which is "a huge drain" on the ISPCA's resources.
"With so many dogs in our care, we are appealing to the public to support us financially with this challenge and by offering responsible homes for the pups and dogs," McGinley said in a statement.
All of the dogs will need to be vaccinated, neutered and microchipped before being responsibly rehomed in Ireland.
The ISPCA is also asking the public to report their suspicions about unlicensed dog breeders to the ISPCA's National Animal Cruelty Helpline 1890 515515 or to the local authority.