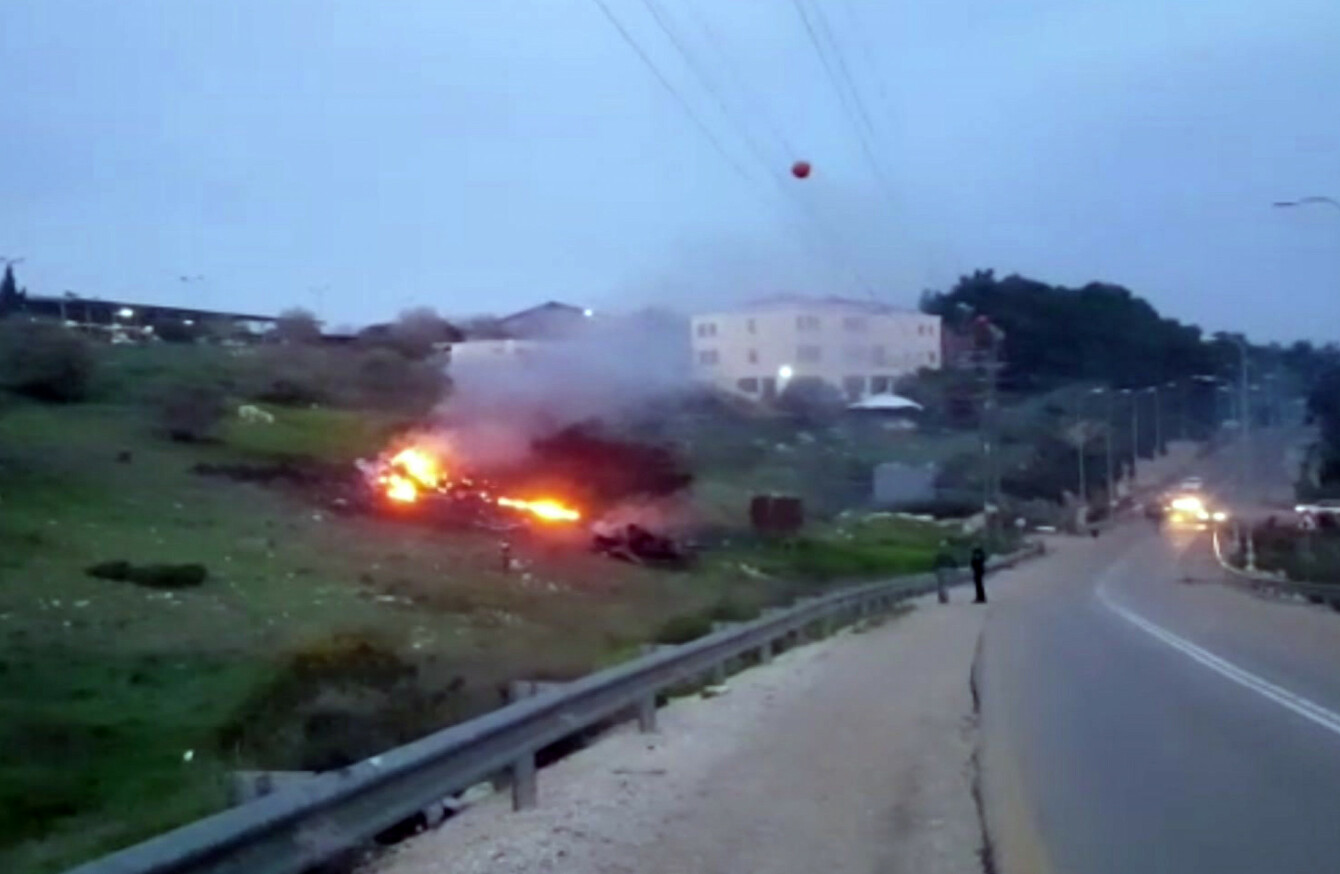 The wreckage of a jet in northern Israel
Image: Yehunda Pinto via AP
The wreckage of a jet in northern Israel
Image: Yehunda Pinto via AP
ISRAEL'S PRIME MINISTER said today his country delivered "severe blows" to Iranian and Syrian forces and vowed to take further action against its adversaries following the most serious Israeli engagement in Syria since the war there erupted almost seven years ago.
Benjamin Netanyahu's tough words to his Cabinet came a day after Israel carried out a wave of airstrikes in Syria.
Israel ordered the airstrikes after it intercepted an Iranian drone that had infiltrated its airspace, and an Israeli F-16 was downed upon its return from Syria.
Iran, for its part, denied the allegations regarding the drone and said Syria had the right to defend itself against Israeli attacks.
"Yesterday we dealt severe blows to the Iranian and Syrian forces," Netanyahu said. "We made it unequivocally clear to everyone that our rules of action have not changed one bit.
We will continue to strike at every attempt to strike at us. This has been our policy and it will remain our policy.
Israel has periodically carried out airstrikes against suspected weapons shipments believed to be headed for Lebanese Hezbollah, the Iranian and Syrian-allied militant group since the outbreak of the Syrian war.
But as the Syrian war winds down, Israeli officials have voiced increasing alarm that Iran and its Shiite allies are establishing a permanent presence in Syria that could turn its aim toward Israel.
Israeli leaders said the airstrikes had sent a clear message to Iran.
"We do not just talk, we act," said Cabinet Minister Yoav Galant, a former Israeli deputy chief of staff and member of Netanyahu's Security Cabinet.
"I think that also the Syrians now understand well that the fact that they are hosting the Iranians on Syrian soil harms them," he told The Associated Press.
Yesterday's airstrikes marked the toughest Israeli aerial assault in Syria in decades.
The Syrian Observatory for Human Rights, which monitors the war in Syria through a network of activists on the ground, said today that at least six Syrian troops and allied militiamen were killed in the airstrikes. The six included Syrian and non-Syrian allied troops, the Britain-based Observatory said.
"They, and we, know what we hit and it will take them some time for them to digest, understand and ask how Israel knew how to hit those sites," Israel's Intelligence Minister Israel Katz told the Army Radio station.
These were concealed sites and we have intelligence agencies and the ability to know everything that is going on there and yesterday we proved that.
In yesterday's attacks, the Israeli jets came under heavy Syrian anti-aircraft fire and the pilots of one of the F-16s had to eject before the plane crashed in northern Israel. One pilot was seriously wounded and the other one lightly.
Israel would not confirm whether its aircraft was shot down by enemy fire, which would mark the first such instance for Israel since 1982, when it was fighting a war in neighboring Lebanon.
Israel has recently issued several stern warnings about the increased Iranian involvement along its borders with Syria and Lebanon.
Israel fears Iran could use Syrian territory to stage attacks or create a land corridor from Iran to Lebanon that could allow it to transfer weapons more easily to Hezbollah — a powerful Iran-backed Shiite militant group sworn to Israel's destruction.
Though Israel has largely stayed out of the Syrian conflict, it has struck weapons convoys destined for Hezbollah dozens of times since 2012.
Israel has also shot down several drones that previously tried to infiltrate its territory from Syria, but the capture of an Iranian drone and the direct targeting of Iranian sites in response marked a dramatic escalation in the Israeli retaliation.
#Open journalism No news is bad news Support The Journal

Your contributions will help us continue to deliver the stories that are important to you

Support us now
Israel has long complained about the involvement of archenemy Iran, and Iranian proxy Hezbollah, in the Syria war.
Both have sent forces to back Assad, who appears headed toward victory. Israel has said it will not accept a permanent military presence by Iran and its Shiite allies in Syria, especially near the Israeli border.
Netanyahu has held several consultations with Russian President Vladimir Putin, who has also sent forces to back Assad. Following the Israeli strikes, the two spoke again yesterday, with Netanyahu conveying Israel's determination to counter Iran's intentions.
Still, Russia's foreign ministry appeared to criticise Israel's actions by calling for restraint and respecting Syria's sovereignty.
"It is absolutely unacceptable to create threats to the lives and security of Russian servicemen who are in Syria at the invitation of its legitimate government," it said.
The United States, on the other hand, strongly backed Israel.
Heather Nauert, the State Department spokeswoman, said Iranian actions across the region were putting the entire Middle East at risk.
"The US continues to push back on the totality of Iran's malign activities in the region and calls for an end to Iranian behavior that threatens peace and stability," she said.