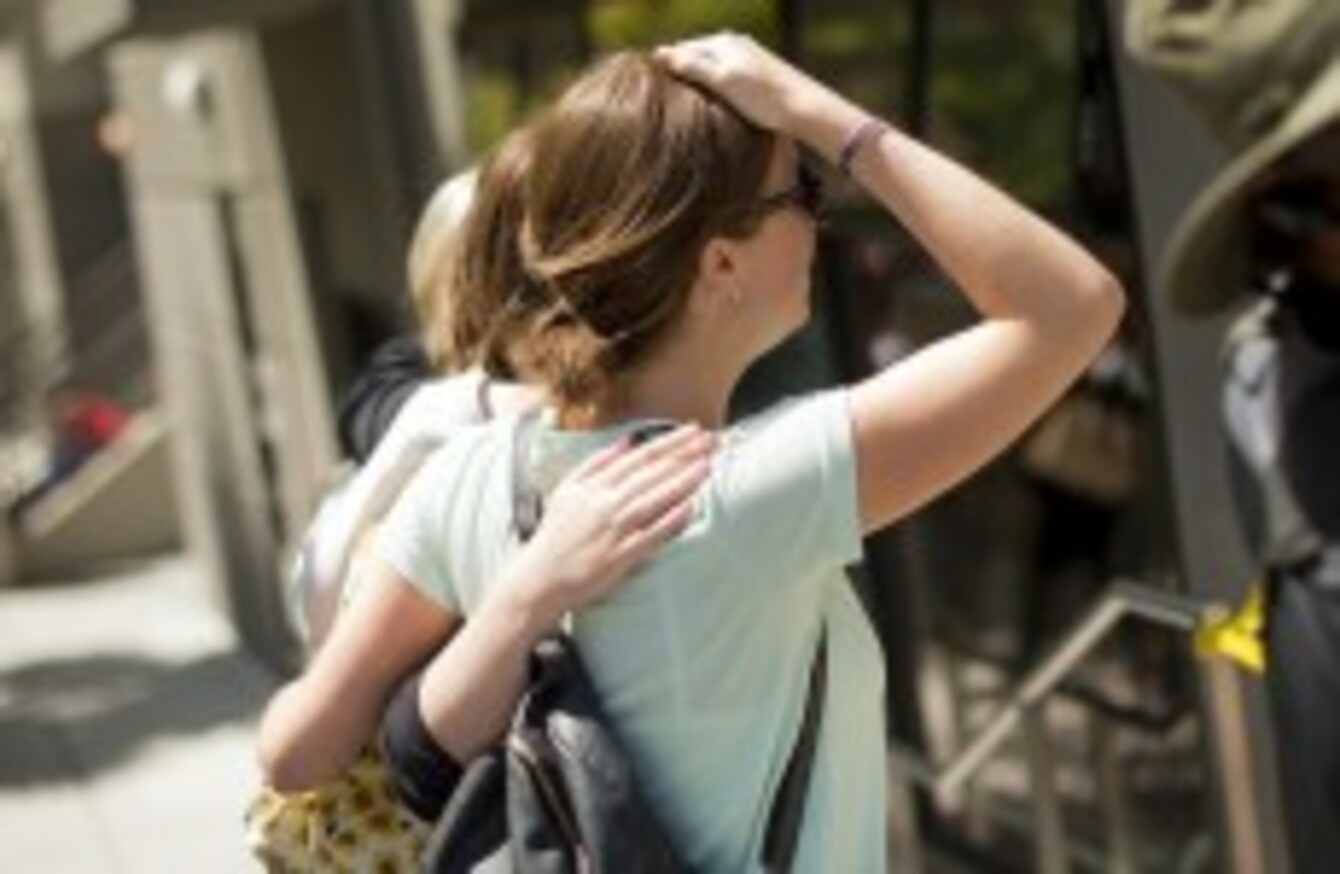 Women embrace after leaving flowers at the site of Monday night's balcony collapse in Berkeley.
Image: Noah Berger/Associated Press
Women embrace after leaving flowers at the site of Monday night's balcony collapse in Berkeley.
Image: Noah Berger/Associated Press
Updated – 4.50pm
J1 VISA HOLDERS who have been directly affected by a balcony collapse that killed six Irish students are entitled to a free flight home, travel firm USIT has said.
Speaking on RTÉ's News at One, the managing director of USIT, Dearbhla O'Brien, said that its mandatory insurance policy would cover the travel expenses of Berkeley-based students who wish to return to Ireland after the tragedy – whether or not they have been injured.
Students who attended or intended to attend the party at which the accident occurred are entitled to fly home for free.
Two family members per affected student can also fly over to the US under the policy.
Medical expenses of up to €7.5 million will also be covered, she said.
'Devastating experience'
In a statement earlier today, USIT and SAYIT, which organise the J1 programme, expressed their "deepest sympathy and support" to those involved in yesterday's tragedy.
This is a devastating experience for everyone. We are currently working in liaison with the Crisis Centre set up by the Irish Department of Foreign Affairs to respond to this emergency.
Tributes have been pouring in today for the six Irish students killed by Monday night's balcony collapse.
Niccolai Schuster (21), Eoghan Culligan (21), Eimear Walsh (21), Olivia Burke (21), Ashley Donohoe (22) and Lorcan Miller (21) had been celebrating a friend's 21st birthday party at an apartment in downtown Berkeley when the fourth-floor balcony collapsed.
They had travelled to California on J1 visas.
Another seven people were injured during the incident.
The University Times reports that  TCD student Clodagh Cogley, one of the injured, is now "doing really well" after overnight operations on her spine, knee and shoulder.
Emergency response services
In a statement issued this afternoon, the Department of Foreign Affairs and Trade said it continues to "provide practical support and assistance to the bereaved, the injured and the students affected following the tragedy in Berkeley."
To date, it said, the Department's consular emergency response centre has handled over 500 calls from concerned relatives and friends.
The Irish consulate in San Francisco will meet families of the deceased and injured on arrival, and provide transport and accommodation to those who need it, it added.
Grief counsellors will also be available to affected students at an incident centre established by the consul general in Berkeley City Hall.
Individuals wishing to enquire about insurance cover can call the USIT helpline on +353 1 602 1630. The Department of Foreign Affairs' trade consular response team can be reached on +353 1 418 0200.