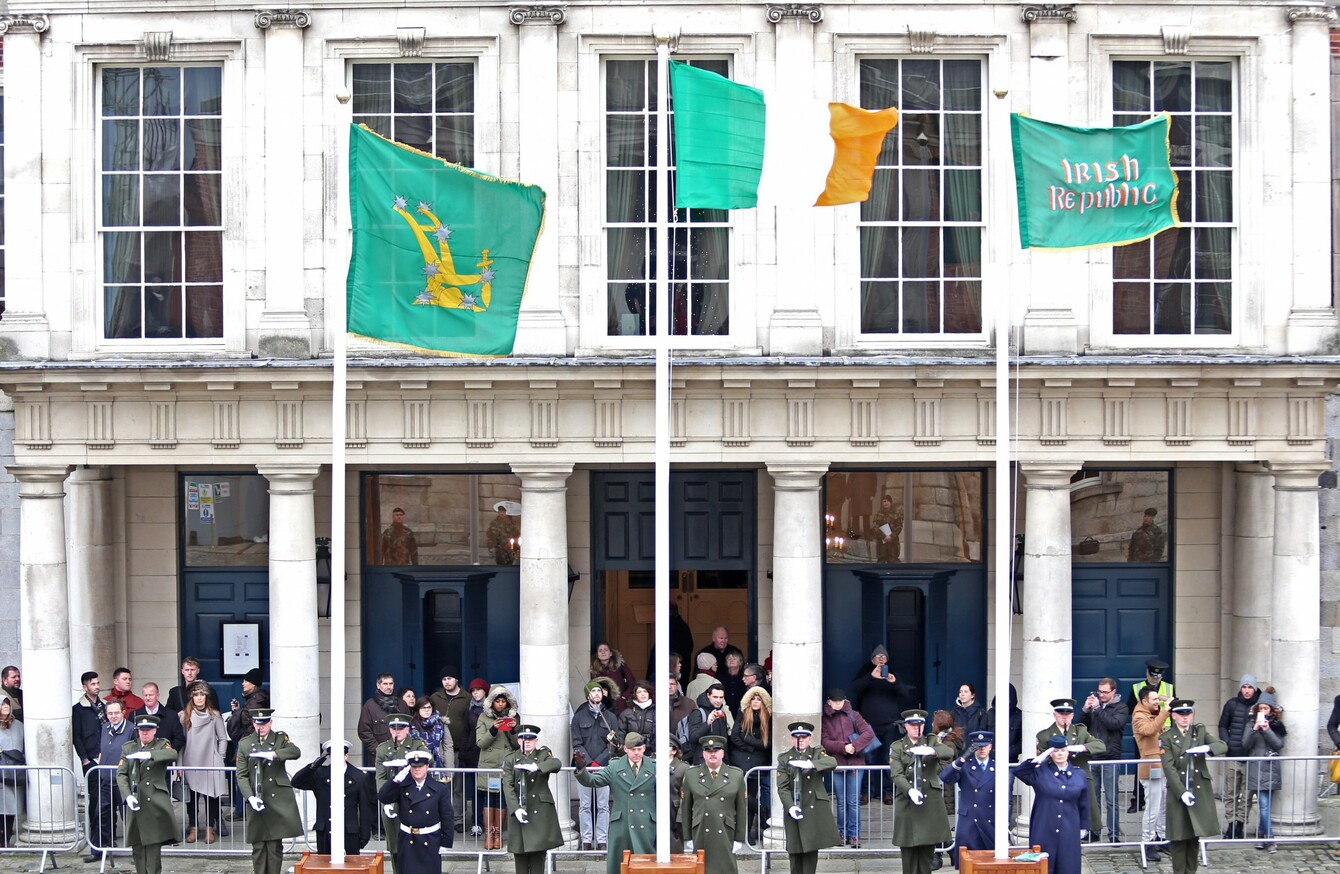 THE GLASNEVIN TRUST has been handed the largest known remnant of the 1916 Jacob's Tricolour.
The piece of the flag was handed over by the Chief Minister of the island of Jersey today at a ceremony.
The remnant of the flag was donated by David Blake, great-grandson of Jersey native John Le Provost, member of the Jersey Pals Battalion who attained the piece 100 years ago whilst fighting in 1916. Le Provost sent the piece back to his fiancée, Mary La Singe, in Jersey where it remained for the next hundred years until today.
The Jacob's Tricolour was made after the GPO flag had been either shot or burnt down as the GPO came under fire.
It was decided that a replacement flag be made, and Thomas Meldon, George Ward and a third man Derry Connell (believed to be a nickname) were entrusted with the task of finding the material and creating the flag. The flag was then nailed to a flagpole above Jacob's factory before being removed from its position on Sunday 30 April, after the official surrender. Both Thomas Meldon and George Ward are buried in Glasnevin Cemetery.
John Le Provost and two other soldiers climbed onto the roof of the Jacob's Biscuit Factory and, under fire from snipers, hauled down the tricolor. How the flag was divided remains unknown, but John Le Provost was given three pieces of it; one green, one white and one yellow.
Blake said that it was "correct" to donate to flag.
It is only correct and necessary that the Jacob's Tricolour comes back home. I feel as if I had it for a reason; as if the family had been caring for the flag so when the appropriate time came, it should go back. This year is the appropriate time.
Chairman of the Glasnevin Trust, John Green, said today is a "special day".
It is not only the symbolism of the flag returning to Dublin, to the final resting place of its makers but also the stories it enables us to tell.
Jersey's Chief Minister, Senator Ian Gorst said:
"It is an honour to be involved in this ceremony, which will commemorate not just the brave and historic actions of the Jersey Contingent but also the long-standing ties that exist between the people of Jersey and Ireland."
Meldon, who was a tailor, lived at 45 Lower Gardiner Street and died on 13 April 1953.
George Ward, a leather worker, died in 1954 and is buried in the St Patrick's plot in Glasnevin Cemetery.