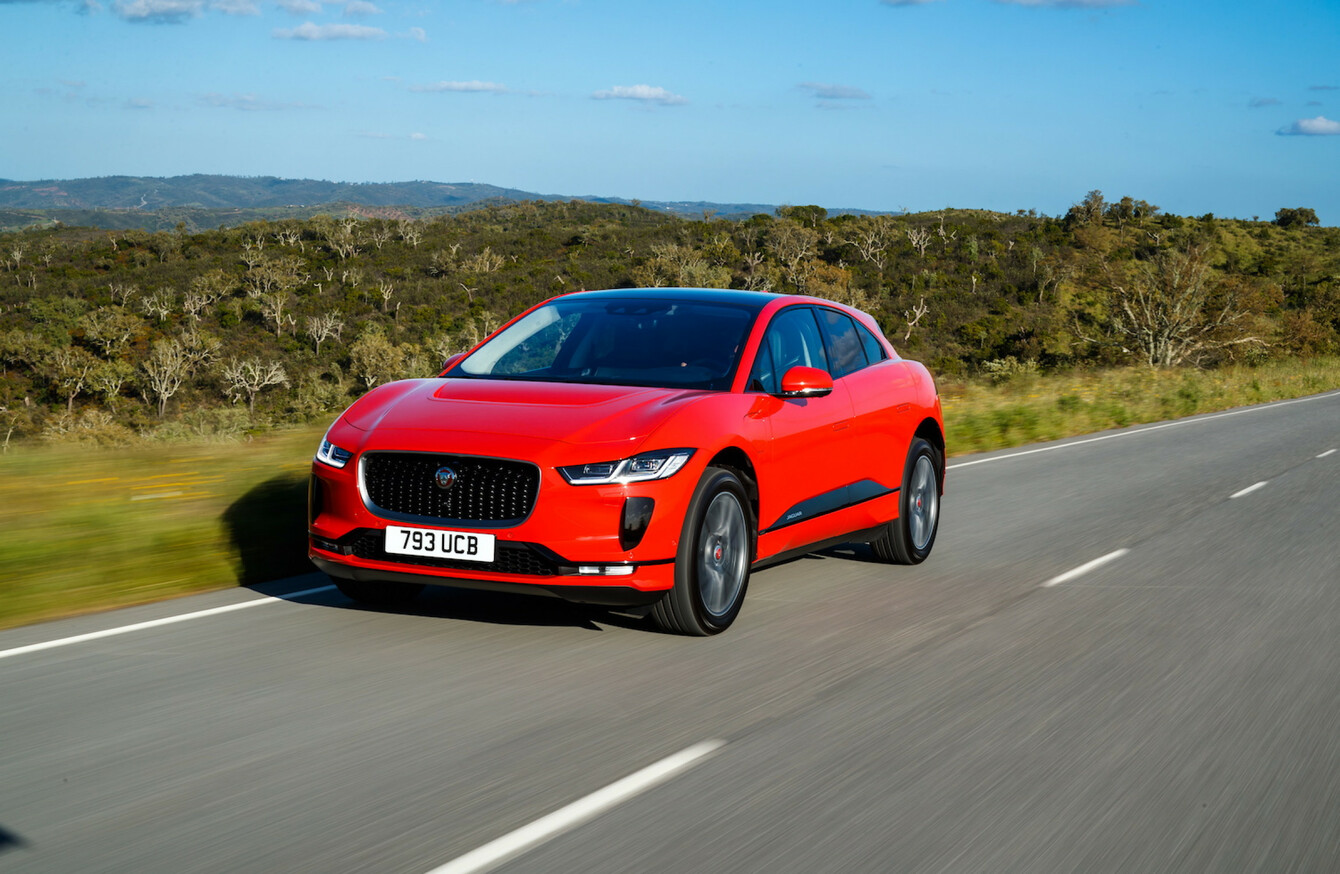 Image: Nick Dimbleby
Image: Nick Dimbleby
THE I-PACE is not only Jaguar's first ever electric car – it's also the first long-range BEV (battery electric vehicle) from an established premium brand.
This means that it doesn't have much in the way of competition, yet, apart from the Model S and X by Tesla. And by the time I was finished test driving the electric SUV, it was clear that the I-Pace is leagues ahead of its nearest rival.
The I-Pace exudes confident styling and looks very handsome indeed, especially in the lighter colours that really show off its shape and design well. It is long, longer then the F-Pace and E-Pace models – but it is actually shorter and wider than both of these.
The exterior features loads of aerodynamic trickery to maximise range and minimise drag including active vanes behind the signature grille, hydrophobic glass, a roof spoiler and retractable door handles, much like those on the Range Rover Velar.
One of the most eye-catching design elements are those large 22-inch wheels which fill the arches beautifully. However, it will also come with 18-inch wheels so it needs to be seen how the I-Pace looks on those.
The designers were able to stretch out the wheelbase which minimises overhangs and the lights around the back are reminiscent of the F-Type. That stretched wheelbase also makes for a very spacious cabin with plenty of leg, head and shoulder room throughout as well as decent amounts of storage.
The boot opening is nice and wide and the boot can hold a very decent 656 litres of cargo with the rear seats in place and up to 1,453 litres with them tumbled. There is also a handy 27 litres of storage up front where you can keep the charging cables.
The rest of the cabin is a stylish and modern as the exterior. The first thing I noticed is the impeccable fit and finish and quality of the materials used. The cabin is swathed in soft leather and the headliner is made out of what I can only describe as teddybear skin. Jaguar could neither confirm or deny if any teddies were harmed in its making.
The panoramic sunroof bathes the cabin in light, but on an EV it is an optional extra that I can happily live without. Wooden or carbon fibre trim and a smattering of bright metallic surfaces really lift the cabin and give it a very sleek, clean, modern feel.
The digital dash area is also a feast for the eyes, especially if, like me, you are a bit of a tech head. There is a big, bright 12.3-inch configurable instrument cluster in front of the driver and the Touch Pro Duo infotainment system is housed in the centre console area.
Of course the Jag comes with all the connectivity you could need, voice control, Bluetooth, a 4G WiFi hotspot, InControl apps and a sat nav system. There are also some AI features so that car can learn your personal driving style. It's all very clever – but exactly what you expect from such a progressive car.
Powering the I-Pace are two Jaguar-designed electric motors – which feature driveshafts passing through the motors themselves for compactness – at each axle, producing a combined performance of 400hp and 696Nm of torque, and all-wheel-drive, all-surface traction.
The 90kWh battery is housed centrally between the two axles, and as low down as possible with a seal between the housing and the underfloor. This location enables a 50:50 weight distribution and a low centre of gravity.
In terms of range, Jaguar quotes 480km on the new European WLTP cycle which is as close to real-world driving as current standards get. I certainly didn't have any range anxiety but I think my range was in the 400km region, which is still very good.
The power delivery is smooth and that healthy dose of torque makes overtaking not only safe and fast but fun too. Eat my dust most other road users! The steering is nicely weighted and accurate and the driving position is spot on for a car like this. Visibility is also good and the A-pillars are well placed to minimise blind spots.
The regenerative braking is fantastic and works really well. This means you can spend most of your time one-pedal driving which is very relaxing and makes for a smooth ride.
Speaking of which, even on those huge wheels the ride was composed and very comfortable and noise, vibration and harshness were at a minimum. The cabin is very quiet and well insulated.
My test car was fitted with the optional air suspension setup, which is very handy if you plan on going off-road. Yup, this posh motor is actually very capable and has proper off-roading credentials. I should know, I drove the I-Pace though a river and up and down what I am assuming is the Everest of Portugal.
The air suspension raises the ride height so you can conquer most terrains. The car also comes with advanced systems so that all you have to do is steer and the car effectively drives itself up and down steep terrain. Well, I wouldn't expect any less from a JLR product.
Apart from scaling mountains and fording streams, I also got to test the I-Pace around the undulating Portimao race circuit, where the car proved to be an entertaining drive and very bloody fast (well, to this scaredy-cat anyway). The I-Pace can go from 0-100km/h in just 4.8 seconds and on to a top speed of 200km/h. I almost got there.
Overall, the Jaguar I-Pace feels very agile and has great handling. It is still fun to drive and never feels like a big, heavy SUV. It is still a Jag after all and those used to the sporty drive of the marque will not be disappointed how the I-Pace feels on the road, considering it is an electric SUV.
Those looking for a luxurious, comfortable car should be impressed with the interior, ride quality and refinement and those who want a tech fest to rival Tesla will be pleasantly surprised too. As for those who need a capable SUV that lives up to its sports utility name, the Jaguar can conquer most terrains and situations that you'll encounter here in Ireland.
Prices for entry-level 'S' models prices start at €84,085 including available grants and tax is €120 per year. 'SE' models start at €93,380, 'HSE' models at €100,405 and the 'First Edition' models start at €112,310.
For that money, you are getting a whole lot of car with a huge quantity of driving aids, safety systems and advanced technology. You are getting a quality product from an established premium brand and a family-sized car with one of the longest one-charge ranges on the market, which should be enough to eliminate the dreaded 'range anxiety' many people seem to experience in Ireland.
If we compare the I-Pace to the Tesla, you're really looking at comparing the 100D model which costs €117,568. While you might be getting similar power and range you'll get more street cred if you fork out the extra for the Tesla, but that's about it.
The Jaguar I-Pace is more capable, more practical, more reliable, more stylish and Tesla can't touch the Jag when it comes to fit, finish and build quality.
Jaguar really has set the bar awfully high with the I-Pace. Still want that Tesla?
Want to make sure you don't miss out on anything going on in the world of motors? Like us on Facebook and and follow us on Twitter for the latest updates.