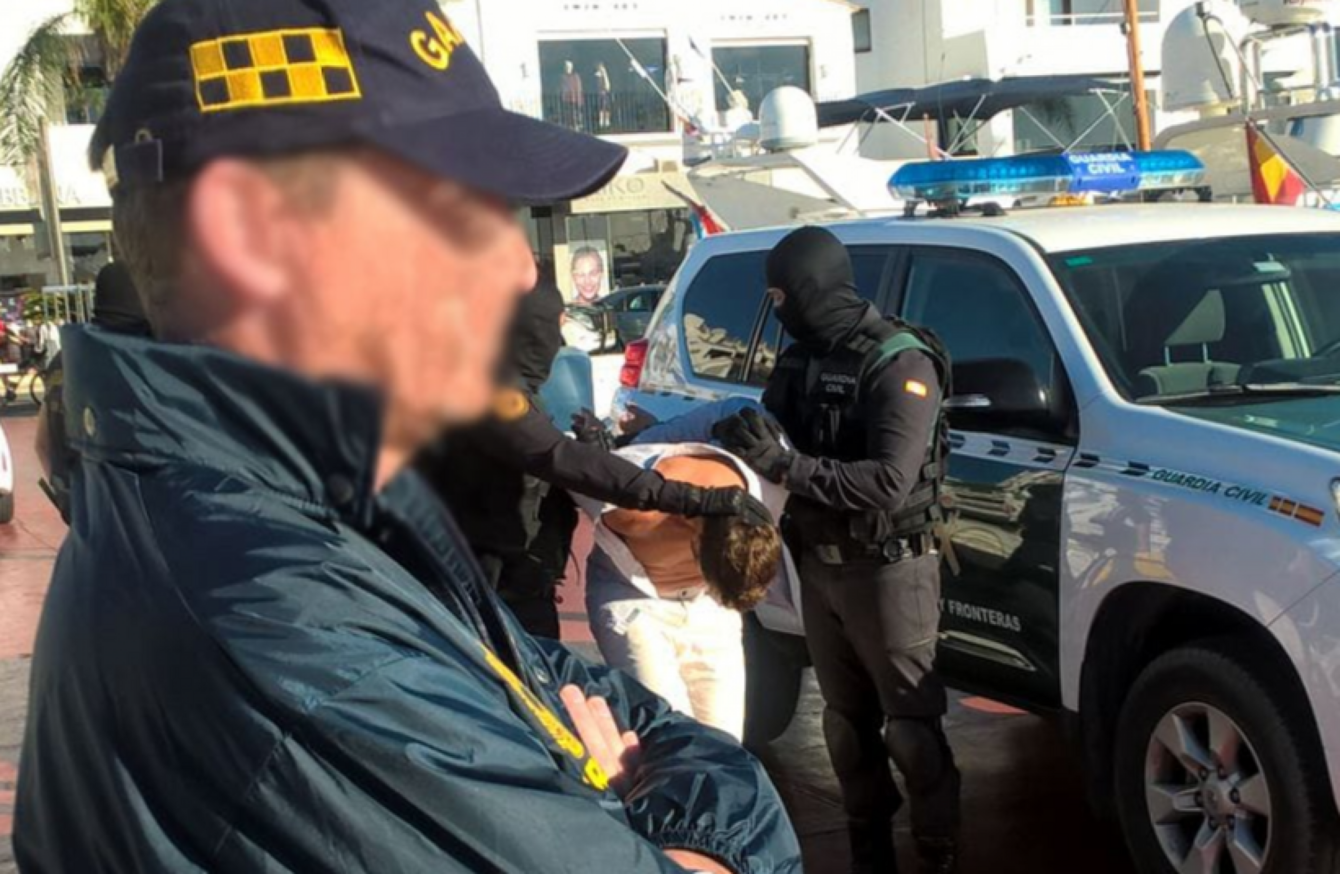 James Quinn arrested in Spain.
Image: Garda Press Office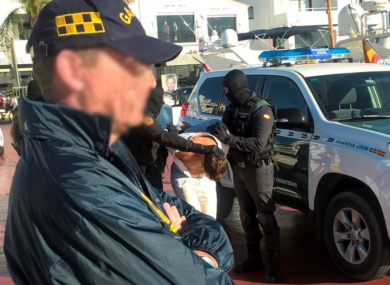 James Quinn arrested in Spain.
Image: Garda Press Office
YESTERDAY AFTERNOON IN a Spanish courthouse, James Quinn found out that he had been found guilty of involvement in the murder of Gary Hutch on the Costa Del Sol in September 2015.
While he was not found guilty of being the man who pulled the trigger, the Dubliner (35) was instead found by a jury to have been the getaway driver – the man who ferried the killer to Miraflores near Fuengirola.
In September 2015, Gary Hutch was shot dead. He had been lying low for a number of months after he had been accused of being a garda informant. This followed a large seizure of cocaine in Liverpool earlier that year.
Prior to his leaving for Spain, Gary Hutch had been working for the Kinahan cartel where he was a mid-level drug operator. He had been splitting his time between Spain and the Netherlands and was taking orders from high-level lieutenants in the cocaine trafficking enterprise.
James Quinn and Gary Hutch were close at one point in their lives before the former was ordered by the cartel to murder his friend.
Spanish police have records of a number of phone calls between the two men leading up to the murder and it was the contention of both the police and gardaí that Hutch was being told not to worry about the rumours that he was an informant and that he still had the trust of the higher-ups of the cartel.
On the morning he was murdered, Hutch was returning from a morning jog to a premises his mother owned. He pressed a fob and opened the security gates to the apartment complex. He started running down the cobbled footpath to an underground car park when the hitman gave chase. The pair ran around the complex's communal swimming pool in front of residents who originally thought the two men were playing a game.
Hutch stumbled as he got to a locked gate and turned to face the gunman. He fell to the ground after the first shot. His killer stood over him and fired two into his head and a number of other shots to the body. He fled in a waiting car. Police said Hutch was shot a total of 15 times in the murder.
Yesterday afternoon, a jury found that the man waiting in the car was James Quinn – a well-known criminal linked to an infamous Dublin crime family. He had previous convictions for violent behaviour and was always a person of interest after incidents in the capital's south inner city. He had grown up in the Oliver Bond Street flats complex – the same place Daniel and Christy Kinahan Jnr were reared.
Five years ago, Quinn was jailed for an attack in Ireland. He was inside for less than a year before he got out and went to Spain – a place he had been living for several years. He had been working away as a fixer for the cartel – a trusted pair of hands for many jobs, including murder.
He had trained as a boxer during his teenage years and was considered a prospect by trainers. Instead, he pursued a life of crime and could now face a jail term of up to 28 years in Spain.
He will be sentenced in the coming weeks.
Comments are off as Quinn has not yet been sentenced.