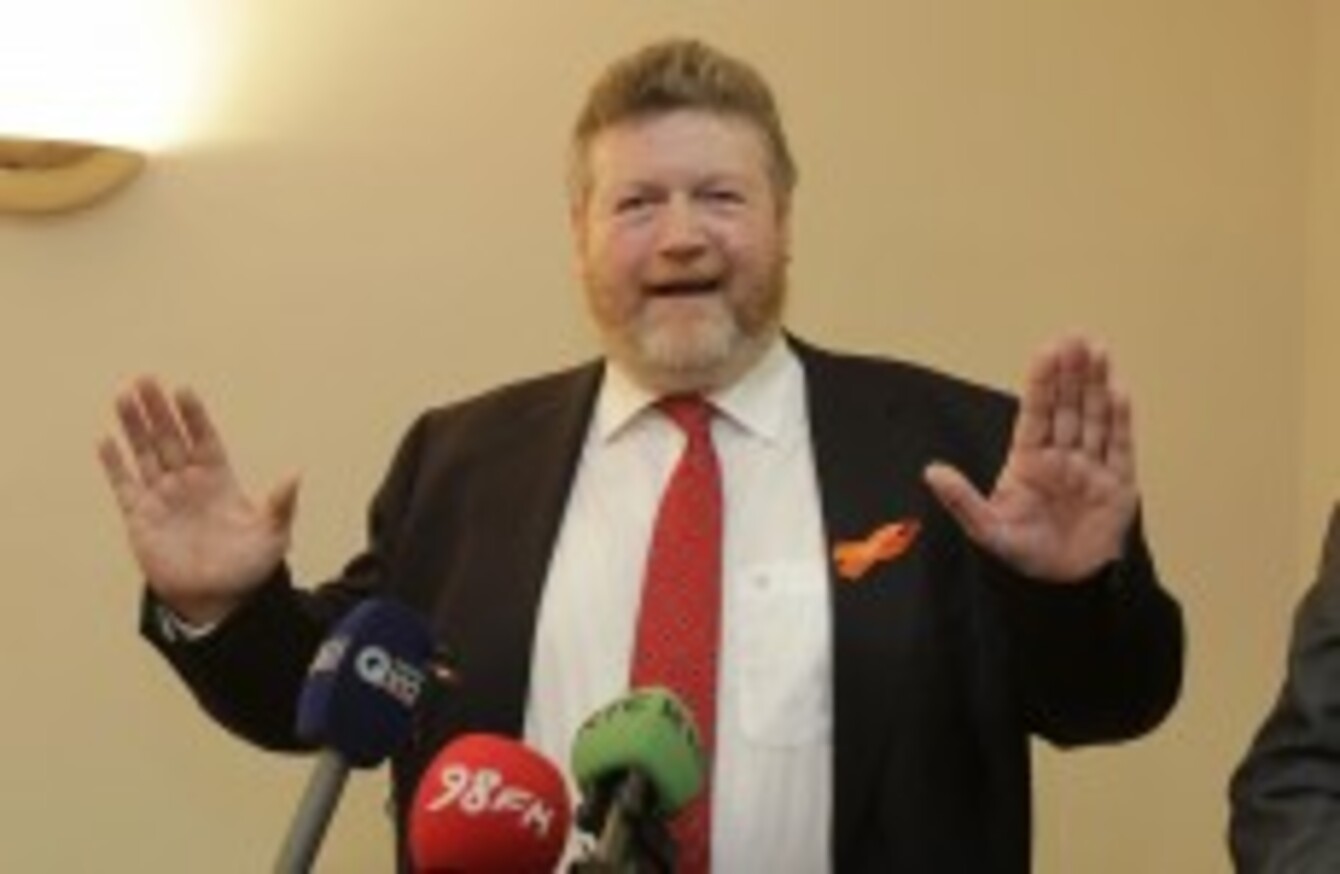 Minister for Health, James Reilly: "If I had to do it again, I would make the same decision."
Image: Niall Carson/PA Wire
Minister for Health, James Reilly: "If I had to do it again, I would make the same decision."
Image: Niall Carson/PA Wire
THE MINISTER FOR HEALTH has defended his decision to add extra towns to a list of areas being considered for new primary care centres – including two in his own constituency – and said if given the opportunity to do so again, he would do so.
Today's Irish Times revealed that Swords and Balbriggan had been added to the list of 35 towns which will now bid for 20 primary care venues to be built under the government's €2.25 billion economic stimulus package announced in July.
The report by Paul Cullen and Martin Wall revealed that the HSE had originally identified a list of 200 potential venues, ranking each, before sending a list of the top 20 recommendations to the Department of Health.
However, the final list of potential venues published two months ago had been expanded to 35 towns – including Swords and Balbriggan, which were not among the list but which lie in Reilly's Dublin North constituency.
The method of deciding the prospective venues for primary care centres was one of the concerns raised by junior health minister Róisín Shortall – who herself is responsible for primary care – during a Dáil debate on Reilly's tenure earlier this week.
Urban deprivation
This lunchtime, speaking on RTÉ's News at One, Reilly said the original list had ranked the areas based on urban deprivation – and had not considered other factors such as the prospect of finding a site to use for the centres.
"If we were to stick with that criteria, of just urban deprivation, without considering the other things, we would end up in a situation were we would have no primary centre in an area like Rathfarnham – which has no healthcare facilities – and a primary care centre in the shadow of Tallaght Hospital," he said.
He added that Ballaghaderreen in Co Roscommon, another town he had added to the list, also had no health facilities at present.
Pointing out that the 35 sites being considered were only being earmarked for public-private partnership sites, where private sector funding helps to build the facility in the first place, Reilly said: "We have a much better chance of achieving 20 [primary care sites] if we have 35 sites.
"Balbriggan and Swords are being done through a different mechanism, a lease mechanism," he added.
The minister added that there were a total of 280 places in which the Department ultimately hoped to provide primary care facilities through public-private partnerships, direct construction of new facilities, or the least of existing buildings.
In a statement the Department of Health added that the decision to add extra sites to the 20 put forward by the HSE was made "on the basis of experience on the ground".
"The experience on the ground had shown that securing the involvement of GPs and associated professionals in such Primary Care Centres can be difficult," the Department explained.
"Obviously such professionals are key to the successful establishment and work of the Primary Care Centre. That difficulty can be added to in the event that options open to the HSE are limited and defined."
#Open journalism No news is bad news Support The Journal

Your contributions will help us continue to deliver the stories that are important to you

Support us now
The Department affirmed that "the extended list gives a greater latitude in terms of securing interest."
Opposition demands chance to question
Fianna Fáil health spokesman Billy Kelleher, who tabled the Dáil motion of no confidence in Reilly, described the Irish Times report as "deeply unsettling" and said he had asked the Oireachtas health committee to meet next Monday and question the minister over the affair.
"At face value, it appears that political interference has taken place in a selection process that is both of enormous clinical importance and significant commercial value," Kelleher charged.
"If this is the case, it must surely be the final straw for a Minister whose 18-month tenure has been a catalogue of disorder, disappointment and dysfunction."
Kelleher also said Tánaiste Eamon Gilmore, who yesterday told the Dáil that he was in regular discussion with Shortall over her concerns, had questions to answer – and challenged the Tánaiste to say whether he was aware of the decision to add extra venues to the list.
Asked this lunchtime about Shortall's Dáil speech – in which he was not named once – Reilly simply noted that "actions speak louder than words", pointing out that Shortall had voted in Reilly's favour when the vote was called.
"That's good enough for me," he said.