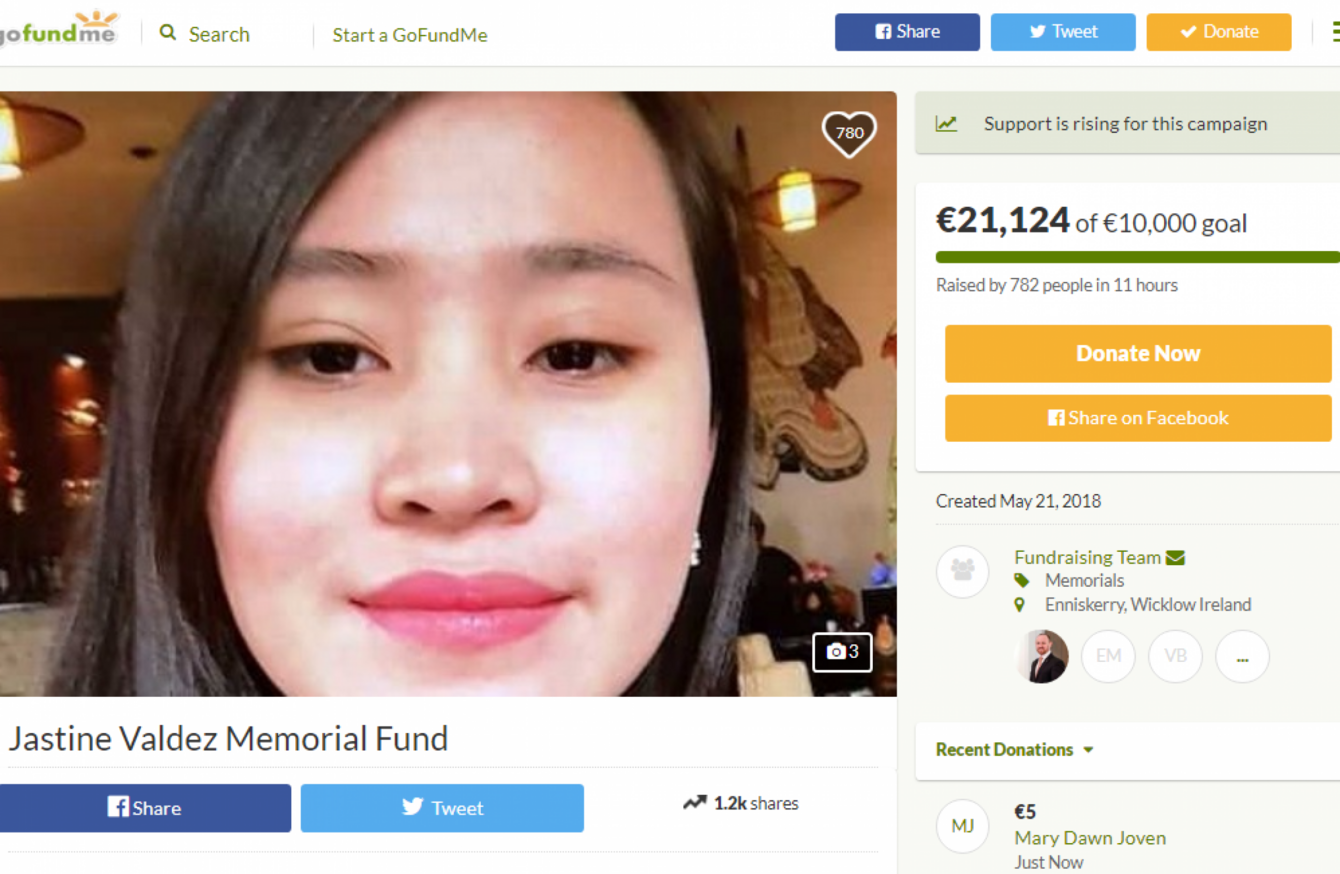 Image: GoFundMe
Image: GoFundMe
MORE THAN 700 people have contributed to a Go Fund Me campaign set up to support the family of 24-year-old Jastine Valdez.
The campaign was set up by Outreach Ireland, a group that assists people from the Philippines to renew their passports through the Philippines Embassy in London.
Jastine went missing from Enniskerry, Co Wicklow on Saturday after reports that she was forced into a car. Yesterday, Gardaí searching for the accountancy student found a body in thick gorse in the Puck's Castle area of Dublin.
The campaign has already garnered more than €20,000 worth of donations since it was set up last night, quickly surpassing its €10,000 goal.
The page was started by Raymond Garrett, who was the Director of Operations of Ireland's Philippines consulate for five years.
He told TheJournal.ie that the fund was set up with a goal of €10,000 because that is the nominal cost of repatriation.
"This is never going to take away the family's pain. It's not to console the family. They have a daughter that's never coming home.
But what it does do is remove the question of 'how do we pay for this?'
Garrett explained that they were moved to set up the GoFundMe because they had been approached by numerous people in the Philippines community who wanted to give money to the family.
In the Philippines the tradition of 'Abuloy' sees people giving money to grieving families as a way of showing support.
"Every cent is going to the family," Garrett said. "We're being completely transparent about this."
The transfer and oversight of all the donations will be made public and will be overseen by a Dublin-based solicitor.