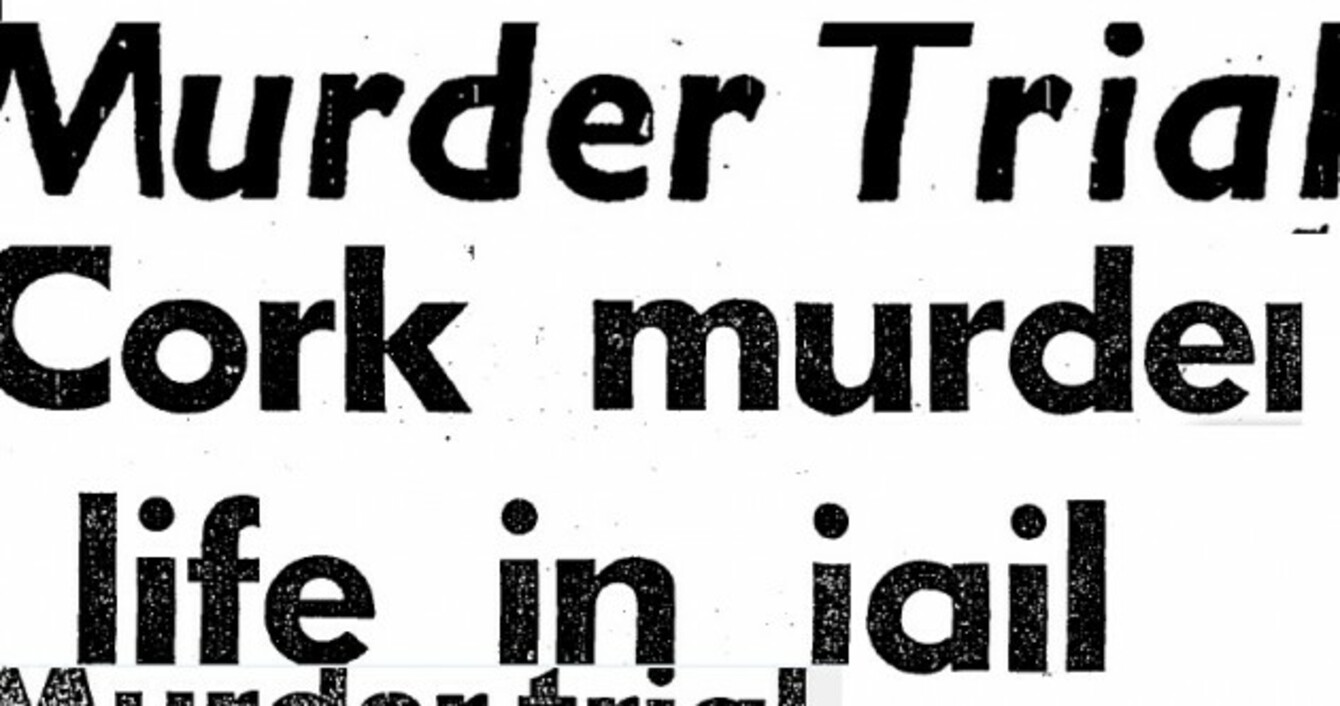 IRELAND'S LONGEST SERVING prisoner has been in jail for over 52 years.
In 1964, Jimmy Ennis – aged 35 – was convicted of murder and sentenced to life in prison.
He is one of 31 prisoners incarcerated for more than 20 years in Ireland's penal system.
Of this, 29 are serving life sentences and two are imprisoned for capital murder, which carries a sentence of 40 years.
Through a Freedom of Information Act request, TheJournal.ie discovered there are just three men who have been in jail for more than 40 years – all for murders committed in the 1960s and 1970s.
Over the last couple of weeks, we have told the stories of John Joseph Kenny who has been in prison more than 42 years and serial killer John Shaw who has been behind bars for 40 years.
This week, we focus on Ennis, Ireland's longest serving prisoner, who has never even applied for parole.
Ireland's longest serving prisoner 
In 1964, Ennis was convicted of murdering a farmer in county Cork. The farmer, George Applebe, was killed with an iron bar during an impromptu robbery. Mr Applebe was aged 54, a married man, who had a farm in Watergrasshill area.
Ennis was only out of prison a short time having been convicted of an assault on a woman in Kildare, which the media at the time described as a "hatchet attack".
He had been given four years in prison for that assault on Mary Reynolds.
The court report in The Irish Times on 24 April 1961 said the jury was told that Ennis struck Ms Reynolds over 50 blows with a beet crowner (used for seeding) and a hatchet and robbed her of £5.
At the time he was just 29 years old and a farm labourer.
He pleaded guilty to grievous bodily harm, but not guilty to attempted murder.
The Irish Times reported that on the day of the attack, he went to the home of Ms Reynolds and asked for some hot water. She agreed to boil some for him and when she came back, he demanded money.
She refused and he struck her. She continued to refuse to hand over the cash and she ran to her bedroom, bleeding profusely.
He followed her, dragging her back out of the room while beating her with the beet crowner, which actually broke during the assault. He then used a small hatchett to continue the beating.
He took the £5 from her purse and left. Ms Reynolds was found by her husband in a semi-conscious state.
Just four hours after attacking Ms Reynolds, Ennis called the gardaí and turned himself in. He was described as a very co-operative detainee who answered all the questions asked of him.
During the trial, the surgeon caring for Ms Reynolds said he believed she would have residual brain damage due to the assault and was now "child-like".
Ennis told the court that he had no intention of killing her, stating that he had left her home and not realised what he had done. He later said that when he properly acknowledged it to himself, he told gardaí what had happened. He said he was sorry for what he had done.
The judge in the case said that he could hand down a life sentence for the robbery but as Ennis had pleaded guilty and shown regret, he went for a much-reduced four-year jail term.
Days after release Ennis goes on to murder 
Just two days after his release from that sentence, Ennis went on to murder George Applebe, a married man with two sons and a 260-acre farm.
As the farm was rather large, they often employed labourers. In 1957, they employed Jimmy Ennis.
On an ordinary night in 1964, Mr and Mrs Applebe had stayed up to watch television with their youngest son. Their eldest had gone to a local dance in Bandon. Shortly after 10.30pm, they all went to bed.
Ennis, armed with an iron bar, broke into the house and went quietly upstairs.
He took a wallet with £10 in it. He searched for other valuables but couldn't find any. As he searched the cupboards in the couple's room as they slept, Mr Applebe began to stir.
Using an iron bar, Ennis struck Mr Applebe on the head, Applebe only calling out 'Who's there?' before receiving a fatal blow.
His wife was also struck, suffering three deep wounds to her head during the attack.
In a statement to gardaí, Ennis admitted he caught Mrs Applebe while he was striking her husband but didn't know how many times.
I was excited and nervous. For a few minutes, I don't know what happened.
The attack left Mr Applebe's face completely crushed.
Ennis retreated from the house that night but not before also robbing some shoes and garments.
Sons find parents the next day
The two sons found their parents the next morning in their bed, covered in blood. Mrs Applebe spent four months in hospital after the horrific attack.
With a search underway by gardaí, Ennis made his way to Dublin. He said he did not know he had killed Applebe until he saw the front page of a newspaper on Talbot Street.
"This was the first time I knew of the death and I felt sorry for him and what I had done," he said.
On 26 April 1964, Ennis walked into Store Street Garda Station to turn himself in.
"I have seen the papers, the police want to see me. Here I am," he told them.
First, he fabricated a story where he was not involved but he soon began to co-operate fully with gardaí.
"Tear up that statement, I will tell you the truth," he is recorded telling gardaí, much like in the case of the hatchet attack.
He expressed his sorrow to about what he had done to the mother and father of the two sons.
He was detained in Mountjoy Prison ahead of his trial. While there, he made two suicide attempts.
In court during November 1964, Ennis was classified as a "belligerent psychopath" who was emotionally unstable and who reacted violently in ordinary situations. 
However, Mr Wellwood, Senior Counsel for the prosecution, argued that Ennis was not insane at the time he committed the murder.
Ennis told the jury that he worked for Mr Applebe for two and half years and found him to be a good boss who paid well.
I had worked for Mr and Mrs Applebe for two or three years some years ago. I found them to be very decent people to work for and live with. I would like to say I express my sorrow to Eric and Ivor Applebe for what I have done to their father and mother.
When asked by Mr O'Siochain, SC defending, whether he had the "most absolute regret and sorrow", he replied, "I have".
He told the court he decided to break into the Applebe's home "to get a few pound".
Ennis said that when Mr Applebe awoke, he took the bar from his jacket and struck him.
"I shoved him back on the bed. I struck him again. I cannot recall how many times," he testified.
He said he was very afraid at the time as he "did not want to have any trouble". He maintained that Mr Applebe had knocked him to the ground when he awoke, and said he did not recollect when he started hitting him.
He told the jury he was in a "daze" and said he could not remember Mrs Applebe being in the room.
Dr PD McCarthy, a consultant psychiatrist with St John of God's Hospital in Stillorgan, said he found Ennis's thinking to be "clear coherent and logical".
I found no evidence of persecutory or delusional ideas.
Referring to his two attempted suicides at Mountjoy, Ennis told him that he wanted to take his life as he felt so bad about Mr Applebe's death and his impending trial, which he did not want to face.
Dr McCarthy did not believe Ennis had any intention of killing Mr Applebe.
The trial lasted six days with the jury returning with a verdict of guilty after two-and-a-half hours of deliberations.
Handing down the sentence of life in prison, Justice McLoughlin said he agreed with the jury's finding. The judge said that for the crime committed he should impose the death penalty but due to the passing of the Criminal Justice Act 1964, which abolished capital punishment, he could not.
The judge was vocal in his opinion of such legislation, stating that one of the safeguards to protect innocent lives had been removed.
He said he had no choice but to impose a life sentence given Ennis's previous convictions. The killer's defence team appealed on the grounds of the severity of the sentence but this was refused.
Today in prison
In the book Lifers, journalist Barry Cummins writes about Ennis's long stay at the open prison in Wicklow:
If Jimmy Ennis applied for parole tomorrow, he would get it. But he won't apply; he is institutionalised. He is more happy with his surroundings at Shelton Abbey, doing his gardening and odd jobs for locals and returning to prison at night.
He is regarded as a hard worker. At one point, he tended to goats in the low-security prison which were later sent to a charity in East Africa. He is described by staff as an 'old-school' prisoner.
Now aged 87, Ennis refuses to apply for parole, instead choosing to remain at Shelton Abbey.
The Irish Examiner reported in 1997 that over the years various Ministers of Justice have told him that he is free to leave and that he turned down an offer of a half-way house in Dublin.
He told the newspaper that he is "happy with the situation". He recalled some of the other prisoners that have come and gone over the years, including 'The General' Martin Cahill.
He said he never wrote to the Applebe family, believing "that would have been completely out of order".
Over the years, Ennis has developed a good relationship with staff and other inmates and quietly goes about his everyday business.
For a change of scenery, Ennis has at times asked to go to Arbour Hill Prison for a couple of weeks.
Sources told TheJournal.ie that he is like a 'piece of the furniture' at the low-security prison where he has lived the majority of his life.
When life means life: 'All I went for was a few bob. I hadn't it in mind at all to kill her'
When life means life: 'God help me. The devil made me do it'>