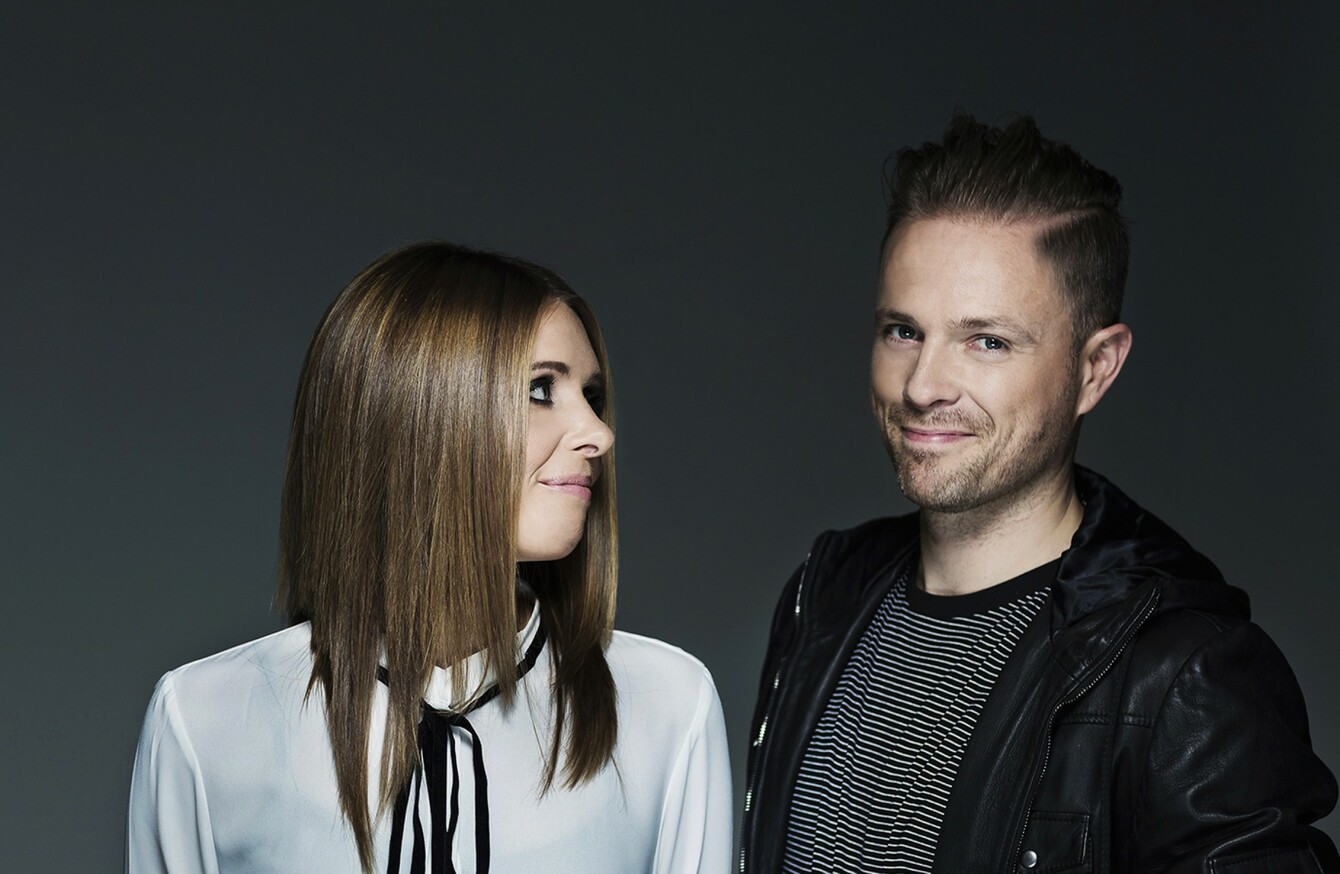 Image: RTÉ
Image: RTÉ
HEAD OF RTÉ 2FM, Dan Healy, has described a 'battle royale' between Today FM and his station as the latest JNLR figures are released.
There have been a tough few moments over the past couple of years for 2FM, which has undertaken a number of changes to boost listenership.
Today's JNLR figures – which look at who's listening to what on Irish radio – showed that RTÉ 2FM made a gain of 10,000 listeners when it comes to daily total reach. Its show Breakfast Republic is still the number one radio show in Ireland for people aged 15 – 34.
Things might be looking up, but the head of the station said that the battle isn't won – particularly with new blood coming into rivals like Today FM to attract younger listeners.
"It's a tough journey. [I'm] not going to pretend it's not, we've taken a particular direction, we've lost audience over 45, and now it looks like we are starting to build," said Healy.
Speaking to TheJournal.ie, Healy said of Today FM: "We're going to have a battle royale, because the station that was Today FM is no longer Today FM, they're becoming Comedy Central. From 9am to really 4pm you've got three versions of comedy and all very talented people, so we are now looking at a different thing."
He also said that stations like Today FM are starting to appeal to younger listeners, like 2FM. "Communicorp are looking like they're having two spaces going south, 98[FM] is looking like it's going south, Today FM is going south. I don't mean declining – I mean going to younger audiences, so we're going to have a serious battle."
But he said that events like the Jenny Greene 2FM RTÉ National Concert Orchestra collaboration has been boosting listener numbers. "There is obviously a lot of noise around that, from Stradbally to the 3 Arena twice, more that 30,000 people watched them," said Healy. "That organic growth through content is actually rewarding because we don't have a lot of money to market stuff. I mean Today FM are spending €1 million against our €100,000."
Almost 2 million listeners tune into RTÉ Radio every week, with RTÉ Radio 1 pulling in a weekly reach of over 1 million.
Over in Today FM, the station said it had "big wins" in the latest JNLR figures, with shows from Dermot and Dave and Fergal Darcy getting a bump of 2,000 and 6,000 listeners respectively.
The station announced last week that Al Porter would be joining its roster of presenters – taking over the slot vacated by Anton Savage.
Notably, Savage's listenership, according to the latest JNLR figures, had only seen a drop of 2,000 in the latest count. The Last Word with Matt Cooper saw a slight dip in listeners (-4,000), and Ian Dempsey dropped 6,000.
Despite the decline, the Ian Dempsey Breakfast Show is still the number one breakfast show on commercial radio, according to Today FM. Alison Curtis, Phil Cawley and Hector Ó hEochagáin have also all seen an increase in listeners.
Top shows
The following shows the top 20 national radio programmes for adults aged 15+ in Ireland, with Morning Ireland and Liveline still top of the list.
A breakdown of the figures shows:
RTE Radio 1
Morning Ireland gains 4,000 listeners since the previous book of figures, to 448,000
Ryan Tubridy Show now has 323,000 listeners, up 7,000 book-on-book and up 9,000 compared to this time last year.
Today with Sean O'Rourke increased its listeners since the last book of figures by 7,000
Arena has kept its listener figures consistent at 31,000
The John Creedon Show gained 8,000 listeners compared to last year and now has 41,000 listeners
2FM
Some of the main findings for 2FM include:
Breakfast Republic gained 9,000 listeners book-on-book to 154,000
The Nicky Byrne Show with Jenny Greene is steady with 131,000 listeners
Tracy Clifford gained 3,000 listeners-since the last round of figures, bringing her listeners to 113,000
The Eoghan McDermott Show is up 1,000 listeners to 110,000 since the last round
The Louise McSharry Show (with Conor Behan) / The National Chart Show are up 1,000 since last year to 20,000
Larry Gogan has gained 2,000 listeners while Jenny Greene's Electric Disco gained 6,000 listeners compared to last year.
The figures show that 82% of adults listen to the radio every weekday, with local radio reaching more than 40% of the local adult population daily in some areas.
Some of the most popular stations include Highland Radio, MWR, Northern Sound and Raido Kerry, which all hold the majority share in their respective areas.
- Additional reporting Rónán Duffy