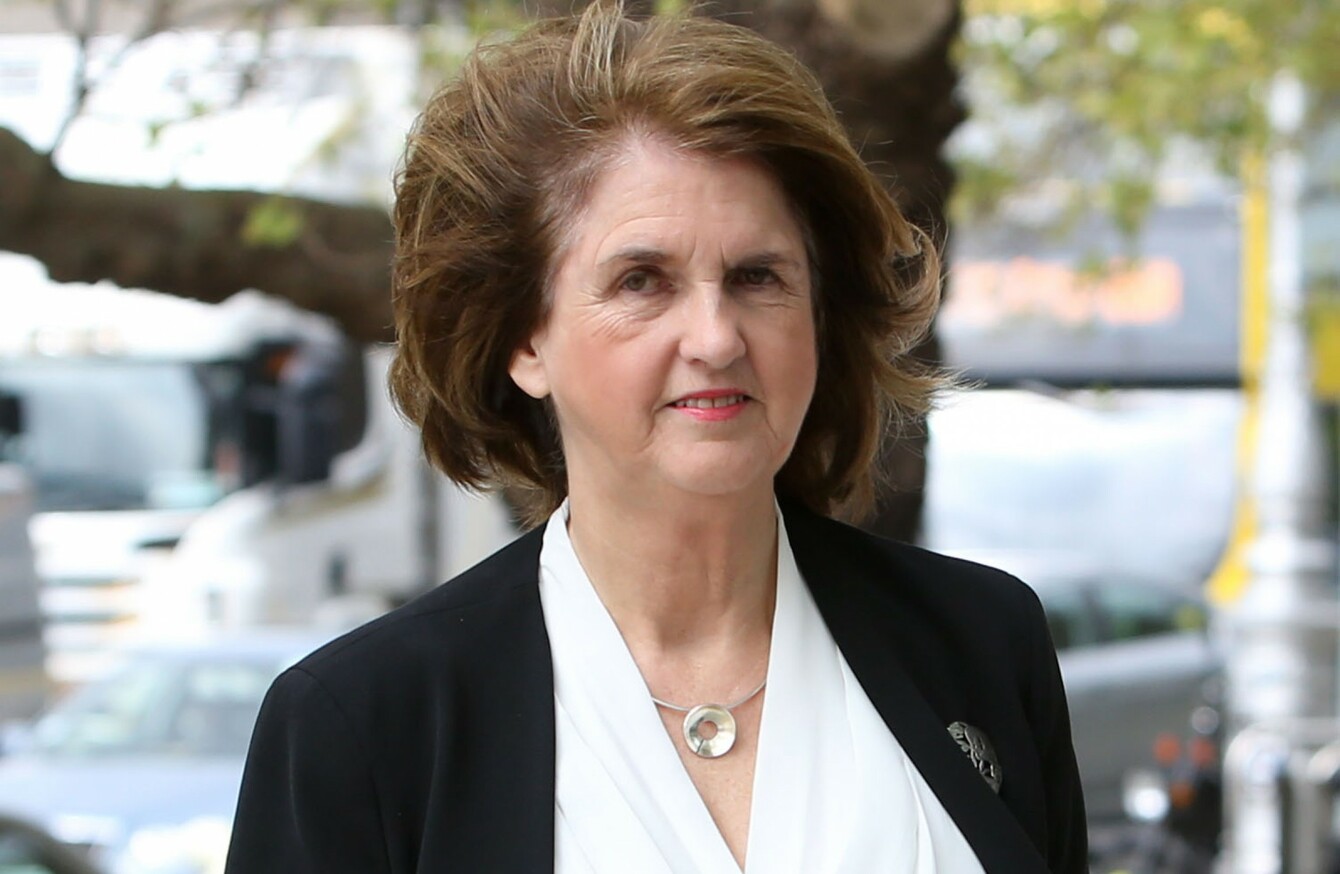 Image: Sam Boal
Image: Sam Boal
FORMER TÁNAISTE JOAN Burton has denied she left out any reference to "water protesters" in her statement to gardaí because she wanted to make the protesters out as a "disorganised rabble".
Under questioning from defence counsel today Ms Burton denied she left any reference to water protesters out of her statement to gardaí because she did not want to give them a "veneer of legitimacy".
Burton took the witness stand for the third day today in the Dublin Circuit Criminal Court trial of Solidarity TD Paul Murphy and six other water protesters.
Murphy (34), together with South Dublin Councillors Kieran Mahon (39) and Michael Murphy (53) and four other men, are charged with falsely imprisoning Ms Burton and her adviser Karen O'Connell by restricting their personal liberty without their consent at Fortunestown Road, Jobstown, Tallaght on November 15, 2014.
Paul Murphy of Kingswood Heights, Tallaght; Kieran Mahon of Bolbrook Grove, Tallaght; Michael Murphy of Whitechurch Way, Ballyboden, Dublin; Frank Donaghy (71) of Alpine Rise, Tallaght; Ken Purcell (50) of Kiltalown Green; Michael Banks (46) of Brookview Green, Tallaght and Scott Masterson (34) of Carrigmore Drive, Tallaght have all denied the charges.
The trial has heard Burton and O'Connell were trapped in cars for about three hours after they left a graduation ceremony at An Cosan education centre in Tallaght.

Political
Defence barrister Michael O'Higgins, SC, representing Ken Purcell, asked Ms Burton why the words "water protesters" did not feature in her statements to gardaí. The court broke briefly for Ms Burton to read her statement.
When asked why she did not include those words, Ms Burton said "I was not making political statements".
"I was asked to tell what happened to me, a sequence of events," she said.
O'Higgins told Ms Burton that he did not defend the behaviour of anyone who threw a water balloon or an egg at her. That was "an indefensible action", he said. His client had not engaged in such behaviour, he added.

A duck's back
He said he was also not defending "anybody who obstructed your path in a way that was unlawful". However, he put it to Ms Burton that as the leader of the country, being called distasteful names should be "water off a duck's back".
"Can I suggest to you for the leader of a country, while it's thoroughly distasteful and unpleasant to be called these things, a bitch, a c***, that is water off a duck's back," O'Higgins said.
"Not necessarily, if it's accompanied by people raining blows on a car," Ms Burton replied, adding that the day of the Jobstown protest was a "very unusual experience."
"This particular episode was entirely different to other experiences I had," she said. "The venom and the hatred that was part of this particular event was unusual."
O'Higgins put it to Ms Burton that while name-calling may be ugly, it was also a person's right to express that view as part of freedom of expression.
"You should be big enough and bold enough to take it on board," he said. Ms Burton replied: "I'm not sure why you're asking me to be big enough and bold enough".

"Impeccable"
The cross-examination became heated at times, with O'Higgins at one point saying, "Why don't you just answer the question?"
He put it to Burton that "99% of people on that protest were behaving in a way that was impeccable," he said.
"There was no rage. There was no anger," he said. Burton replied: "That was not my experience. I don't think that was so."
The trial was shown video footage from garda air support at about 2.53pm that day during which a dispatcher could be heard saying the crowd was dispersing.
The dispatcher said they were "making good progress" and Ms Burton's car should reach the Tallaght by-pass within 20-30 minutes. "There's no hassle really," the dispatcher said, adding there had been a bit of pushing when the garda public order unit arrived.
O'Higgins put it to Ms Burton that those who engaged in pushing were "a tiny minority and not representative of the group as a whole." He suggested the situation was "playing out quite placidly".
"I'm no expert," Ms Burton responded, adding that she had not been party to the conversation from the air.
"I wasn't able to open the car door and get out and go freely," she said.
He put it to her that she didn't mention water protesters in her statement to gardaí because she wanted to make out it was a disorganised rabble. Ms Burton denied this was the case.
O'Higgins also questioned Ms Burton at length on the recession, bank debt and the bailout, at one point prompting Judge Melanie Greally to note that there was no need to go into such a level of detail.
Defence barrister Ciaran O'Loughlin SC, representing Michael Banks, put it to Ms Burton that there were "many many people there that afternoon who did nothing untoward".
Ms Burton agreed, but said there were also "many many people there who were protesting".
"They were banging the car, they were shouting and roaring," she said. She said as time went on, she found the situation was "scary and menacing". She added that she did not identify Banks that day.
"Particularly when I wasn't able to leave the car and there was the constant worry if people got the car door open what would happen to us and where would we run to," she said.
Under further questioning, Ms Burton said she believed people have the right to protest peacefully.
"But personally I would not agree with the behaviour of many of the protesters in that particular campaign," she said.
The trial is not sitting tomorrow.
Comments have been turned off as legal proceedings are ongoing