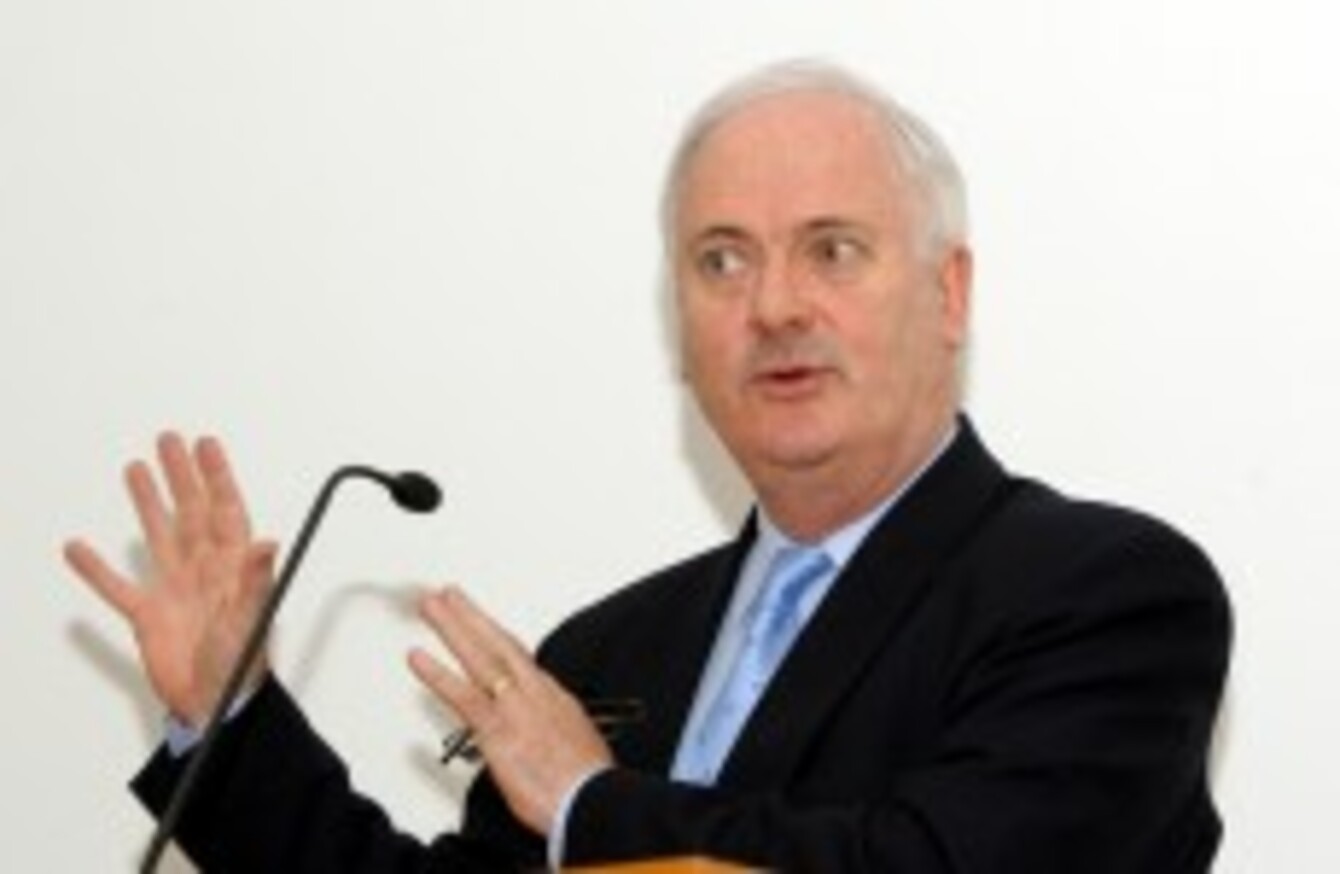 John Bruton
Image: AP/Press Association Images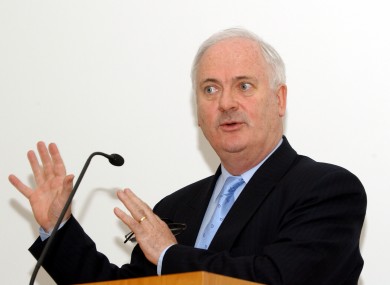 John Bruton
Image: AP/Press Association Images
WHILE BERTIE AHERN and Brian Cowen have remained largely silent since they left office, former taoiseach John Bruton has been a frequent and outspoken commentator on matters of the day over the last few years.
The former Fine Gael leader led the Rainbow Coalition in government from 1994 to 1997 and has remained a prominent voice on Irish political and economic matters in recent years.
This is due partly to having taken on the high-profile role of EU ambassador to the United States from 2004 to 2009 before becoming president of IFSC Ireland, a role which essentially tasks him with lobbying on behalf of the organisation to the Dublin docklands.
Bruton has been in the news in recent weeks for his comments on the 1916 Rising and newly-unearthed remarks about bankers that he made last year. Both instances are unlikely to have gone down well in government circles.
On his website, johnbruton.com, are a collection of what Bruton calls 'opinions and ideas' with links to YouTube videos of his various appearances in the media media both in Ireland and internationally. He maintains a strong public profile and, with is role at the IFSC, a healthy degree of influence.
Here are a few of the most recent examples of him saying things that probably haven't gone down well with the government, and particularly Fine Gael, in recent years…
1. Saying abortion legislation shouldn't include suicide 
As the government struggled to deal with the considerable fallout from its proposal to legislate for the X Case, Bruton made a timely intervention in April last year which caused considerable unease within the Fine Gael leadership. 
With several of the party's TDs wavering on whether or not to back the Protection of Life during Pregnancy Bill, Bruton argued that legislating for X should not include threat of suicide as a grounds for an abortion, questioning the constitutionality of such a provision. He said there was no other area of law where threat of suicide "is sufficient to make legal, what would otherwise be illegal". 

2. Calling for less regulation
Ireland is a country where taxpayers have had to foot the bill for billions of euro of debt run up by the banks due in part to lax regulation of the financial sector. So when Bruton called for less regulation post the financial crisis, it's no surprise that his comments caused anger.
Last year, at a European Insurance Forum conference in Dublin, Bruton criticised the burden of regulation on the financial sector. He expressed the view that heavy regulation would not be needed if  "there was more emphasis on ethical judgement in business, if people took ethical decisions and accepted responsibility for them".
3. Calling for bankers to be given a break
Last weekend, the Sunday Independent reported on video it unearthed from last year where Bruton told a private audience of lawyers that voters blaming bankers for the economic collapse was akin to people who blamed witches in the 17th century.
He said that "credulous" people believed bankers were responsible for the financial collapse and said that the promises implicit in social security schemes like Medicare and Medicaid in the US would be broken.
"The populations of Europe are blaming austerity on bankers, and y'know, anonymous forces like that. Almost like in the 17th century people blamed witches," he said in the video that has 

since been removed from YouTube

.
Bruton subsequently told the paper his remarks were "loosely worded".
4. Saying the 1916 Rising was a mistake
At a time when the government is involved in a long and sensitive build-up to commemorating the Easter Rising in two years' time, Bruton said last week that the leaders of the 1916 Rising "made a mistake". He said the State should more enthusiastically celebrate the passing of the Home Rule Bill in 1914.
"What they did when they occupied the GPO and other strong points in Dublin – and they said so in their proclamation – they were allying themselves with the Kaiser, the Kaiser's Germany, with the Ottoman Empire and with the Austrian Empire," Bruton told RTÉ Radio.
#Open journalism No news is bad news Support The Journal

Your contributions will help us continue to deliver the stories that are important to you

Support us now
While these comments appeared to annoy Sinn Féin more than anyone else they are unlikely to have pleased those in government as evidenced by Arts Minister Heather Humphreys emphasising that Bruton was speaking as an individual.
5. Giving no indication that he'll stop being outspoken
For whatever reason, Bruton does not think that as the former holder of the most powerful office in the State he should maintain his silence in the way others have done, including his Fine Gael predecessor Liam Cosgrave.
Responding to criticism of him by the Sunday Independent last year, Bruton wrote that the paper had essentially said that because of who he was, his character, where he was educated and his income he "should not be allowed to express a view at all" He noted that was "strange, from an advocate of free speech!"
One thing he has remained private about are his own financial affairs. Bruton is reported to be paid a six-figure sum for his IFSC role. In addition he is entitled to a ministerial and TD's pension of around €135,000. He said he has no intention of handing either part or all of it to the State despite calls from some for him to do so in recent years.
Bruton also claimed some €292,000 over ten years under a now scrapped scheme for former taoisigh to cover expenses for secretarial assistants, airport VIP services and mobile phone usage.
When we asked about the expenditure in August 2012, Bruton responded in an email: "This is a private matter."