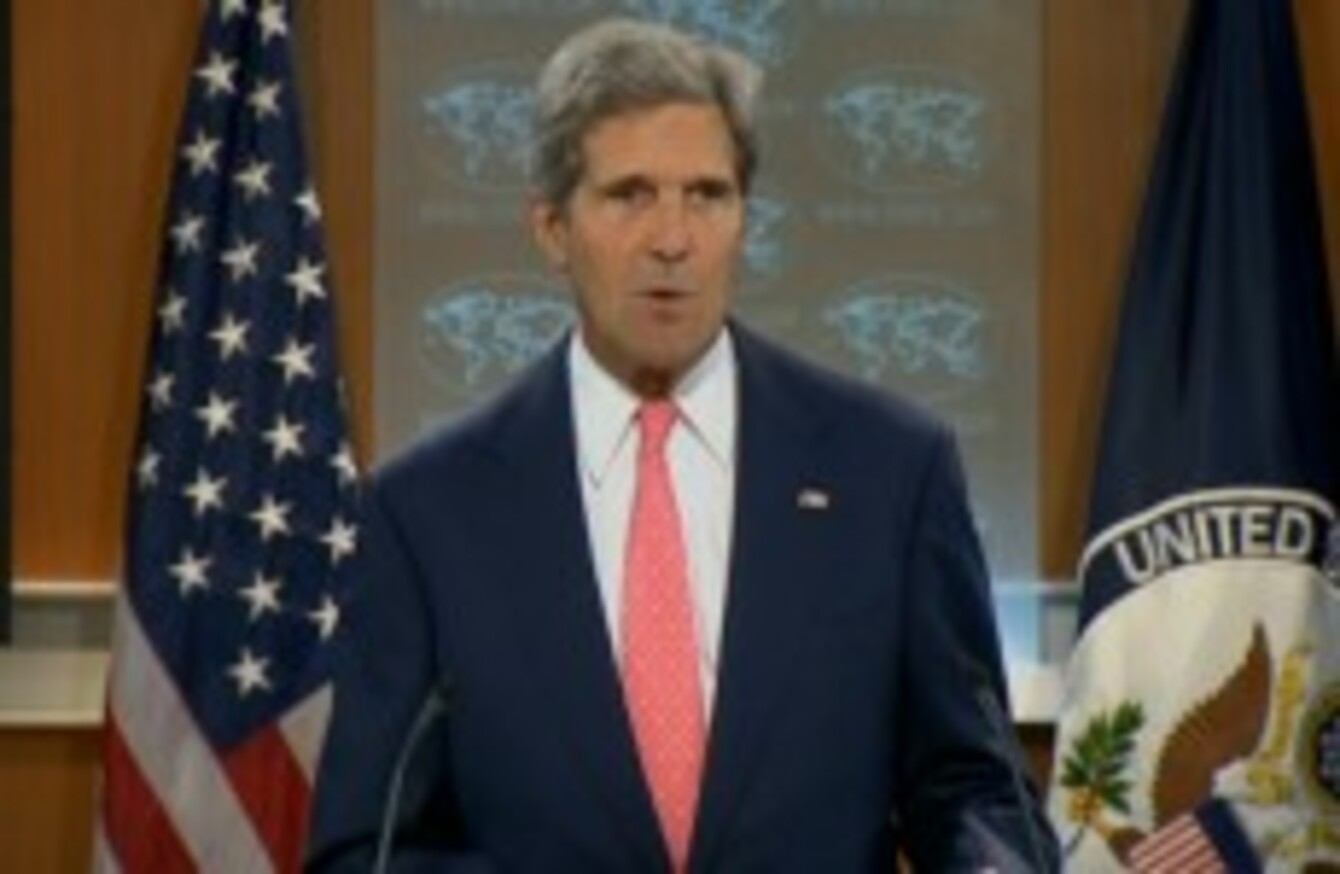 John Kerry speaking tonight
John Kerry speaking tonight
Updated 23:08
US SECRETARY OF State John Kerry has said the use of chemical weapons in Syria is a "moral obscenity" which "defies any code of morality" – and issued a direct warning to the Assad regime.
"What we saw in Syria last week should shock the conscience of the world," Kerry told the press at a specially-convened briefing this evening.
In his strongest statement yet, Kerry said that there "must be accountability" for the use of chemical weapons – but did not go into detail on the type of intervention being discussed.
He repeatedly emphasised that there were definite evidence that chemical weapons were used, saying:
Make no mistake. President Obama believes there must be accountability for those who would use the world's most heinous weapons against the world's most vulnerable people.
Kerry said that Obama's entire national security team has been reviewing the situation in Syria in recent days – and said that the Obama administration has "additional information" about the attack which it will make public in the coming days.
He spoke of the "indiscriminate slaughter" caused by the use of the weapons, which he said was both inexcusable and undeniable.
"This is about the large scale indiscriminate use of weapons that the civilised world long ago decided must not be used at all – a conviction shared even by countries that agree on little else," he said.
There is a reason "why this international norm cannot be violated without consequences," he said.
He spoke of how he had looked at many videos and photographs which had emerged from Syria of the alleged attacks, and cited reports about victims as being evidence "that everything these images are already screaming at us is real. That chemical weapons were used in Syria".
"Moreover we know that the Syrian regime maintains custody of these chemical weapons," he said.
Earlier today snipers shot at UN inspectors who were beginning their investigation into whether chemical weapons were used in a Damascus suburb last week.
Doctors Without Borders said 3,600 people turned up at hospitals within three hours of each other displaying "neurotoxic" symptoms consistent with the effects of chemical weapons. Of these, 355 people died, the group said.
Originally published 20:05