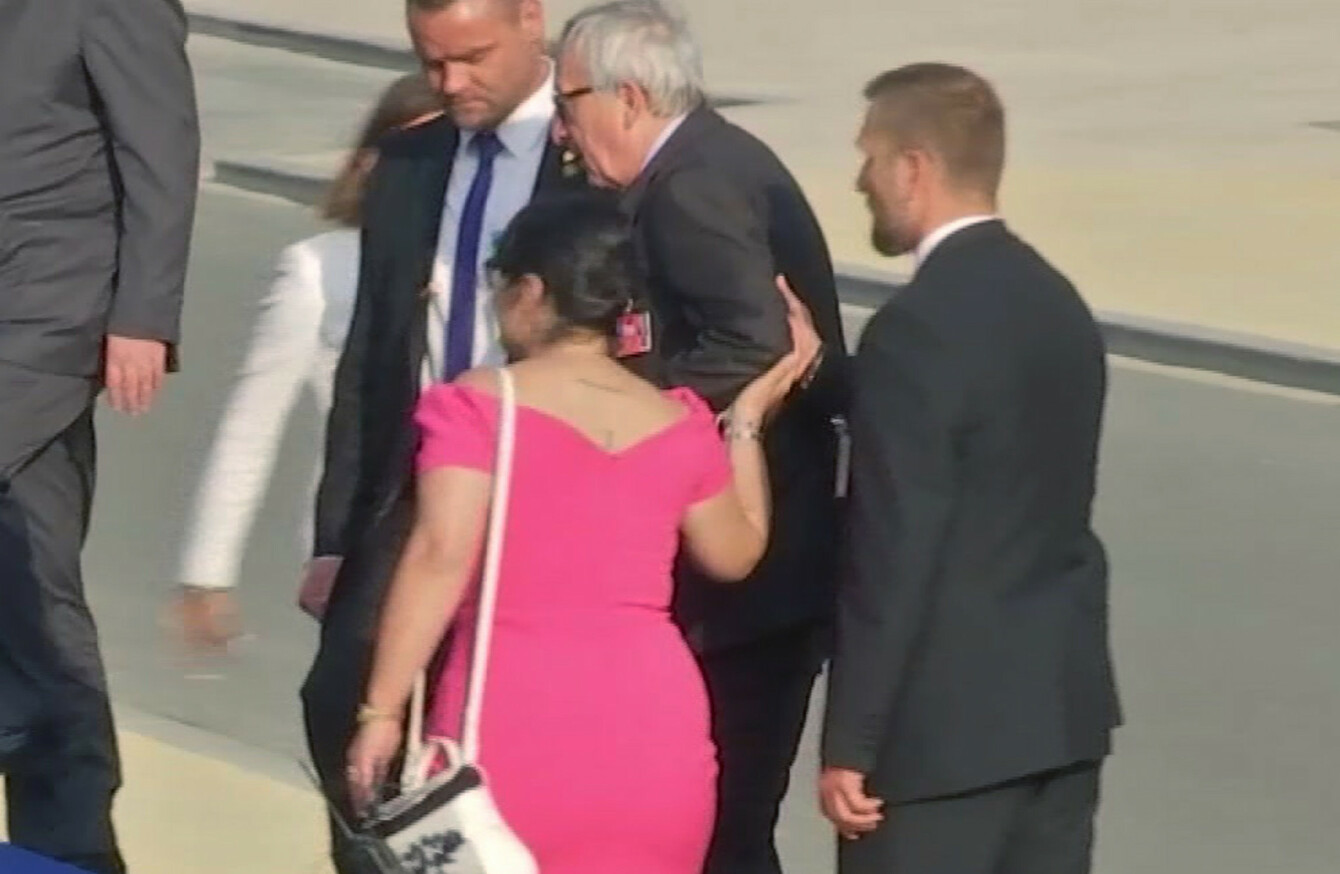 Video screengrab of European Union leader Jean-Claude Juncker being helped up the stairs, as he joins Heads of State and NATO leaders in Brussels, Belgium
Image: AP/Press Association Images
Video screengrab of European Union leader Jean-Claude Juncker being helped up the stairs, as he joins Heads of State and NATO leaders in Brussels, Belgium
Image: AP/Press Association Images
THE EU HAS said back pain caused European Commission chief Jean-Claude Juncker to stumble at a NATO summit and denied "insulting" insinuations that he was drunk.
The 63-year-old was seen repeatedly unsteady on his feet at the summit dinner at a historic museum in Brussels on Wednesday night, before having to be helped away in a wheelchair.
At times the prime ministers of the Netherlands and Portugal propped him up while world leaders including US President Donald Trump and British Prime Minister Theresa May looked on.
"The president Wednesday night suffered from a very particularly painful attack of sciatica accompanied by cramps," European Commission spokesman Margaritis Schinas told a daily briefing.
"The president has himself publicly stated that this sciatica affects his ability to walk. That was, unfortunately, the case Wednesday night," Schinas added.
"The president wishes to thank publicly Prime Ministers Mark Rutte and Antonio Costa for assisting him during this painful moment. He is taking medication and feels better."
Sciatica is a nerve condition that can cause severe leg and back pain.
Juncker, whose five-year mandate as head of the EU's executive arm ends in 2019, is known to use his sense of humour and frankness to achieve compromise in the 28-nation European Union.
But his behaviour has triggered accusations that he has a penchant for alcohol, which his spokesmen have always strongly denied, and did so again when asked if he was drunk on Wednesday.
"I think it's more than tasteless that some press tried to make insulting headlines by exploiting president Juncker's pain. I don't think this is elegant and I don't think this is fair," Schinas said.
Asked if Juncker, who is also an admitted smoker, had mixed painkillers and alcohol, Schinas replied: "No he didn't, at least I am not aware of this happening."
The spokesman added that Juncker had a "full programme" at NATO and the commission yesterday, and will stick to a "very demanding agenda" next week including a trip to China and Japan.
It is not the first time Juncker's behaviour at public events has faced scrutiny.
At the opening of a summit in the Latvian capital Riga in 2015, a light-hearted and tactile Juncker kissed leaders on the head, fiddled with their ties, saluted, and slapped them not just on the back but also on the stomach, chest and face.
Juncker also teased Hungary's hardline rightwing Prime Minister Viktor Orban over his strongman reputation, jokingly greeting him as "dictator".