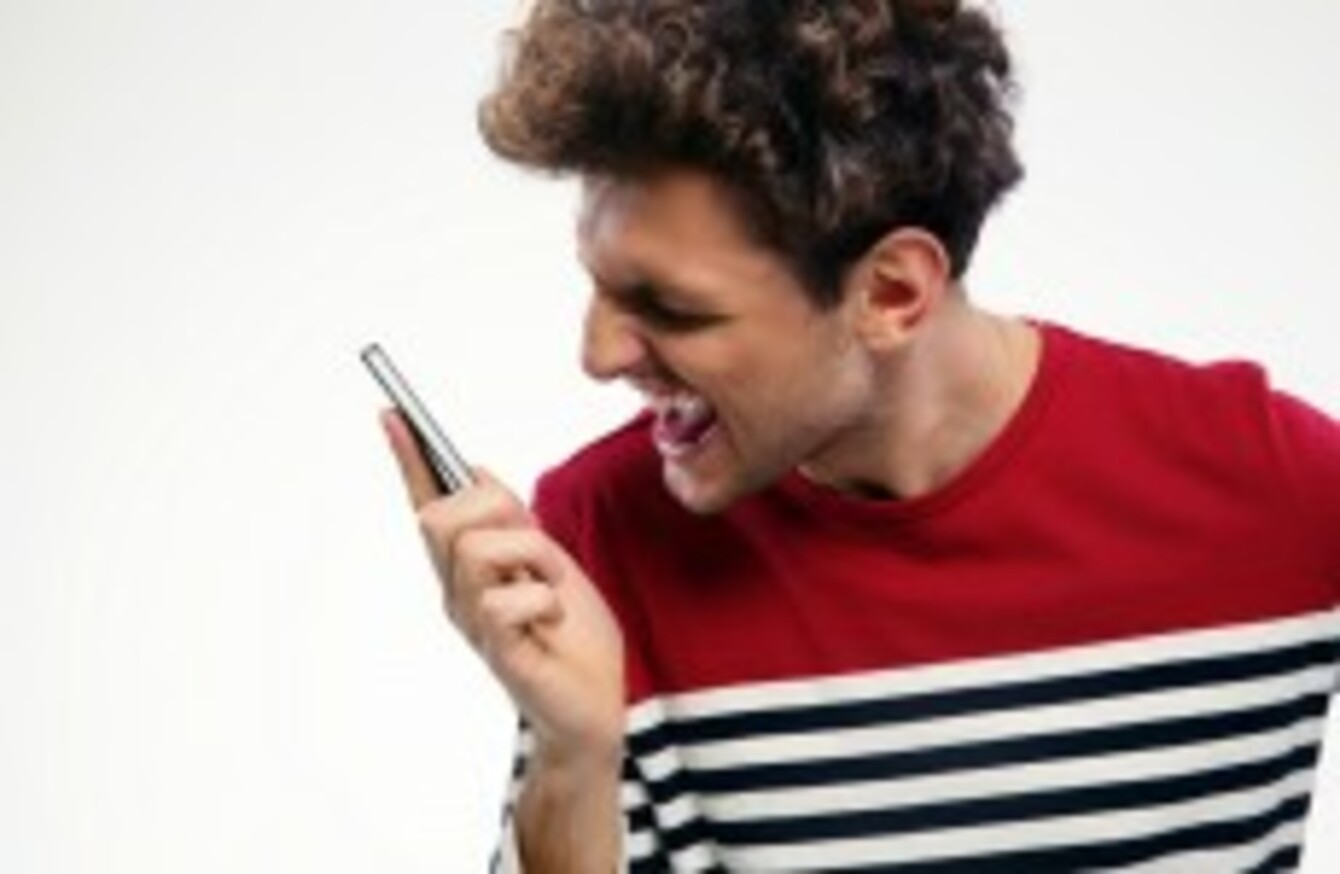 If you find yourself screaming at your phone like this, then you may have bigger problems that need addressing.
Image: Shutterstock/Dean Drobot
If you find yourself screaming at your phone like this, then you may have bigger problems that need addressing.
Image: Shutterstock/Dean Drobot
HOW MANY TIMES do you check your smartphone a day? Ten times? A hundred times? Or more than that?
Chances are if you have a smartphone, then you're using it multiple times a day, and it's probably the first and the last thing you look at every day.
The average person is said to check their phone more than 150 times a day and the centre of this experience are apps, some looked at more than others.
It could be Facebook, it could be Tinder or it could be a game like Candy Crush Saga or Clash of Clans, but what gets us addicted to them in the first place?
So how do we get hooked?
To start, it's probably worth looking at the causes of addiction briefly before we enter the subjects of apps.
To put it simply, addictions usually start out as something you try out first, and enjoying it. Since you associate those positive emotions with that specific activity, that normally spurs you on to do it again and again until it becomes instinctive.
Generally, all addictions follow this process and it's usually something you don't realise until it's become serious, in which case it becomes difficult to wean yourself off. Apps may not be a life-threatening or serious addiction, but if it's affecting your focus, then it's not good for the long-term.
What about the apps?
No matter which one you choose, pretty much every app in existence is based on one core feature. For Instagram, it's sharing photos. For WhatsApp, it's messaging. For Hailo, it's ordering a taxi and so on.
Since they're based on one idea, it means there's one real aim: to ensure you invest as much time into them as possible (or enough times for you to pay for them).
A good app will usually have every main option a swipe or button press away and is easy to understand, and that's how it normally gets you using it.
Since you have it with you at all times, the level of friction between your day-to-day life and accessing your phone and apps is almost non-existent, and that's the key factor. If there's no barrier to you accessing something, to the point that you can access it instantly, then you're going to check it and rely on it more and more.
The possibility that you've missed something looms and even when you're bored, easy access means it's an automatic choice, and it's a bonus if you're receiving new messages, emails or updates regularly.
When you check your phone without a prompt, you're really doing it out of habit, but it's one that's been formed.
It's probably unsurprising to hear that app developers can track quite a lot of activity such as time spent on an app, most popular features and uninstalls among many other features. So it's probably less surprising to hear that app developers look for ways to reel you back in through a mixture of subtle and more direct means.
How are you reeled in?
The obvious one are push notifications. At its most basic level, it's to let you know when you get a message, or when someone liked your photo and so on. Sometimes there isn't an obvious reason to send you one in which case other motivators are used.
For example, Duolingo reminds you to do a lesson every day – which is helpful as you're trying to learn a new language.
On the other hand, a game like like Clash of Clans might send one to remind you to play again, or entice you by rewarding you with in-game items or currency if you manage to play it every day for a week. And that's before you even look at the ways freemium games try to encourage you to spend money on in-game content.
Experience has taught you that a vibration, a message alert or ringtone usually means something important has happened. Apps rely on that expectation to reach out to you, and encourage you to use it again. This is taken a step further with extra sound effects within apps like a pop or click to signal certain actions. Just look at the latest version of Facebook's app to see this being taken to an extreme.
#Open journalism No news is bad news Support The Journal

Your contributions will help us continue to deliver the stories that are important to you

Support us now
The other, less intrusive method, is by making the setup as frictionless as possible. You're less likely to come back to an app if it's confusing or hard to get started, and some of the best apps give quick tutorials or have automated setup as a way of ensuring you hit the ground running. In the case of games, they will introduce a gentle learning curve, introducing new elements with each new level so you're not lost.
However, the ultimate aim is the same. The sooner you become accustomed to an app's mechanics, the quicker you can start using it, improving the chances of you using it regularly and causing you to check it at any given moment.
There's still hope though
That said, not all apps engage in these practices or require you to treat them with cynicism. Apps can be incredibly useful and the experiences they allow can enrich your life, but if you're constantly checking them for virtually no reason, and they're having an impact on your focus, then it's probably worth looking at ways to curb that behaviour.
For one, uninstalling it is a way of accomplishing this, or if you can't do that, turning off push notifications and adding extra steps to find it (hiding it in folders, place it as far away from the home screen as possible, entering in passwords to access it), or deciding what your top eight/twelve apps are and hiding the rest are other ways of dealing with the problem.
If you wanted to take things to an extreme, then there are also apps designed to help you curb your addiction to apps, in case you want to go full circle. And if all else fails…
How many apps do you have on your favourite mobile device?