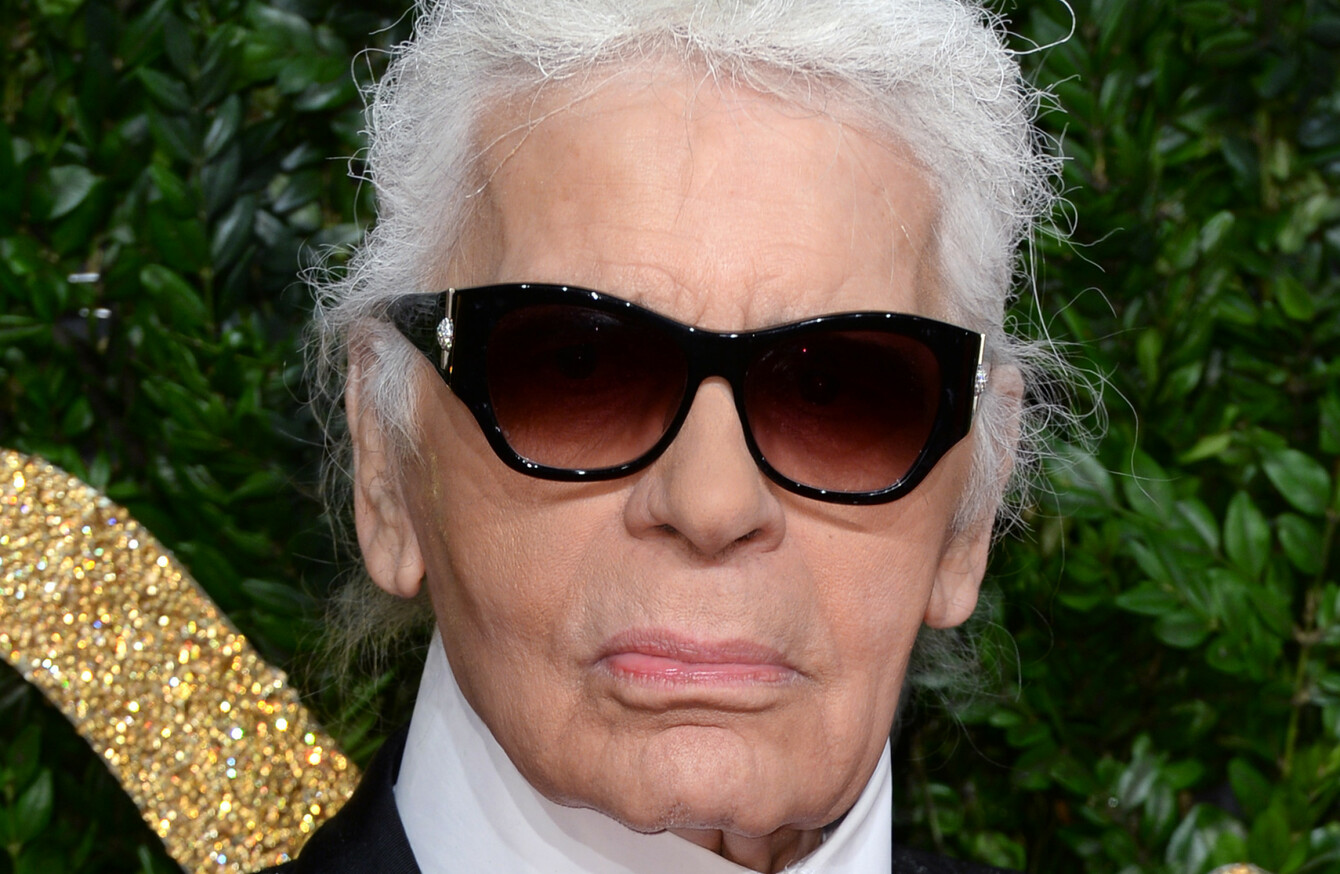 Karl Lagerfeld died today aged 85.
Image: Doug Peters/PA Images
Karl Lagerfeld died today aged 85.
Image: Doug Peters/PA Images
Updated Feb 19th 2019, 2:40 PM
THE FASHION WORLD is in mourning following the death of legendary designer Karl Lagerfeld who has died aged 85 after ruling the industry for decades.
The German high fashion icon was the creative director at Chanel since 1983 and is famed for his work with some of the world's best-known brands. 
The designer himself became instantly recognisable around the world with his white hair, black sunglasses, black tie and high-collared white shirt.
Lagerfeld, known as the 'Kaiser' for his influence over fashion for half a century, pulled out of two Chanel Paris haute couture fashion last month, with the label saying he was suffering from tiredness. 
Italian designer Donatella Versace led the tributes as news of Lagerfeld's death broke.
"Karl your genius touched the lives of so many, especially Gianni and I," she wrote on Instagram, referring to her murdered brother who founded her brand.
We will never forget your incredible talent and endless inspiration. We were always learning from you.
Pop star turned fashion designer Victoria Beckham said that "Karl was a genius".
He was "always so kind and generous to me both personally and professionally. RIP," the former Spice Girl added.
Bernard Arnault, the most powerful man in fashion and owner of the luxury giant LVMH, said he was "infinitely saddened" by the loss of a "very dear friend" and a "creative genius".
"Fashion and culture have lost a major inspiration. He contributed to making Paris the fashion capital of the world and Fendi one of the most innovative of Italian brands," the billionaire said.
Vogue editor Anna Wintour says the world has lost "a giant among men" with Lagerfeld's death.
Wintour, who was in London for fashion week shows, said she will miss the designer "so very much."
"Karl was so much more than our greatest and most prolific designer," she said. "His creative genius was breathtaking and to be his friend was an exceptional gift.
Karl was brilliant, he was wicked, he was funny, he was generous beyond measure, and he was deeply kind.
The singer and former French first lady Carla Bruni-Sarkozy, who worked as a model for Lagerfeld, wrote a tribute to her former mentor on Instagram.
"Thank you for all the sparkles …. thank you for bringing beauty and lightness in our world, so much colour in the darkness, so much wit in our dull days. I think you wouldn't have wished for too many tears or too many flowers but you will be missed. The whole world and I will miss you."
Lagerfeld was one of the most hardworking figures in the fashion world holding down the top design jobs at LVMH-owned luxury label Fendi from 1977, and Paris' family-owned power-house Chanel in 1983.
Lagerfeld's designs were quickly picked up by low-end retailers, giving him an almost unprecedented impact on the entire fashion industry
With reporting by © – AFP 2019