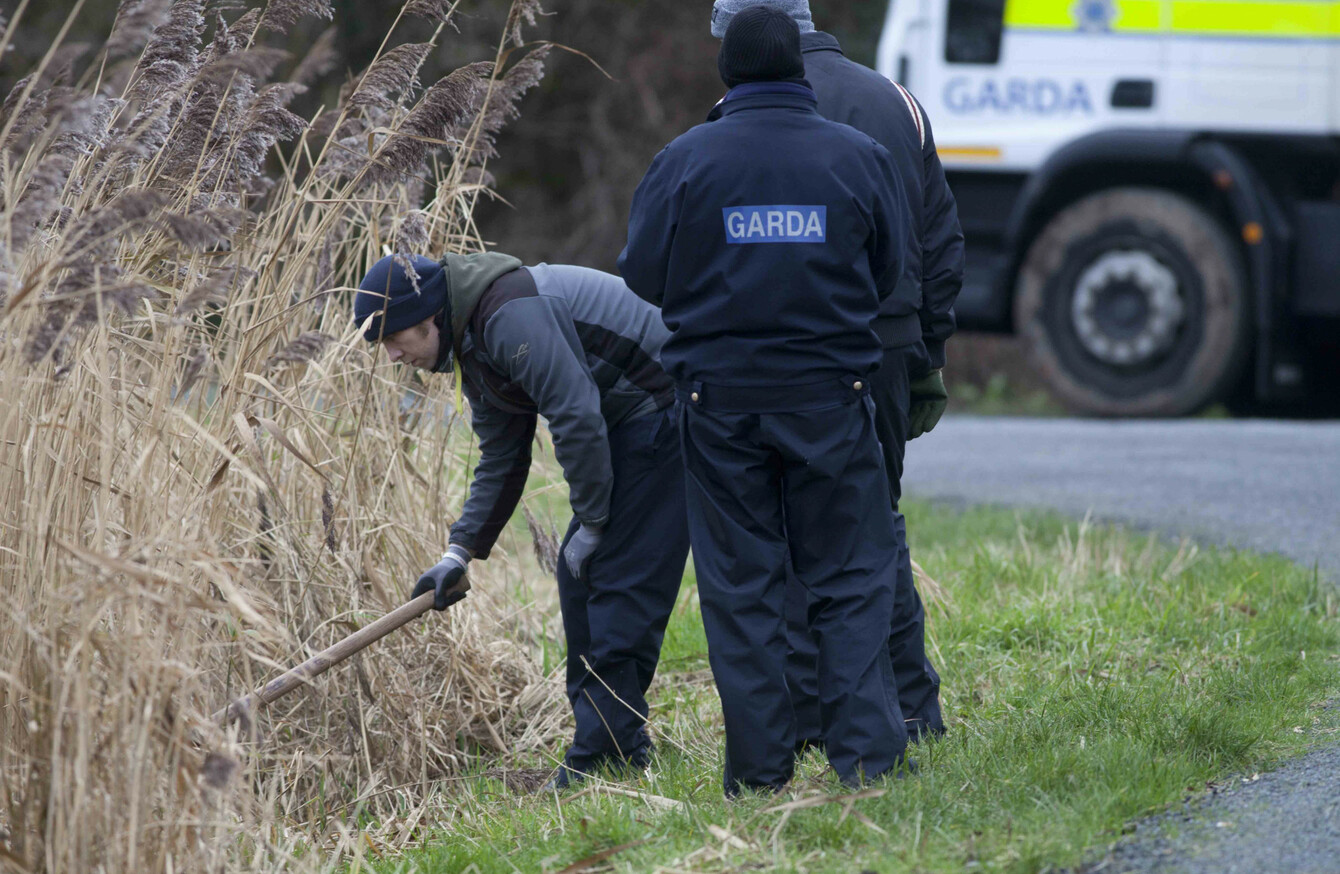 Garda activity on the Grand Canal at Sallins County Kildare as the search continued for dismembered body parts of Kenneth O'Brien
Image: Eamonn Farrell via RollingNews.ie
Garda activity on the Grand Canal at Sallins County Kildare as the search continued for dismembered body parts of Kenneth O'Brien
Image: Eamonn Farrell via RollingNews.ie
A MURDER TRIAL has heard that "the muzzle of the weapon was pressed against the head" of a man, whose dismembered remains were found in the Grand Canal.
Deputy State Pathologist Dr Michael Curtis was giving evidence of his post-mortem exam to the Central Criminal Court this morning.
Paul Wells Snr (50) of Barnamore Park, Finglas in Dublin has admitted shooting dead fellow Dubliner Kenneth O'Brien and dismembering his body. However, the father-of-five has pleaded not guilty to murdering the 33-year-old at his home in Barnamore Park on 15th or 16th January 2016.
He claims that the deceased had wanted him to murder O'Brien's partner, so that he could take their child back to Australia, where he had previously lived.
He told gardaí that O'Brien had brought a gun to his house for this purpose but that he didn't want to do it. He said this resulted in a scuffle between them, that the gun fell, they both tried to get it, but that he got to it first and shot his friend in the back of the head.
He said that he then panicked and "chopped him into pieces" with a chainsaw O'Brien had previously lent him.
"A high-speed mechanical saw"
Dr Michael Curtis today gave evidence of the examinations he carried out on the 10 parts of O'Brien's remains, which were recovered in a number of bags in the Grand Canal.
These included the head, torso, both upper arms, both forearms, both thighs and both lower legs with attached feet. The hands were never found.
He told Sean Gillane SC, prosecuting, that it appeared that the dismemberment had been done with "a high-speed mechanical saw". He said the muscle and bone had been neatly sawed.
He said that an x-ray had shown that one of the Tesco carrier bags recovered contained the head and two bricks. The head had appeared to contain metallic fragments.
On further examination, he found a bullet entrance wound on the back of the head. He described it as an irregular wound, through which a little brain tissue had extruded.
"This is a contact entry wound," he testified.
The muzzle of the weapon has been pressed against the head.
"The brain was severely traumatised," he explained. "It had destroyed the hypothalamus and midbrain."
He concluded that his death had been caused by a bullet wound to the back of the head. It caused catastrophic brain injury and would have been "instantaneously fatal", he said.
Under cross-examination by Michael O'Higgins SC, defending, he agreed that "the cutting was crude" and there was nothing to indicate that the person dismembering the body displayed "any anatomical knowledge".
O'Brien's family
The jury also heard from members of O'Brien's family today.
His aunt, Lorraine O'Brien, who was close in age to her nephew, had been "very, very close" to him growing up.
Gillane asked how he had been after returning home from Australia before Christmas.
"He was very happy, probably the happiest I had ever seen him, very relaxed," she said.
We were all delighted he was home and he was delighted to be home.
She knew that he hadn't officially "come off the books" with his Australian employer.
"He knew the company was in some financial difficulty," she said. "He had heard a rumour there would be some redundancies."
She said she got the impression that he planned to stay on as an employee on annual leave in the hope that he would be paid for redundancy.
Under cross-examination by O'Higgins, she agreed that she had described the deceased as "very private" in her statement to gardaí.
She had also said that he would always put his phone "screen-side down so no-one could see if he got a message or who it was from".
She had said that he had fobbed her off when she asked him about work. He'd said he wasn't stuck for money, wanted a good Christmas and would see what happened in the new year. She'd told gardaí that she'd asked what the big secret was and that he would not make eye contact with her. 
She agreed with O'Higgins that he'd bought a motorbike in Australia and also had a Pajero jeep there.
#Open journalism No news is bad news Support The Journal

Your contributions will help us continue to deliver the stories that are important to you

Support us now
"They were sold before he came home," she said.
She was not aware that he'd told his employer in Australia that he'd be back in January.
She was aware that he had sent money back to his partner, but had left her short on occasions. She was asked about speaking to him about this, but being told that it was not a matter for her.
"I suppose I was crossing a line," she said.
'He always tried to protect me'
O'Brien's sister, Jean O'Brien, was also cross-examined by O'Higgins. He asked her about telling gardaí that if O'Brien didn't introduce her to someone it was because he didn't want her to know who that person was.
"Yes," she replied.
He was my big brother so he always tried to protect me.
She agreed that she'd heard him tell the accused about one of his bosses in Australia. He'd said this man was up to his eyes in debts and was taking crack cocaine.
He said he'd dropped "stuff" off to a biker gang for him and had been invited into its clubhouse, where there were lots of bikes. Wells had told him to stay out of it and not to get involved in "any of their stuff".
She agreed with O'Higgins that her brother had seemed to stop talking when he remembered she was there.
The trial has now gone into legal argument and will continue before the jury tomorrow.
Comments are closed as legal proceedings are ongoing.