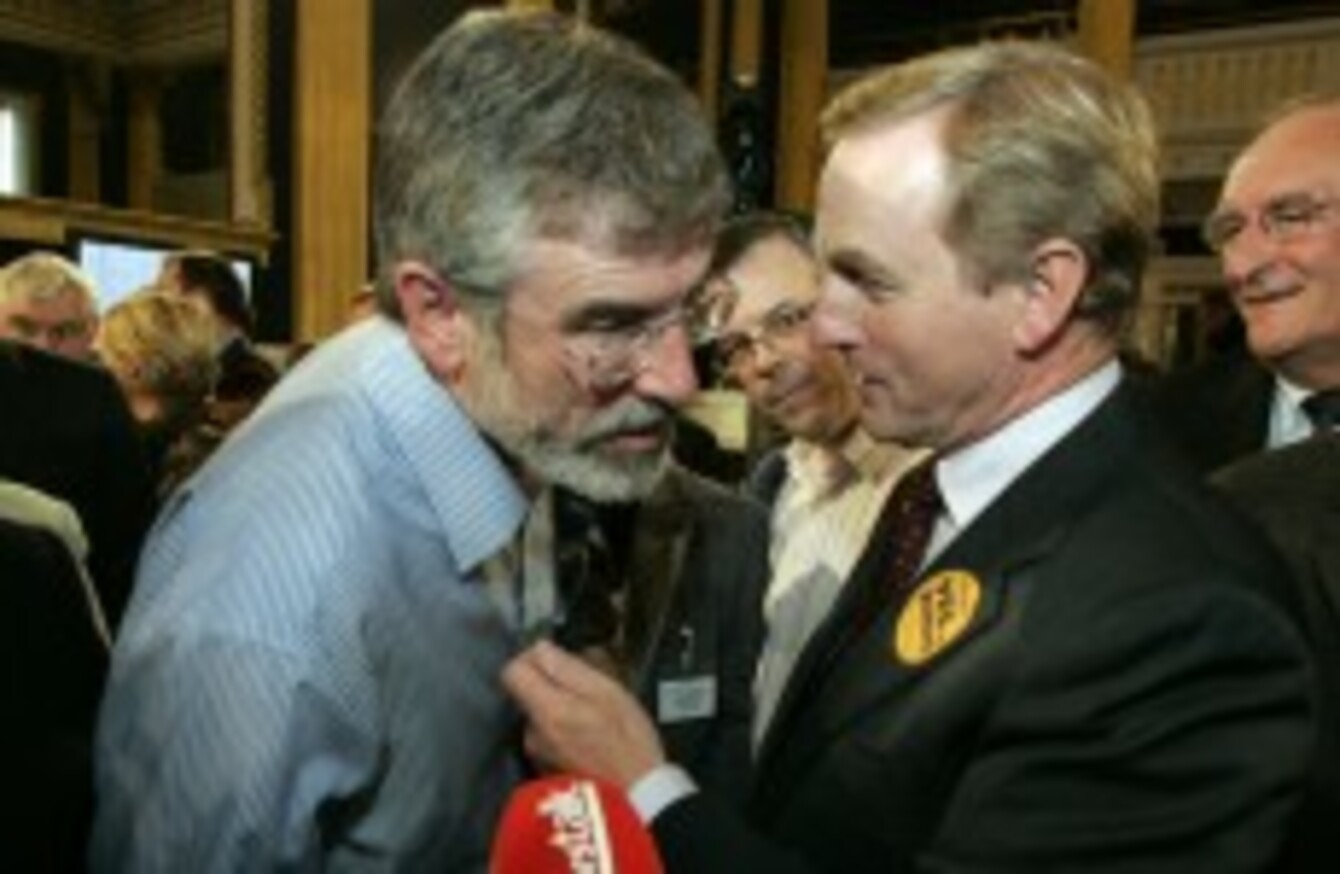 Enda Kenny with Gerry Adams in 2009 (File photo)
Image: Mark Stedman/Photocall Ireland
Enda Kenny with Gerry Adams in 2009 (File photo)
Image: Mark Stedman/Photocall Ireland
VINCENT BROWNE HAS offered to stand aside for a proposed TV debate on the Fiscal Treaty referendum, saying he hopes it will enable the event to take place.
Browne made his comments this evening after Taoiseach Enda Kenny earlier ruled out a TV3 head-to-head with Sinn Féin leader Gerry Adams,  saying he will not appear on a programme moderated by Vincent Browne. "I do not do the Vincent Browne programme," he said.
Under TV3′s latest proposal, political editor Ursula Halligan would step in to moderate the debate.
Browne said he was "disappointed" that Kenny had rejected the debate, but added: " I do not wish to inhibit this important public debate from proceeding. The public's right to information far outweighs any other issues."
TV3 yesterday proposed a one-on-one debate over the Fiscal Compact referendum on 29 May, two days before polling yesterday with Adams indicating that he would be prepared to take part.
However, Kenny has previously turned down a chance to appear on debates moderated by Browne citing comments the veteran broadcaster made about him in relation to suicide, comments Browne later apologised for.
Having already declined to appear on last week's TV3 debate, Kenny has now turned down this opportunity, saying there are plenty of other opportunities to debate the Louth TD in the Dáil.
Speaking on Newstalk earlier today, Kenny said: "I have debates with Deputy Adams on Tuesdays and on Wednesdays.
"I am very happy to debate with Deputy Adams but I do not do the Vincent Browne programme."
Meanwhile, Micheál Martin has this evening criticised Gerry Adams for declining a separate invitation for a debate between the Fianna Fáil and Sinn Féin leaders.
Martin said: "If Mr Adams is really willing to defend his position on this Treaty, he would welcome an opportunity for a head to head debate with the opposing side."
- Additional reporting by Michael Freeman