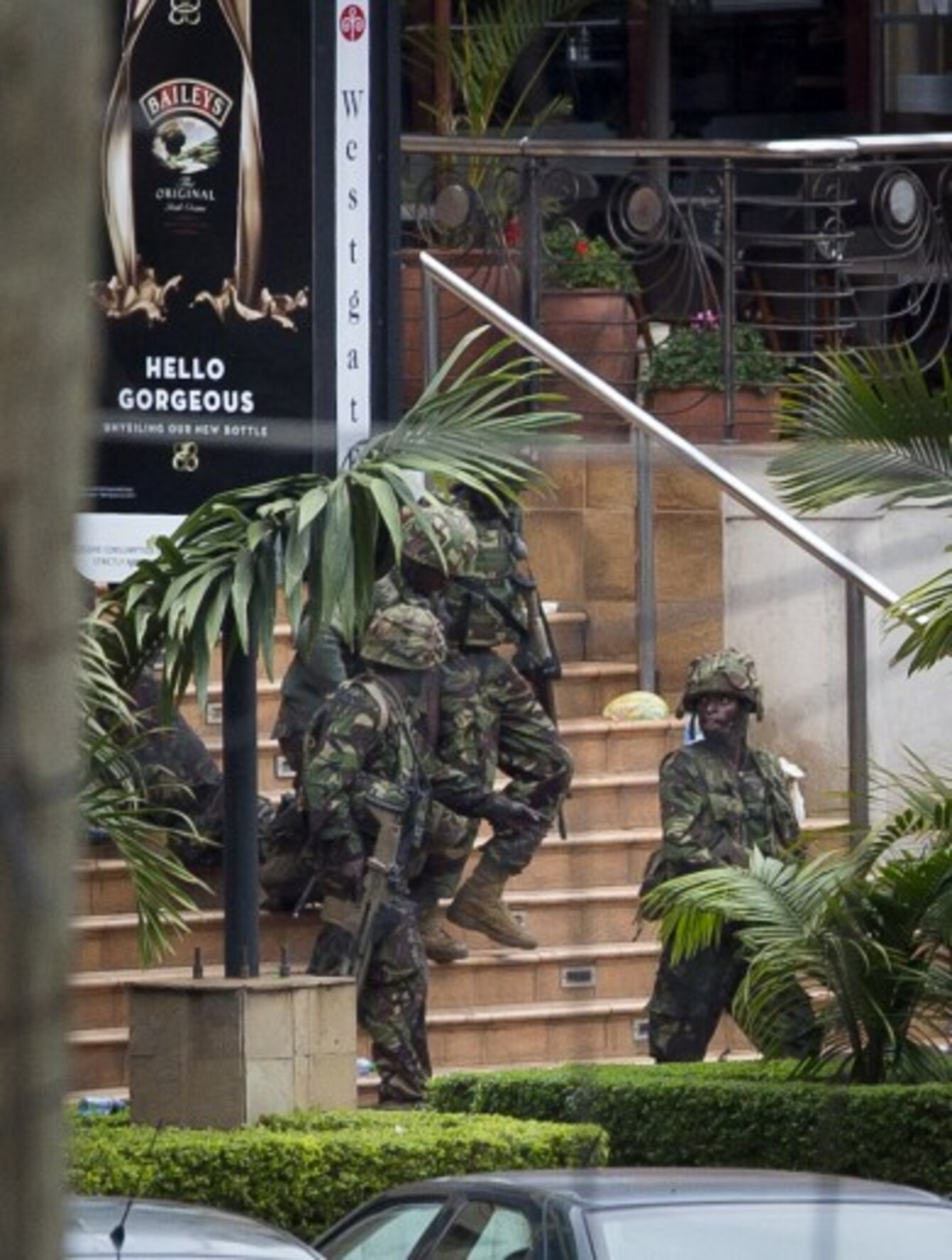 Soldiers from the Kenya Defense Forces carry a wounded colleague, following the sound of explosions and gunfire, out of the Westgate Mall in Nairobi, Kenya.
Image: Ben Curtis/AP/Press Association Images
Soldiers from the Kenya Defense Forces carry a wounded colleague, following the sound of explosions and gunfire, out of the Westgate Mall in Nairobi, Kenya.
Image: Ben Curtis/AP/Press Association Images
Updated 11.30am
AT LEAST 59 people have been killed and more than 175 wounded after a well-armed terrorist group attacked an up-market shopping centre in Nairobi, Kenya.
Cabinet Secretary for the Interior Joe Lenku confirmed the figures while AFP reports that 10 to 15 gunmen are still battling security forces inside Westgate shopping mall.
The BBC earlier reported that there are still a number of hostages being held in the shopping mall, while an army official said on Sky News this morning that they are still at the scene dealing with a stand-off with the gunmen, but added they have secured the majority of the building except for the second floor.
Surrounded
They said they have the terrorists surrounded.
Foreigners were among the casualties. France's president said that two French women were killed. Two Canadians were killed, including a diplomat, said the Canadian prime minister. Four American citizens were reported injured but not killed in the attack, the State Department said on Saturday.
Early Sunday morning, 12 hours after the attack began, gunmen remained holed up inside the mall with an unknown number of hostages. President Uhuru Kenyatta called the security operation under way "delicate" and said a top priority was to safeguard hostages.
As the attack began shortly after noon Saturday, the al-Qaida-linked gunmen asked the victims they had cornered if they were Muslim: Those who answered yes were free to go, several witnesses said. The non-Muslims were not.
Photos
A reader of TheJournal.ie was at the scene and sent us some photos as the ordeal unfolded. You can view the photos here – (Be aware, this article contains graphic images)
Somalia's Islamic extremist group al-Shabab claimed responsibility and said the attack was retribution for Kenyan forces' 2011 push into Somalia. The rebels threatened more attacks.
Al-Shabab said on its Twitter feed that Kenyan security officials were trying to open negotiations. "There will be no negotiations whatsoever," al-Shabab tweeted.
As night fell in Kenya's capital, two contingents of army special forces troops moved inside the mall.
Police and military surrounded the huge shopping complex as helicopters buzzed overhead. An Associated Press reporter said he saw a wounded Kenyan soldier put into an ambulance at nightfall, an indication, perhaps, of a continuing shoot-out inside.
Witnesses said at least five gunmen — including at least one woman — first attacked an outdoor cafe at Nairobi's Westgate Mall, a shiny, new shopping center that includes Nike, Adidas and Bose stores. The mall's ownership is Israeli, and security experts have long said the structure made an attractive terrorist target.
Police move in
The attack began shortly after noon with bursts of gunfire and grenades. Shoppers — expatriates and affluent Kenyans — fled in any direction that might be safe: into back corners of stores, back service hallways and bank vaults. Over the next several hours, pockets of people trickled out of the mall as undercover police moved in. Some of the wounded were trundled out in shopping carts.
"We started by hearing gunshots downstairs and outside. Later we heard them come inside. We took cover. Then we saw two gunmen wearing black turbans. I saw them shoot," said Patrick Kuria, an employee at Artcaffe, the restaurant with shady outdoor seating.
Frank Mugungu, an off-duty army sergeant major, said he saw four male attackers and one female attacker. "One was Somali," he said, adding that the others were black, suggesting that they could have been Kenyan or another nationality.
It is believed Al-Shabab chose the well-known shopping mall as it was popular with foreigners and welathy Kenyans. The groups has links with Al-Qaeda and control some parts of Somalia.
According the terrorists Twitter page, they stated: "The attack at #WestgateMall is just a very tiny fraction of what Muslims in Somalia experience at the hands of Kenyan invaders," al-Shabab said. Another tweet said: "For long we have waged war against the Kenyans in our land, now it's time to shift the battleground and take the war to their land #Westgate."
Al-Shabab's Twitter account was suspended shortly after its claim of responsibility and threats against Kenya. Twitter's terms of service forbids making threats.
Dozens of people were wounded. A local hospital was overwhelmed with the number of wounded being brought in hours after the attack and diverted them to a second facility. Officials said Kenyans turned out in droves to donate blood.
First published at 7.50am. Additional reporting Associated Press