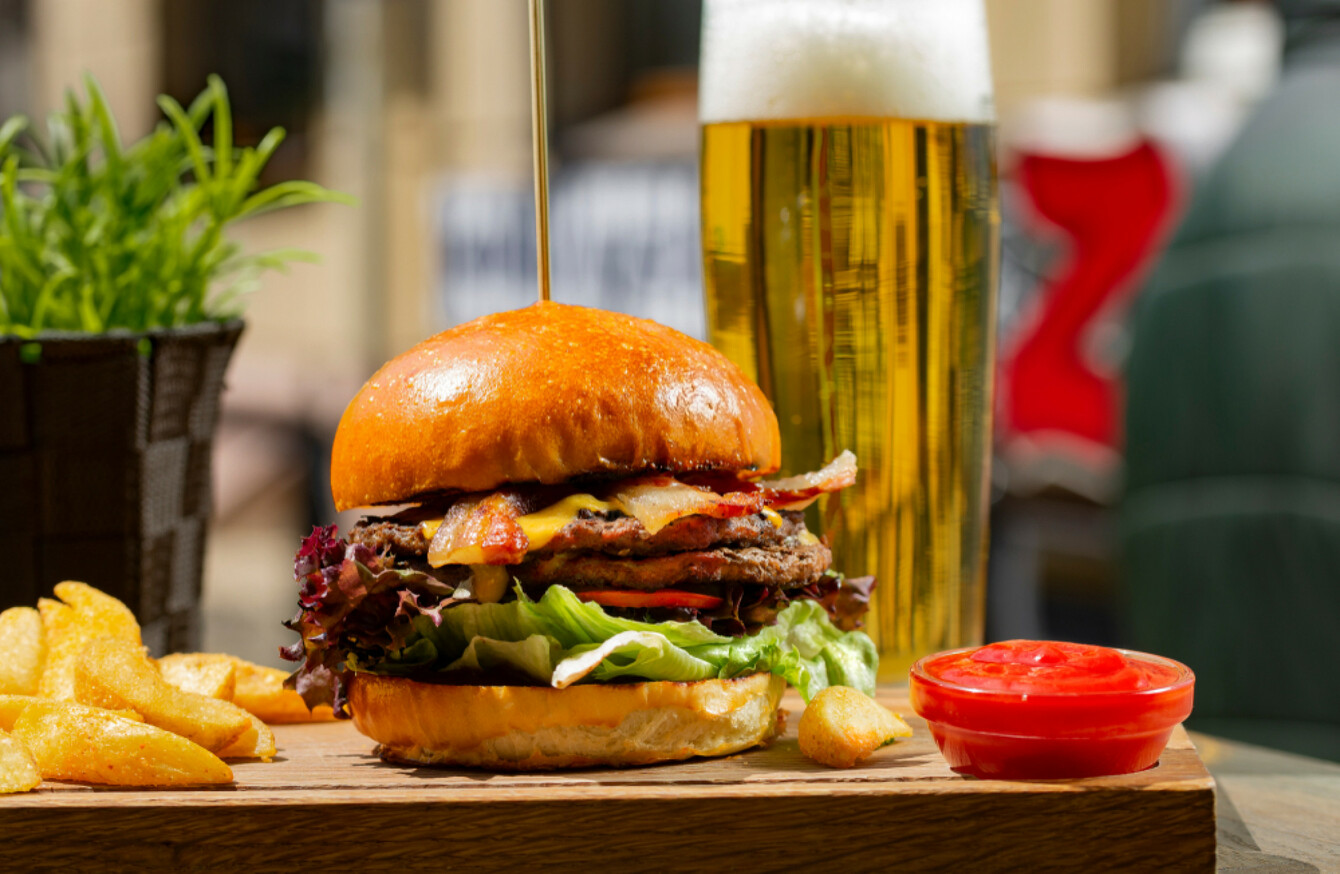 Image: Shutterstock/Gonna get my metal
Image: Shutterstock/Gonna get my metal
EVERY HOME COOK has their own kitchen hacks, cheats and traditions, and we want to know yours.
Each week as part of our Kitchen Secrets series, we'll be asking readers to share their cooking tips and go-to-dishes. From the secret to quick-and-easy dinners, to the best way to scramble an egg, we'll have a new question every seven days.
This week, the best tip from our panel wins a €250 voucher thanks to Lidl – who are celebrating their Crafty Brewing Company Lager winning three stars at the 2018 Great Taste Awards. So we're asking:
What food goes best with beer?
Of course, our panel of home cooks didn't disappoint. If you'd like to join, drop us a mail on food@thejournal.ie!
WINNING TIP: A homemade burger and wedges: "I'd have to say, you can't beat my homemade burgers and potato wedges! The burgers are my Mum's recipe and, to be honest, I haven't changed them a bit since she used to make them when we were kids. They have round mince, breadcrumbs, egg, onions, seasoning, herbs and a beef Oxo in them.  They are so light and not at all like some of the dense burgers that can sometimes just sit in your tummy (and not something you want to pour a beer in on top of!).
"I shape them in the same Tupperware burger press my Mum used to use in the 80s and dust them lightly with wholemeal flour (stops them sticking and helps them stay moist).  Then grill them, some mature cheddar added and served on a bundy (or brioche bun if I'm feeling fancy!) with ketchup and fried onions. Add in the homemade potato wedges and it's a match made in heaven! A real treat for myself and my wife in front of the TV on a Saturday evening when our son is in bed. They are also just beautiful cooked on the barbecue and with a beer shared with friends."
- Olly Keegan
Scampi and chips (with beer batter): "Ice-cold beer is a joy at any time but when paired with delicious food it becomes an even greater pleasure.My favourite pairing is freshly made Dublin Bay scampi, crispy twice fried chips, a dollop of homemade mayonnaise… and all washed down with a cold beer.
"But don't only drink your beer, why not use it as an ingredient? Any white fish such as cod or hake will transform into the best fish supper ever when dipped in beer batter – the gas in the beer creates a crispy light golden batter. Delish."
- Angela Nolan
Burger in a brioche bun: "What I love to eat with a cold, hoppy beer is a big juicy beef burger. We're spoilt for choice when it comes to decent burger joints in Dublin but these are also painlessly simple to make at home. Just make sure you use quality steak mince with a good ratio of fat (about 70:30 ratio of lean to fat for good flavour). There's tonnes of burger recipes out there but I like to keep my patties simple – salt and pepper, the end. I find they bind just fine without any egg, breadcrumb or fuss. Fry your burgers and top with a good melty cheddar, shredded lettuce, gherkin, diced onion, ketchup and mayo. The brioche burger buns from Lidl are the perfect vehicle for this flavour bomb. Washed down with a cool crisp beer, this is my food heaven."
- Donna Connolly
Hog roast: "I was very tempted to go with a spicy Asian dish as the perfect accompaniment to a beer, but recently I was fortunate enough to attend an event where they had a full pig, roasted on a spit, over an open fire. The smokey, salty pork, the crisp skin, the melting fat… oh boy! And washed down with an ice cold lager (or two). A perfect partnership and, possibly, the best meal I've ever eaten."
- John Strahan
Fish curry: "I love curry with ice cold beer. Preferably lamb or fish based, with fluffy white rice."
- Maggie O'Sullivan Graham
Tapas: "What best compliments a beer? Definitely tapas – mushrooms in a pot with a little butter, salt and crushed garlic. Grilled peppers. From Lidl's Sol y Mar range, we love the olives stuffed with anchovies, actually all of the olives, manchego cheese, Serrano ham, spicy salsa and to finish off the meal we usually have the almond biscuits. All of this sodium rich food is usually enjoyed with more than one ice cold beer!!"
- Danilo Fernandez
Lamb rogan josh: "My favourite food to eat with a cold beer is Indian. Lamb rogan josh with extra chillies, the spiciness of the curry goes perfect with the cool beer."
- Catherine Hayes
Any kind of curry: I think nothing beats a cold beer with a curry, be it Thai or Indian.
- Karina McGuinness
Thai food: "For me beer best accompanies spicy food but in particular Thai food. I have eaten Thai food in cities and mountains in Thailand and Indian foods on boats, beaches and in cities in India and it just has to be washed down with beer. So, that's what I tend to serve my guests when we have curries at home. Oh, I've also had it with lobster too – FAB!"
- Ross Boxshall
Congratulations Olly Keegan, whose recipe for home-made burgers and wedges was the winning tip this week. A €250 Lidl voucher is on its way to Olly. If you'd like to join the Home Cooks Panel, just email food@thejournal.ie.
To learn more about Lidl's winners at the Great Taste Awards, click here.