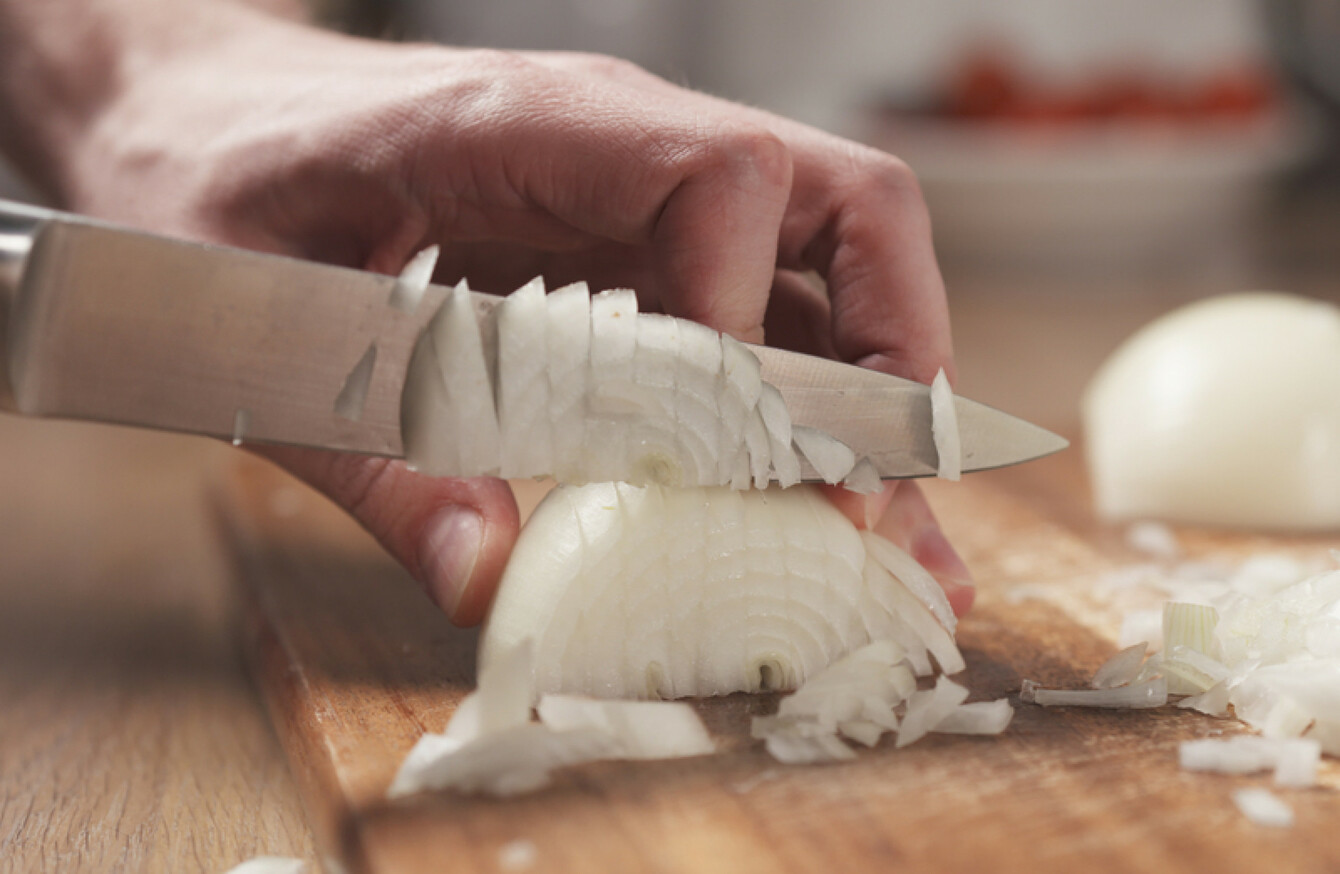 Image: Shutterstock/GCapture
Image: Shutterstock/GCapture
EVERY HOME COOK has their own kitchen hacks, cheats and traditions, and we want to know yours.
Each week as part of our Kitchen Secrets series, we ask our readers to share their cooking tips and go-to-dishes. From the secret to quick-and-easy dinners, to the best way to scramble an egg, we set a new question every seven days.
This week, we're talking about the essential skills in putting together great meals.
What's one useful kitchen skill everyone should know?
For next week, we're asking: What's your favourite date-night dinner? What would you cook for a night in for two? Comment below (or email food@thejournal.ie) and you could see your response in the magazine!
Chopping an onion: For me, chopping an onion is most important and easy to master! The trick is to keep the root intact. Cut the onion in half through the root. Working on a flat surface, cut through the onion 3-4 times horizontally – but only 90% of the way so that the root holds it all together. Then cut vertically towards the root 5-6 times, again only 90% of the way and then turn side onto the root and cut through 5-6 times, 100% of the way until you are left with diced onion and the piece of root!
- Fiona Staunton
Boiling pasta… properly: This essential skill may seem basic and obvious but I know plenty of adults who do it all wrong (including my younger, student self who lived on the stuff). This is… how to boil pasta properly.
First things first, use a nice big pot as you don't want to overcrowd it, pasta needs more space than you think so leave your milk pan back in the press. Next up, a decent amount of water (at least 1 litre per 100g pasta) with a good pinch of salt. There really is no need for oil in the water, it's an unnecessary waste of liquid gold. The water should be boiling vigorously before you even dream of adding your pasta. Pour in your pasta and stir to avoid clumping. Put the lid on and let the water come back up to the boil.
Then cook to your liking, this could be anything from 5-15 minutes depending on whether it's fresh or dried pasta. No one likes soggy over cooked pasta so don't leave it too long.  The best way to test this is to simply taste it. Once cooked be sure to reserve a cup of the starchy pasta water to add to your sauce. Bellissima! 
- Donna Connolly
Using sharp knives: When I'm cooking my really sharp knives are absolutely essential. I bought a professional set about 15 years ago, but every kitchen should have at least two, a small paring one and a larger for chopping and carving.A sharp knife cuts through meat and vegetables with ease and is much less likely to cause serious accidents, the pressure used is less than one would use with a blunt knife. Slicing through stake or jointing  a chicken is easy if you have the right tools. Even skinning fish can be done in a flash…I simply couldn't be without mine.
- Angela Nolan
Making simple salad dressing: Every cook should know how to make a salad dressing. To make a simple French vinaigrette salad dressing made from oil and vinegar, you need three parts oil to one part vinegar. Adapt this with lemon juice, fresh herbs, crushed garlic, mustard or use infused oils for a different taste.
- Jennifer Dillon
Enthusiasm… oh, and hygiene: In my opinion there is no one essential skill that everyone needs, apart from the desire to get in the kitchen and create meals! The need for skills may deter people from trying, so willingness, desire, common sense and the ability to experiment with foods are the main ingredients. That and a consideration to food hygiene maybe! 
- Ross Boxshall
A reminder again of next week's question: What would you cook for a night in for two? Comment below (or email food@thejournal.ie) and you could see your response in the magazine!