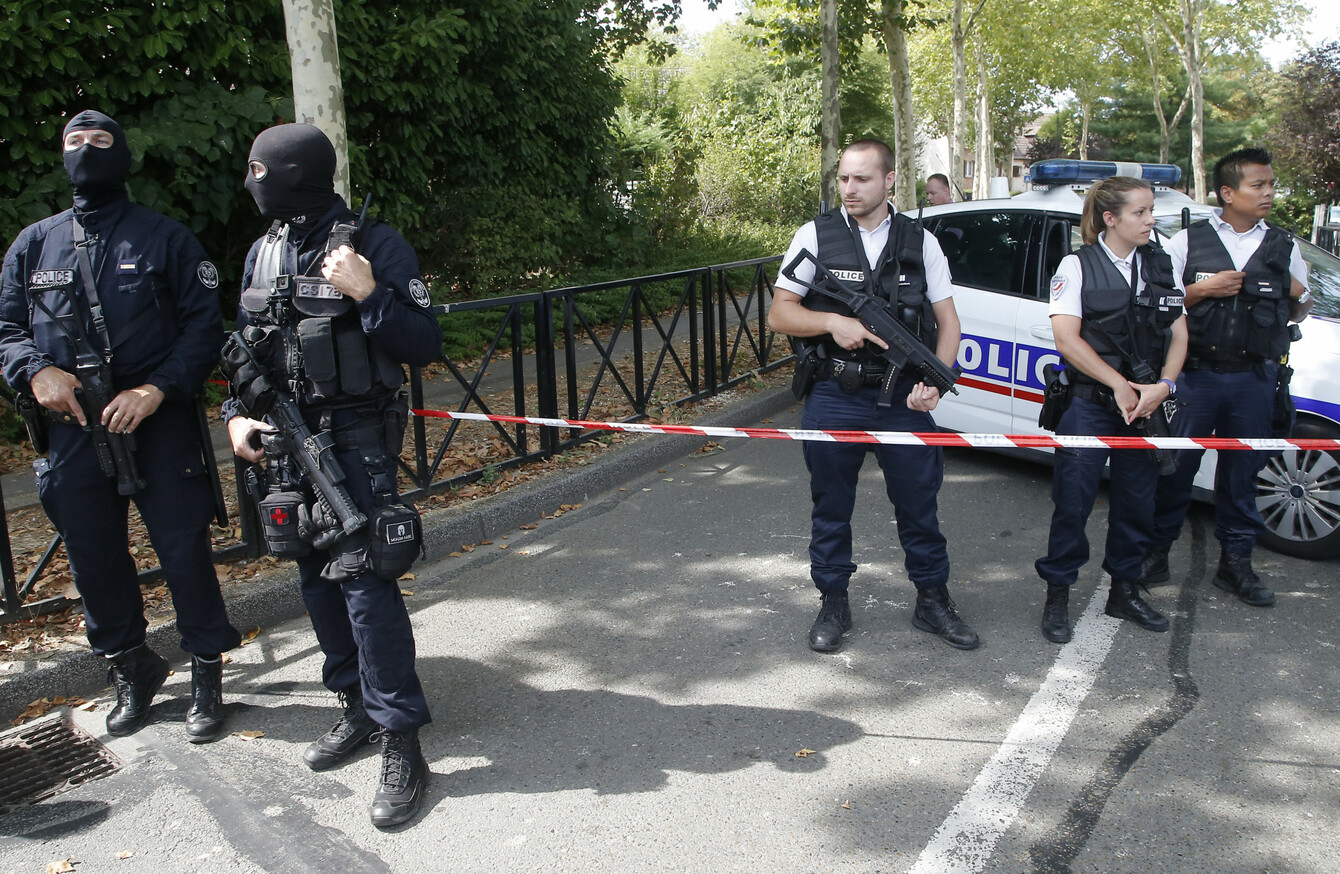 French hooded police officers guard the area with other police officers after a knife attack.
Image: Michel Euler via PA
French hooded police officers guard the area with other police officers after a knife attack.
Image: Michel Euler via PA
Updated Aug 23rd 2018, 6:10 PM
A MAN STABBED his mother and sister to death and seriously injured another person in a town near Paris before being shot dead by police.
The 36-year-old had serious mental health problems and had been on a terror watch list since 2016, Interior Minister Gerard Collomb told reporters after visiting the scene in the town of Trappes.
The motive for the violence remained unclear despite a claim by the Islamic State (IS) group that it was an attack by one of its fighters responding to the terror organisation's propaganda.
Collomb said the attacker was "mentally unstable, rather than someone who was committed, who would respond to orders from a terrorist organisation".
Regular French criminal prosecutors are investigating the case rather than anti-terror specialists, Collomb stressed, although checks on the killer's phone and computer were under way.
IS has long held a reputation for only claiming attacks which it has carried out or inspired.
But experts have urged caution about the group's recent claims of responsibility for attacks around the world, as governments and experts have thrown several such declarations into doubt.
The attacker's third victim was in a critical condition after being airlifted to hospital, officials said.
'A guy who had lost it'
The attack happened around 9am (7am Irish time) in Trappes, a poor town with a large Muslim population about 30 kilometres southwest of the capital.
Armed police responded to reports of violence and were threatened by the man who had stabbed his mother to death in her home, Collomb added.
"He walked towards the police with his knife," he said. "Police then opened fire."
The assailant has not yet been named.
The neighbourhood, a leafy area of detached homes close to high-rise concrete apartment blocks, remained partially sealed off by police this afternoon.
Locals said the killer was separated from his wife and had not seen his children in a long time, adding that he had worked as a bus driver and was living with his mother.
"I had coffee with him often but I hadn't seen him for a month," said one neighbour, a 59-year-old who gave his name as Pascal.
"They're talking about terrorism but this wasn't a terrorist, it was a guy who had lost the plot," he added.
The knifeman had been on the terror watch list since 2016 after expressing extremist views, a security source told AFP.
BFM television reported that he had serious alcohol and drug problems.