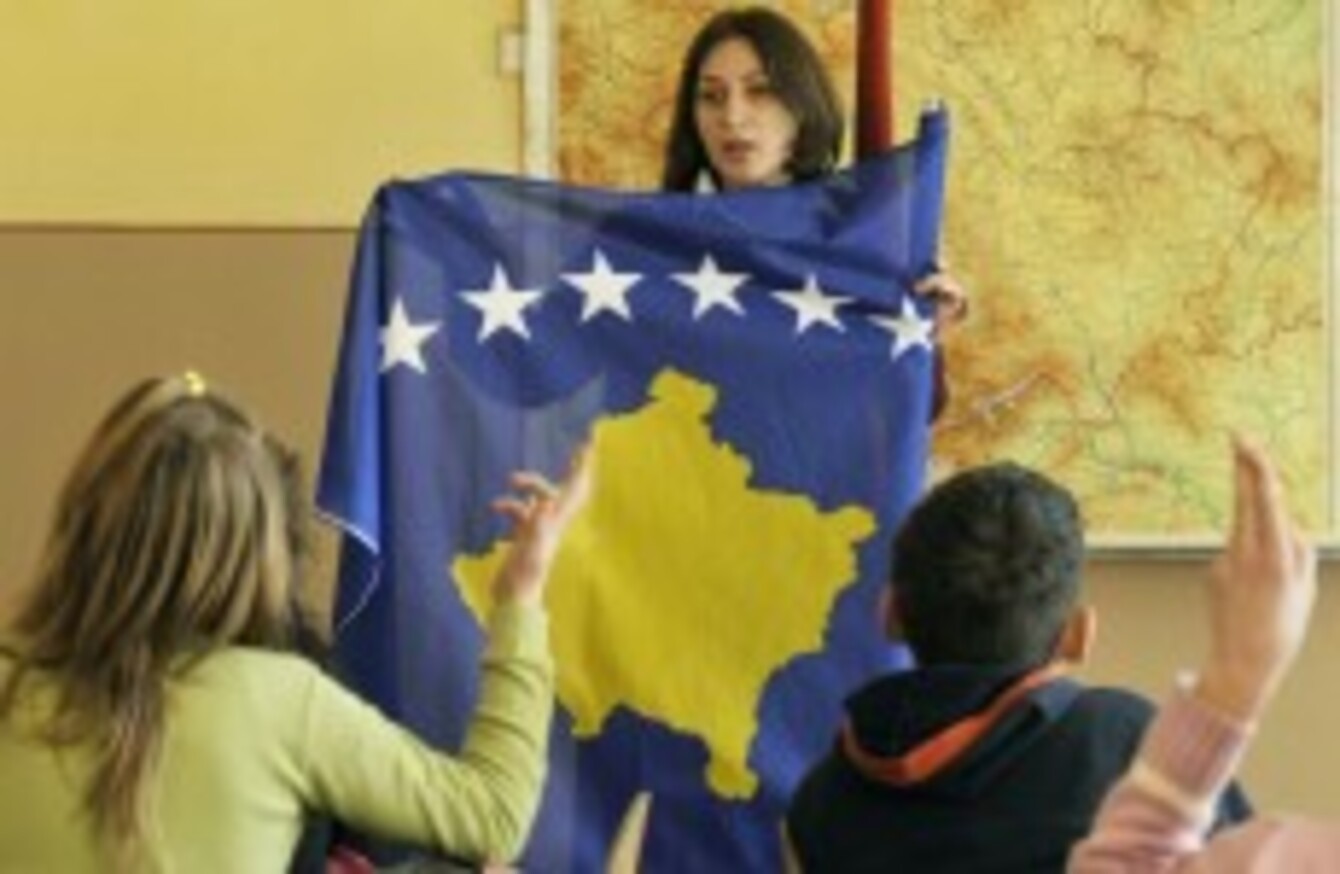 Kosovar Albanian teacher Luljeta Rama introduces Kosovo's new national flag to her class, on the first school day after Kosovo declared its independence in February 2008
Image: AP Photo/Bela Szandelszky
Kosovar Albanian teacher Luljeta Rama introduces Kosovo's new national flag to her class, on the first school day after Kosovo declared its independence in February 2008
Image: AP Photo/Bela Szandelszky
KOSOVO WILL BE granted full rights of national sovereignty in September, and international supervision of the territory will come to an end.
A steering group has been responsible for overseeing independence in Kosovo and helping to establish domestic institutions. The ethnic Albanian leadership declared independence in 2008, and the UN recommended that this independence would be supervised by the international community.
On 2 July the International Steering Group for Kosovo announced that supervised independence in Kosovo would come to an end, and that it would become a fully sovereign state.
Since 2008 Kosovo has shared elements of its sovereignty with the international community, says Gëzim Visoka, a PhD Candidate in Politics and International Relations at DCU, and a former student of Pristina University.
He told TheJournal.ie that the presence of the international community to supervise the the initial years of independence has "helped Kosovo prove its commitment to peace and stability in the region and to gain further international recognition and support".
So what does this mean for Kosovo?
Visoka said that this decision will have positive implications for completing Kosovo's state-building process and will further consolidate a liberal democracy.
It will allow for the Kosovo Security Forces to become a complete army, and will allow Kosovo to exercise its external sovereignty more freely. Visoka said that this will lead to increased state recognition and give the state the ability to join more international institutions - Kosovo has already joined the IMF and the World Bank.
International law expert with DCU's School of Law and Government Noelle Higgins told TheJournal.ie that while the decision to grant Kosovo full sovereignty is a significant one, it may be a little early, "citing continued clashes in the territory in relation to independence, which seem to have increased in recent months".
Higgins said that when the steering group's International Civilian Office in Kosovo closes in September, it will be interesting to note whether there is an escalation in clashes.
Kosovo and the UN
Ninety-one UN member states have officially recognised Kosovo, among them the United States and most of the EU member states. However, this granting of full sovereignty which will come in September is still insufficient for admission into the UN.
If Kosovo were to seek membership of the UN, Russia and China would be likely to exercise their powers of veto.
Visoka said that full sovereignty is an important step in expanding support for eventual admission into the UN…
…which will require a prior resolution of remaining fragile relations between Kosovo and Serbia, and the support of the Russian Federation and China as veto powers within the UN Security Council.
Higgins meanwhile said that China and Russia's refusal to recognise Kosovo and their veto wielding powers will be a huge barrier to Kosovo's UN membership:
You only have to look at Palestine's thwarted membership attempt to see how the story will probably play out for Kosovo.
Kosovo and Serbia
Serbia — backed by Russia, China and others — has still failed to support Kosovo's 2008 declaration of independence, although recent meetings between the two sides have narrowed some differences.
The decision to end international supervision reflects confidence that Kosovo's leadership can reduce tensions between majority ethnic Albanians and minority Serbs. However, international military and police will still patrol Kosovo to lower the risk of ethnic violence.
Kosovan Prime Minister Hashim Thaci has pledged to "communicate and cooperate with every single Serb leader in the north who respects the institutions of Kosovo". The north of Kosovo contains a restive Serb enclave which has been at the forefront of denying the government's authority.
In the most recent violence linked to ethnic tensions, an explosive device hidden at an apartment in the northern town of Mitrovica killed an ethnic Albanian man and wounded two of his children in April. Three unidentified assailants then beat up a 66-year-old Serb man in what officials said was apparent retaliation.
Kosovo and sport
Last week it emerged that a Kosovan athlete has been banned from entering the London Olympics as an independent under the Olympic flag by the International Olympic Committee, which does not recognise Kosovo.
Judo champion Majilinda Kelmendi will now compete for Albania.
Kosovo's sports minister Memli Krasniqi said that the territory had been "suffering this isolation for 20 years and we have athletes who have been forced to leave in disiullusion to compete for other countries", reports The Guardian.
Gëzim Visoka told TheJournal.ie that Kosovo is "gradually receiving admission into international sports federations".
Membership of the UN is a pre-requisite of UEFA, but in May FIFA president Sepp Blatter made an executive decision that Kosovo's national team should be allowed to play international matches.
The Serbian Football Association criticised the decision, and demanded that it should be reversed. Blatter then announced that the decision would be suspended until a meeting of the Executive Committee on 17 July.
Inside World Football reports that UEFA members were "hopping mad", with UEFA president Michel Platini calling FIFA's decision "purely political".