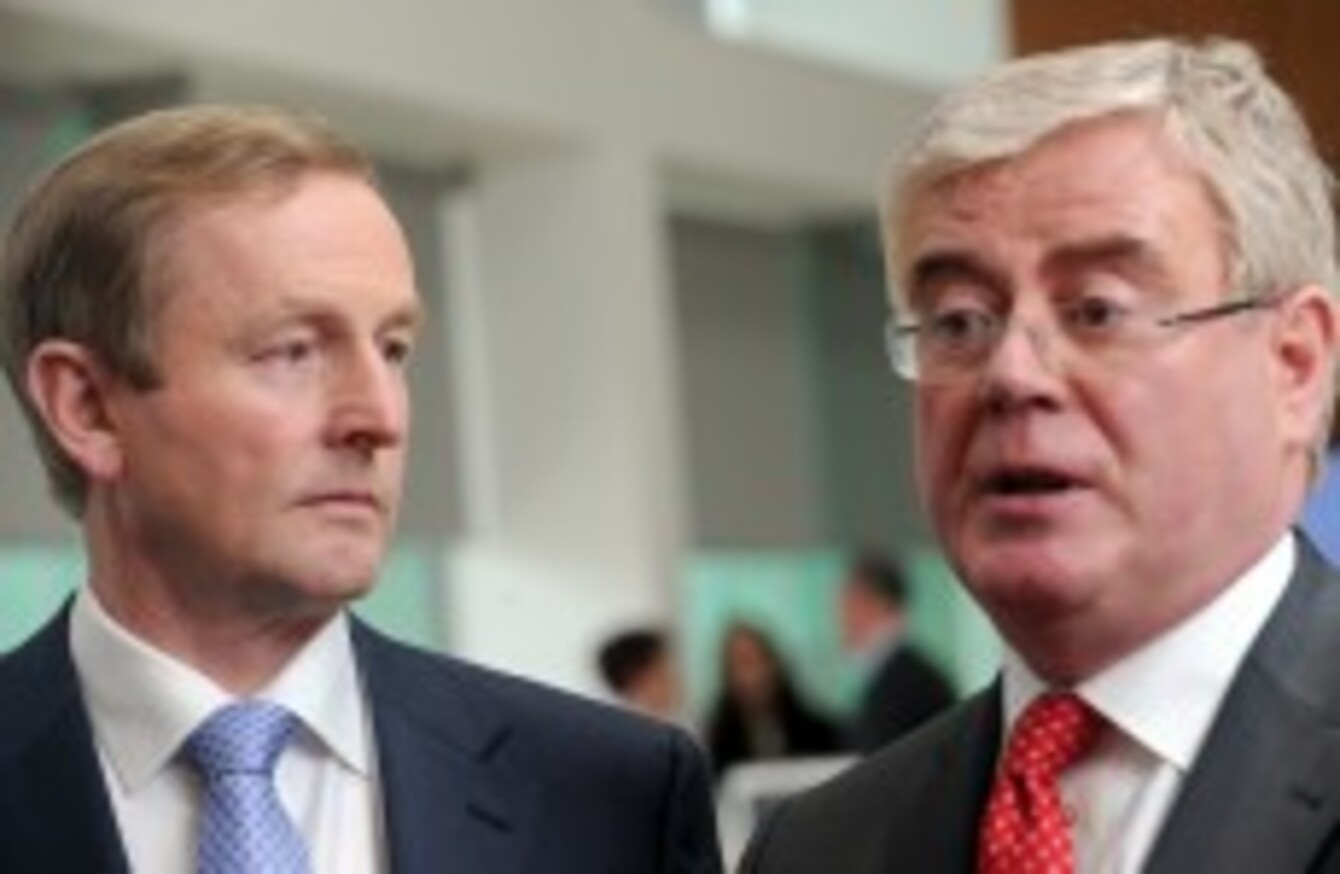 Tough task: Enda Kenny and Eamon Gilmore
Image: Laura Hutton / Photocall Ireland
Tough task: Enda Kenny and Eamon Gilmore
Image: Laura Hutton / Photocall Ireland
THE LATEST MILLWARD Brown Lansdowne poll for the Irish Independent has shown a significant drop in support for Labour as voters defect to Sinn Féin.
As the government parties campaign for a Yes vote in the upcoming Fiscal Compact referendum, some voters have deserted the Tánaiste. The figures shows a 4 point drop to 15 per cent for Eamon Gilmore's party.
Fine Gael also suffered with its numbers dropping 2 points to 34 per cent.
Sinn Féin benefited as voters switched their allegiances, coming out of the poll with 17 per cent – an extra 7 points. The Independents also saw a 1 per cent rise in popularity, gaining 18 per cent support.
Fianna Fáil remained unchanged at 17 per cent.
The poll was conducted among a sample of 1,016 adults with face-to-face interviews in their homes earlier this week.
Interviewees were also asked about their satisfaction levels with the performance of the coalition government. A vast majority – 65 per cent – said they were "dissatisfied". Just 29 per cent said they were satisfied, while 5 per cent were not sure how they felt about the ruling parties.
Each of the four main party leaders recorded dissatisfaction levels of at least 50 per cent. Taoiseach Enda Kenny saw a 42 per cent satisfaction rate against a 52 per cent dissatisfaction one.
There were more personal woes for Gilmore who scored the lowest satisfaction rating of just 33 per cent.
On 37 per cent, Fianna Fáil's Micheál Martin may take something from the fact that he has a 2 per cent lead over Sinn Féin's Gerry Adams on 35 per cent.
Martin and Adams have 50 per cent and 51 per cent dissatisfaction rates respectively.
However, one thing voters are happy with is the work of the country's new president, Michael D Higgins. Only 16 per cent said they were dissatisfied with his performance as over three-quarters expressed their content with the job he is doing since taking office last November.