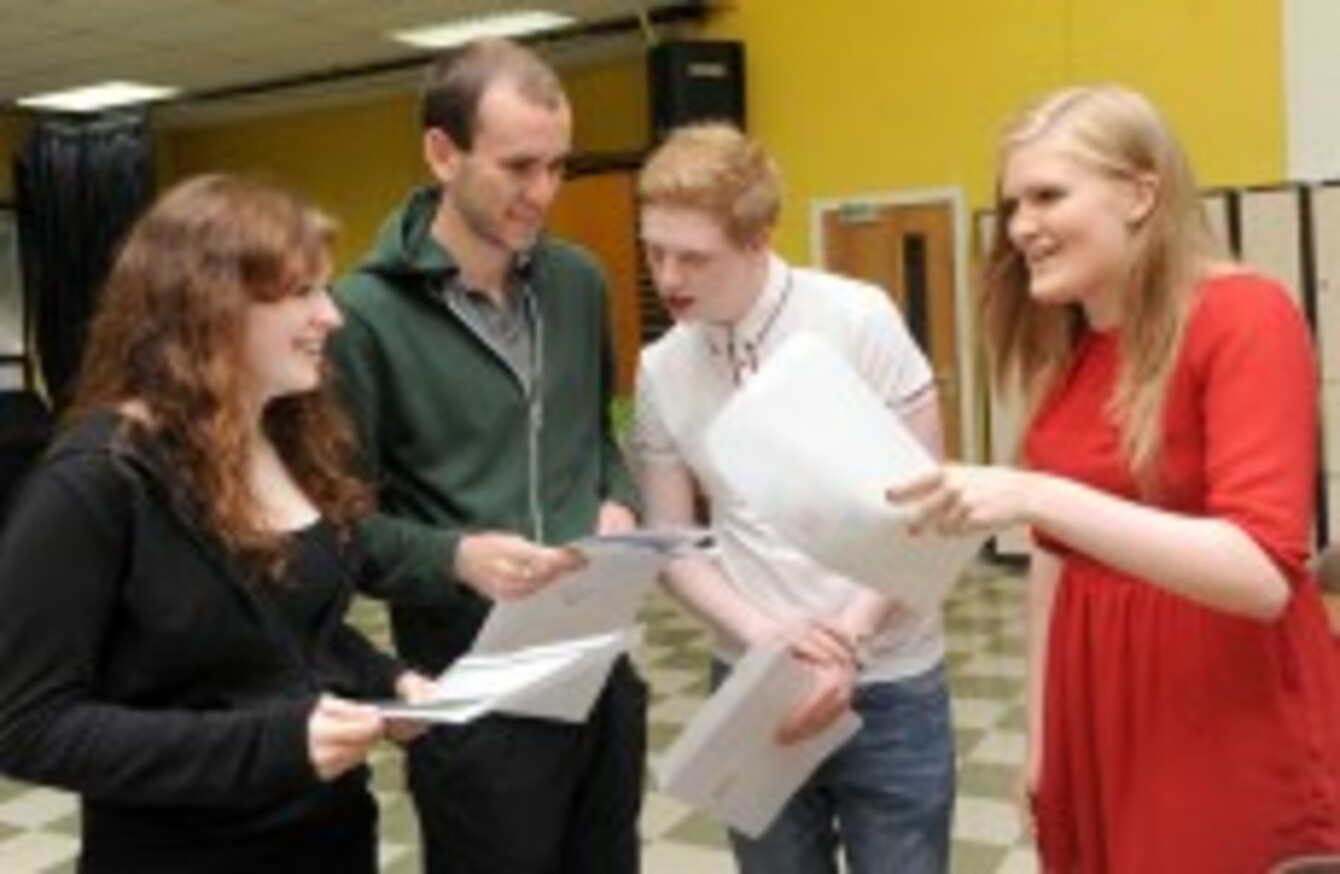 Cathy Dunne, Eoin Gleeson, Robert Downes and Lucy Murray compare their Leaving Cert results at Stratford College in Rathgar.
Image: Laura Hutton/Photocall Ireland
Cathy Dunne, Eoin Gleeson, Robert Downes and Lucy Murray compare their Leaving Cert results at Stratford College in Rathgar.
Image: Laura Hutton/Photocall Ireland
SOME 55,781 STUDENTS in Ireland – and 34 in Libya – are experiencing what many see as a traditional rite of passage today, as they receive the results of their Leaving Cert examinations.
36,762 students took the 'traditional' Established Leaving Certificate, while 15,827 people sat the Leaving Cert Vocational Programme and 3,358 took the Leaving Cert Applied exams.
Some subjects, naturally enough, are taken by more students than others – this year a total of 51,517 students took an English paper at either Higher or Ordinary level.
At the other end of the scale, only 12 people sat Ancient Greek – with five of them managing to get an A grade. In fact, it's possible that some subjects had even fewer people sitting them: the State Examinations Commission only publishes figures for exams with more than 10 candidates.
We had a look through the detailed breakdown of results awarded this year to see which subjects produce the most A grades – and which have the highest failure rates.
Начало класса!
Perhaps unsurprisingly, it's subjects that have comparatively fewer candidates that manage to produce proportionally higher grades – with less mainstream languages like Russian, Slovakian and Dutch, which may attract native speakers, getting more top grades.
Of the 251 students who sat honours Russian, 156 – that's 62.2 per cent – got an A1 grade, with a further 32 picking up an A2.
All in all, 188 of the students – about three-quarters – of the students who took the Higher Lever paper passed it; only one student – who got an E grade – did not pass it.
The aforementioned Ancient Greek – which was taken by only 12 students at honours level – also produced a large chunk of As, with a single A1 and four A2s among the dozen students, who enjoyed a 100-per-cent pass rate.
Latin was next, with 27 of the 130 students who took the honours paper getting an A1. With another 23 students being awarded an A2, over 38 per cent of the students taking Higher Level Latin got an A grade.
Indeed, languages dominate the charts in subjects with the most As: Slovakian (36.1 per cent), Romanian (33), Dutch (30), Hungarian (27.3), Japanese (26.4), Italian (24.5), ordinary level Russian (22.3), Latvian (21.8) and Czech (21.4) all rank among the most prolific A grades.
A numerical advantage
There's only one interruption in this linguistic domination – that of Applied Maths, which was sat by a total of 1490 students this year.
It's probably fair to state that a student who takes Applied Maths at Leaving Cert level is someone who already has a strong aptitude for mathematical subjects – given that it's not usually compulsory in schools, the only students likely to take it are those who think they will do well in it.
It's no surprise, then, that Applied Maths is up there with the languages in terms of the number of As awarded. 27.9 per cent of the 1,344 students who took the honours paper managed an A, including 18.5 per cent getting an A1.
For the 146 students who studied the subject but later opted for the ordinary level paper, the results were even better: 37.7 per cent of those students got an A, including 28.8 per cent (that's 42 of them) scooping an A1.
Must do better
Of the 43 subjects which were taken by more than 10 students, only four had perfect pass rates: Ancient Greek, Slovakian, Bulgarian and ordinary level Russian were passed by 100 per cent of the students who sat them.
The ignominious honour of the highest failure rate went to the fringe subject of Czech, which seems to turn the logic of 'only native speakers study this' on its head.
A mere 14 students took the paper, all of them at honours level – but five of those students did not pass the paper, translating into a failure rate of 35.6 per cent.
Similarly counter-intuitive failure rates were seen in Portuguese (18 of the 63 candidates failed), Dutch (4 of the 20) and ordinary level Japanese (6 of the 46).
Classical Studies – which studies the ancient civilizations of Greece and Rome, and how they influenced the modern world – also had a highfailure rate.
Of the 690 students who took the paper, 68 students opted for the ordinary level – of whom 24 were given E, F or 'No Grade' marks. That's a proportional failure rate of 35.3 per cent. (By comparison, a mere 5.6 per cent of people failed the honours paper.)
The joint subject of Physics and Chemistry also features highly – somewhat surprisingly, as it is another subject usually taken by students who have an aptitude for those sciences. 27 of the 96 students who sat the ordinary level paper in that subject didn't pass it.
In absolute terms, the subject with the highest failure rate was ordinary level Mathematics. 9.5 per cent of the 33,916 students who took that course got an E, an F or 'No Grade' – approximately 3,200 students.  Of the 11,131 who sat the higher-level paper, 2.3 per cent – or roughly just over 250 – got similar grades.
Biology also had a high level of failures, with around 9.7 per cent of the 30,536 students who took it – just under 3,000 – failing the exam at either ordinary or higher level.
English – which is not officially a compulsory subject nationally, but which is considered obligatory by most secondary schools – had a failure rate of about 2.5 per cent, with roughly 1,270 of the 50,517 students failing it.
Ordinary level Irish was failed by around 980 students of the 22,875 who sat it; at higher level, about 110 (0.7 per cent) of the 15,937 students did not score the minimum 40 per cent needed to pass.
Nearly 840 students failed higher-level French, while just over 800 failed the higher-level Business paper.