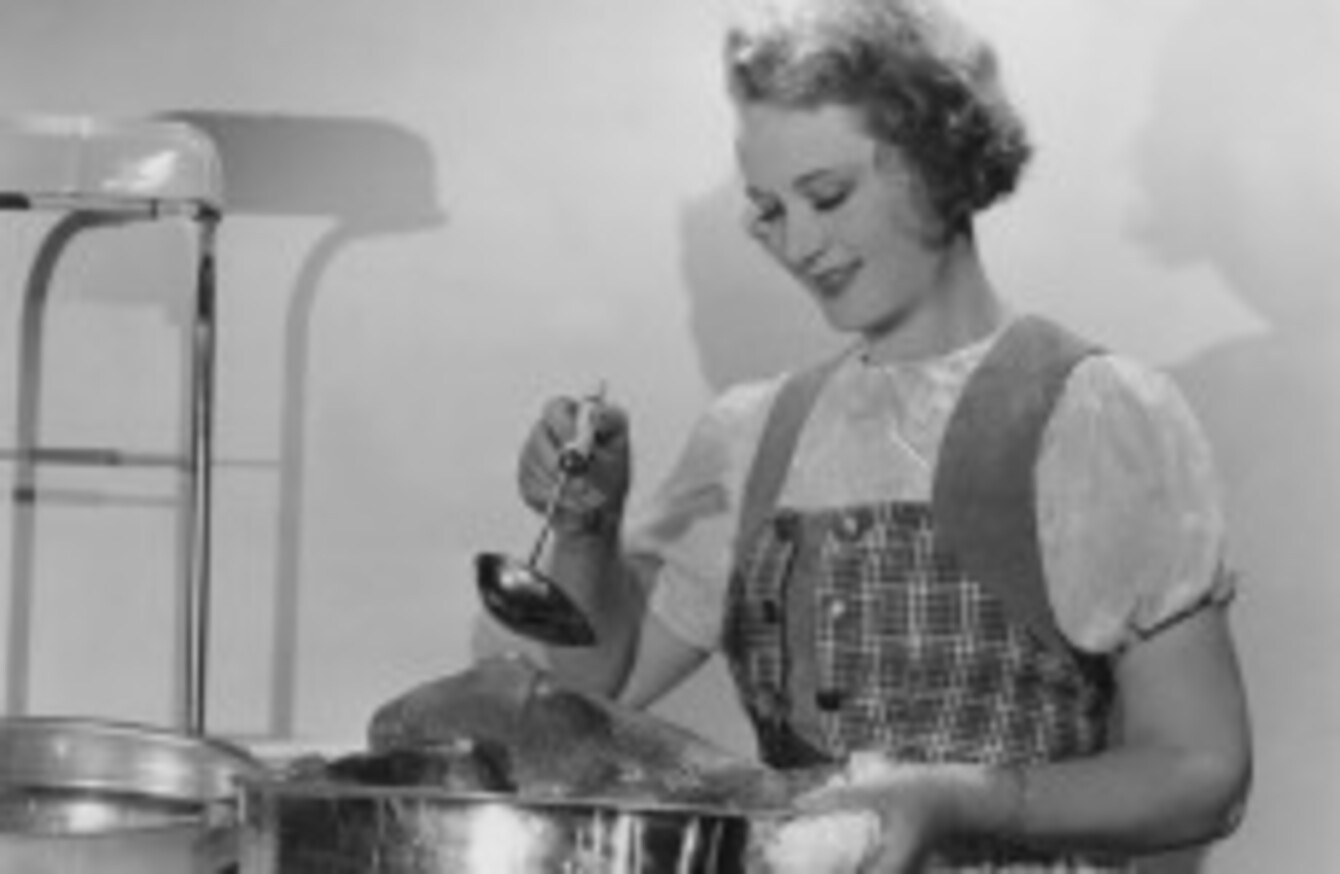 Image: Shutterstock/Everett Collection
Image: Shutterstock/Everett Collection
THE LEAVING CERT was an altogether different rite of passage for students of the early 20th century, when only a small minority of children progressed to post-primary education.
For young men who sat the exam 80 years ago, the Leaving Cert was a gateway to elite society. But the syllabus for young women – focused on practical skills, and fluency in French or German - was intended to prepare them for a life of domesticity.
We got our hands on the domestic economy paper from 1935, which specifies that only female students were allowed to sit the exam, to see how it compares to today's home economics curriculum. These days, the subject serves a far less conservative purpose. It is, according to the Department of Education, concerned now "with the way individuals and families manage their resources to meet physical, emotional, intellectual, social and economic needs."
But were the questions asked of students 80 years ago all that different to those being asked now? Let's take a look.
Menu planning
The 1935 domestic science exam, perhaps reflecting the social background of those who sat the paper, asked students to propose a four-course winter dinner for five people.
They were expected to be resourceful in their menu planning, with another question requiring them to suggest "appetising dishes" that can be made from scraps of bread, and the remains of cooked meat and potatoes.
By contrast, in a mandatory question asked in 2014, students had to analyse the household budgets of four families in receipt of social welfare allowances. They were asked to discuss the shopping options available to social welfare recipients on tight budgets.
Balanced diet
The importance of a balanced diet featured in the 1935 paper in much the same way that it does these days.  80 years ago, students were asked to explain the need for a mixed diet.
In 2013, students were asked to analyse the percentages of Irish adults consuming the recommended number of daily portions from each shelf of the food pyramid.
Fat
More recent papers differ most obviously from the 1935 exam in the level of understanding they expect of students. In 2013, students were asked about obesity, and the structure and dietary significance of fatty acids.
There was no mention of anything as complex as fatty acids on the 1935 paper, where students were simply asked to describe the digestion and absorption of fat, and explain the nutritional value of butter.
Fashion
Fashion featured on the 1935 paper in one of 10 questions, where students were asked outline "how a pattern for a simply frock should be placed on material."
Frocks, or Imelda May's frock to be particular, also made an appearance in last year's home economics exam. In an optional question, students were asked to evaluate a dress worn by the Irish singer in terms of comfort, aesthetics and "current fashion trends".
Topics
The 1935 paper shows, if anything, the extent to which the home economics syllabus has broadened in recent years.
The modern home economics syllabus encompasses food studies, resource management, consumer studies and social studies, as well as electives in home design and management, fashion and design, and social studies.
In 2012, along with questions on children's rights and insurance, students were asked to assess the impact of unemployment and discuss job creation.
But 80 years ago, the syllabus focused on less complex topics, with students being tested only on their knowledge of food, cooking, nutrition and fashion.
Association of Secondary Teachers Ireland (ASTI) subject spokesperson Maura McCaul said today's home economics syllabus instead aims to resource both male and female students with knowledge and skills for all areas of post-school life.
The contemporary nature of the paper that the students will sit next week covers topics as diverse as the family in society exploring family structures, marriage and family law to an evaluation of housing provision in Ireland which is in stark contrast to the request [in the 1935 exam] for the stages of the washing of white cotton fabrics.
She added:
1935 required a knowledge for disinfecting food utensils to prevent the spread of Diphtheria. In comparison, [home economics students in 2015] could address a public meeting with an in-depth knowledge of the food industry and commodities specifying the nutritional implications related to all aspects of international malnutrition.