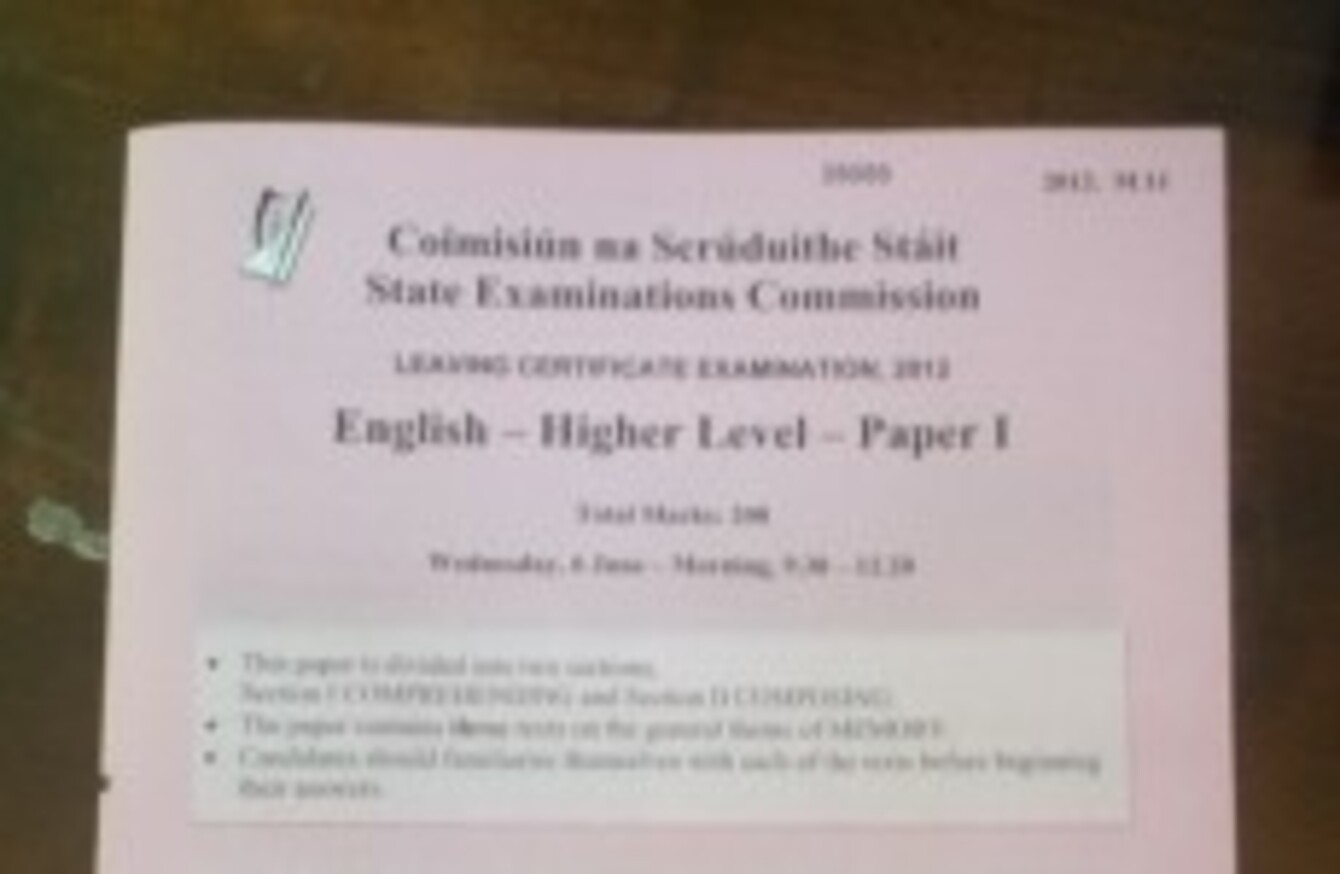 Reader @kakes_x sent this to us straight after coming out of the exam! Thanks Katie.
Reader @kakes_x sent this to us straight after coming out of the exam! Thanks Katie.
ALTHOUGH THE HIGHER Level English Leaving Cert Paper One was more challenging than previous years, students emerged from exam centres happy this afternoon.
A spokesperson for the Association of Secondary Teachers in Ireland (ASTI) told TheJournal.ie that candidates were "happy enough" despite the paper being "slightly weightier" than in previous years.
This year's theme was Memories which lent itself to "reflection", according to Michael Doherty of Scoil Mhuire in Buncrana, Donegal.
The passages and excerpts from the comprehensions were "a bit chunkier, harder to wade through" but the questions were friendly.
Essay options were varied and included appropriate subjects such as leaving home.
As for the ordinary level paper, Doherty said that was "in line with previous years". The first text on the exam was about rugby international Brian O'Driscoll so it was "amenable to most students".
The theme was leadership or being a leader and there was nothing that would have "thrown" the Sixth Years.
"There were lots of smiles from students leaving the centres – the relief of getting underway," he added. A total of 51,560 students will sit the English exams this year with 34,856 registering for the honours paper and 16,704 for the ordinary level.
Students' predictions about poetry questions will be the concern this evening as Paper Two looms large tomorrow. The Engineering Leaving Cert exams also get underway tomorrow afternoon for almost 5,000 students.
This afternoon, over 12,000 students are taking the Home Economics paper.