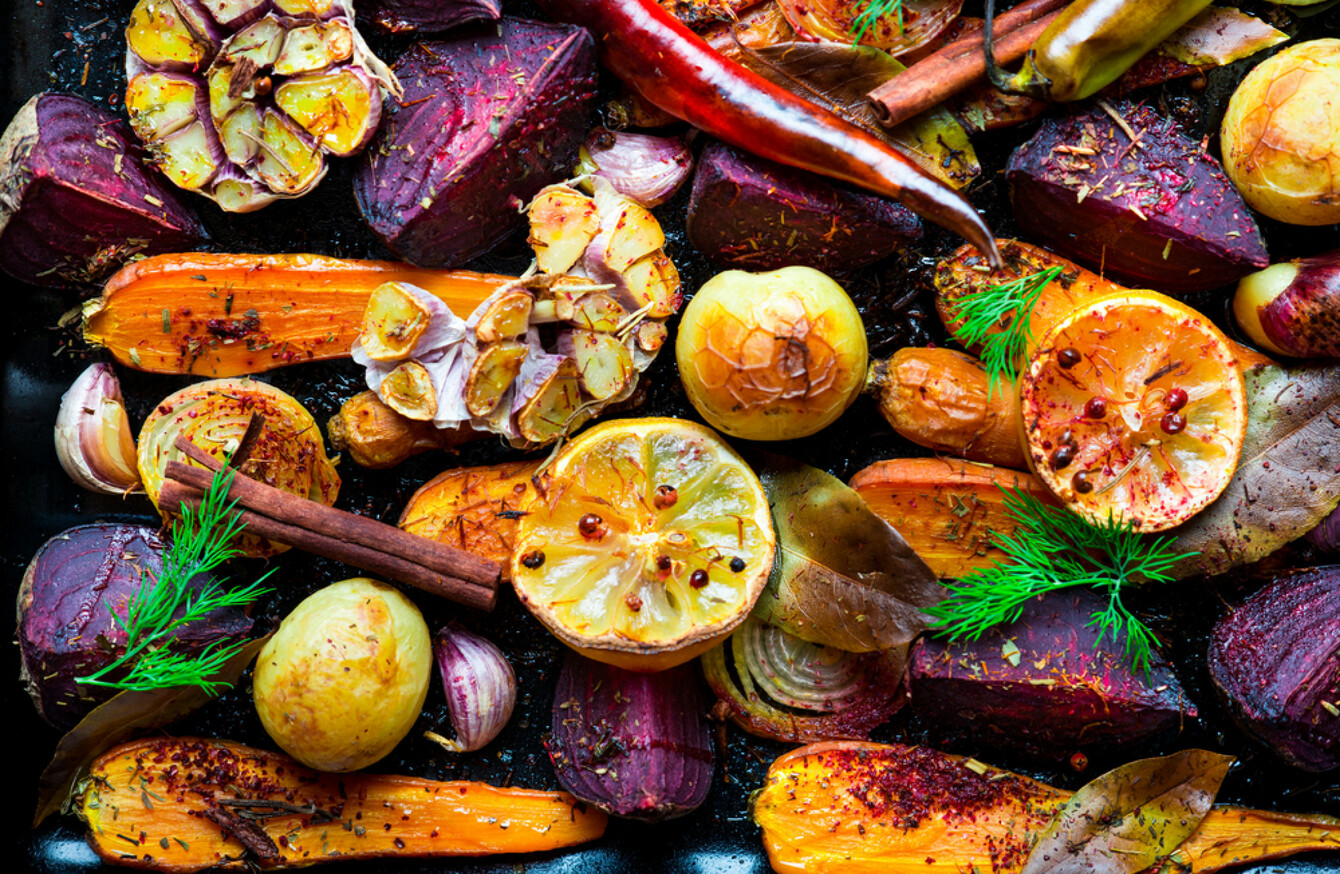 Image: Shutterstock/Malyugin
Image: Shutterstock/Malyugin
EVERYONE'S BEEN IN that position where you've made too many vegetables for a weekend roast or a midweek dinner – and you're left scratching your head over how to use them all up.
Food waste is never a great option. There are so many amazing ways to use up leftover veggies for subsequent dinners, lunches and even snacks!
Here are a few suggestions.
Vegetable Frittata: Ideal for a throw-everything-together dinner that's quick, easy and tasty.
Crack 4-6 large, free-range eggs into a mixing bowl and whisk lightly with some seasoning. In a heavy frying pan, melt a little butter and oil over a medium heat until foaming and add the egg mixture. Allow to cook a little and firm up on the bottom before adding in some chopped, leftover roasted vegetables (carrots, courgettes, onions, parsnips all work really well here). Add a little grated cheese over the top if you like, finish in a moderate (180ºC) oven or under the grill for a couple of minutes until just firm. Serve in quarters, with a dressed salad.
Roastie Croquettes: We can barely resist leftover roast potatoes, all golden and crisp. Just the way they are, still warm or even freezing cold.
If you want a novel way of using up these already-cooked carbs, scoop out the middle (or just smash down, skin and all) and shape into croquettes, covering in flour, egg and panko breadcrumbs and deep-frying or oven-baking for a crispy treat.
Alternatively, turn into boxty potato cakes – just shape into round, flattened cakes and pan-fry for a couple of minutes either side, which is a great way to use up leftover cabbage or boiled vegetables too.
Smashed carrot and cumin hummus: There's fewer things more satisfying than perfectly roasted carrots – especially if they've mingled with thyme and been slicked in honey or maple syrup!
Make the most of any leftovers by smashing them down into a thick paste and treating like guacamole as a dip or as a toast-topper. Add some some spices like ground cumin, cayenne or coriander for natural heat and if it's too thick, thin it out with a little yoghurt.
Soup is a sure-fire way to make roasted veggies go further. Simmer them in a little stock – or water – until soft and blitz to desired thickness. For a naturally thicker soup, add an extra potato or two into the saucepan, and don't be afraid to add in extra flavours.
If it's leftover cauliflower and broccoli you're using up, add a generous crumbling of blue cheese. To reinvigorate potato and leek, add lots of fresh herbs like rosemary and thyme. Spiced carrot and butternut squash is brought alive with gorgeously warming spices. Roast onion and parsnip… the limit does not exist.
Turn them into stock. For a gorgeous, deep-flavoured vegetable stock, simply simmer the vegetables – with water covering them – for an hour or so to draw out all the flavour into the liquid. Strain and use for all kinds of dishes – a gorgeous, creamy risotto instantly comes to mind. A veggie ramen would be delicious too. You can freeze the stock as soon as it's gone cold.