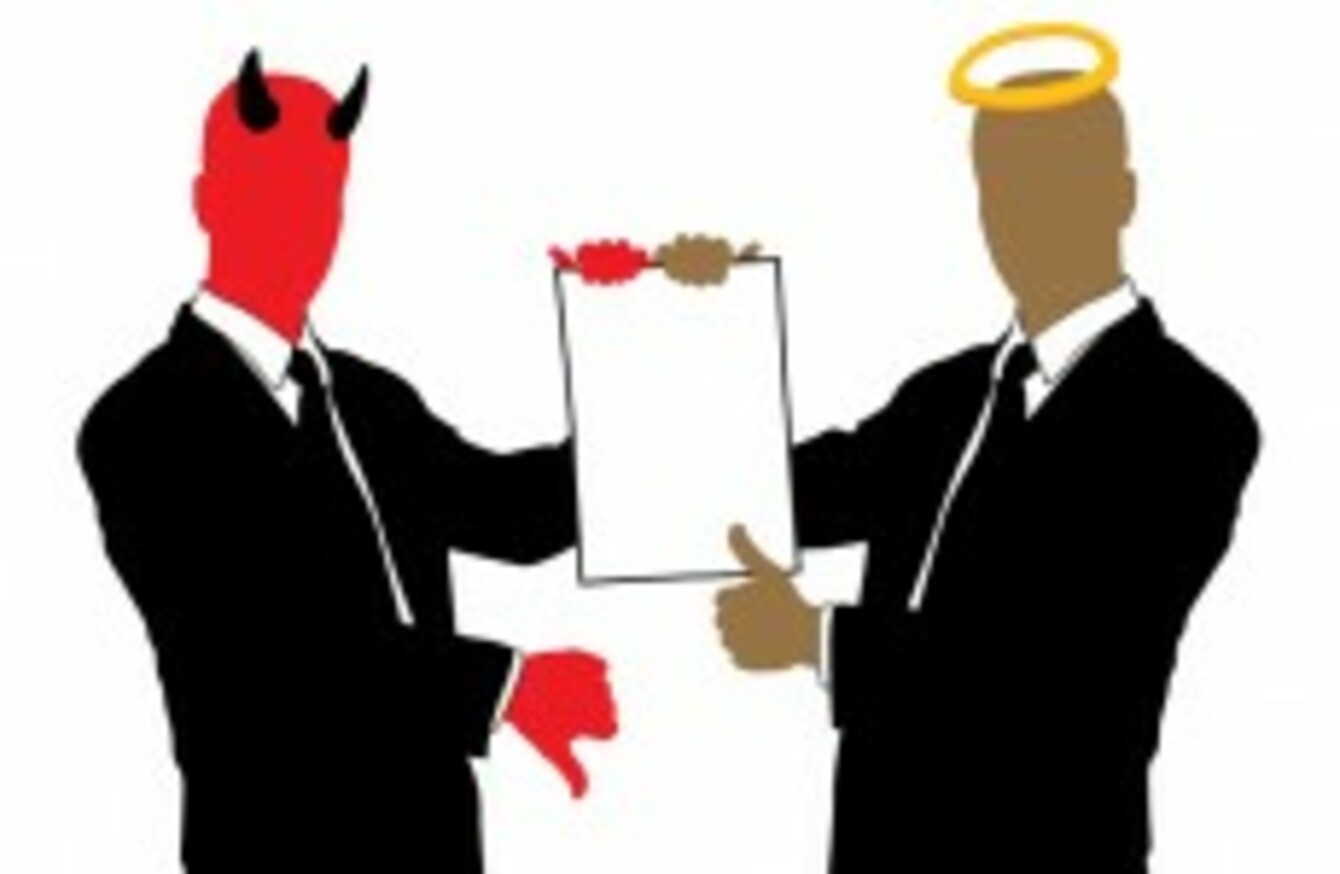 Image: Shutterstock/Istvan Hajas
Image: Shutterstock/Istvan Hajas
THE IDEA OF buying or selling a property can seem like a pretty daunting process.
It can seem like an endless merry-go-round between banks, solicitors and opposing parties.
But does it really need to be as complicated as it seems?
To find out more about the process of conveyance (the legal side of buying or selling a house), TheJournal.ie spoke to Padraig Mullins from Gaffney Halligan & Co Solicitors about what to do…
So, starting with the basics – what's conveyance? 
Conveyance is a general term used to describe the process by which someone purchases a property and title to a property – all issues are sorted out so that the title passes freely and there are no planning issues.
If someone is really keen to sell their home without a solicitor – they probably could, right? 
I don't believe they could. From a purchaser's point of view it would be difficult to carry out an examination of title and exam planning. And thereafter once title passes, to pay the stamp duty, carry out further searches against the property, and register the property in the purchaser's name.
As well as that a purchaser can't draw down a mortgage from a lending institution without a solicitor.
So, that's a no then? 
Ultimately a bank will always get the title deeds for a property over which it has a mortgage and they will require an undertaking with a solicitor's certificate of title before they allow the purchaser to draw down the funds.
They wouldn't issue mortgage funds without a solicitor being appointed.
If you have a load of money in the bank and can go ahead with a cash buy could you get around this? 
The only difference there is that there is no certificate of title to be furnished to the bank and no money is coming from any lending institution as such.
The same would apply in that I don't believe you could do it without a solicitor. Title would have to be examined and again you would have to make sure all planning matters are in place and acceptable and there are no judgments or existing mortgages on the property.
So – these solicitor's fees. How much are we talking here? Is it a percentage of the house? 
It is generally a fixed fee. Solicitors no longer charge a percentage of the purchaser price. The fee charge will generally depend on the amount of work that needs to be done and also solicitors are obliged under Law Society regulations to notify clients of fees in advance of commencing any work.
A general guideline for a straightforward conveyance would be in around €1,200 to €2,000 for the fee, plus VAT of 23%. There would also be outlay of stamp duty which is currently 1% up to a value of €1 million, and land registry fees on top of that.
Do you think all this legalistic stuff scares people away? 
I don't see that someone would be put off from selling a house due to legal implications. I mean it is a simple matter of instructing a solicitor to act on their behalf and I suppose that is why they do instruct a solicitor.
And what sort of stuff can go wrong with all of this? 
From a purchaser's point of view one of the most important things they should do is have the property properly surveyed by a qualified engineer or architect to carry out the structural survey and make sure it is structurally sound.
Other issues would be if there was some delay on the mortgage due to a probate or a planning issue. They would also have to make sure that the loan offer doesn't expire. Banks will often put time limits on how quickly the mortgage holder has to draw down the funds.
Where that date passes someone would then have to reapply for a new loan offer.
Making sure the correct searches are carried out is another thing. Making sure there are no plans for road widening or sewage plants – or any other item plans in the area that could influence the decision to purchase the property.
What if someone dies? Is that different?
It isn't the traditional conveyance process. A 'deed of assent' is drawn up between the estate and the person inheriting the property and that deed of assent would be prepared based on the grant of probate or letters of administration.
A grant of probate is where the deceased person has left a will. Letters of administration is where there was no will. In either case, the deed of assent would be prepared that would pass the property to the individual inheriting the property.
And overall – how long can someone expect to wait for the keys to their house? 
Once someone pays their booking deposit – and it's a straightforward transaction – you could have it completed in roughly eight weeks.
Any key bits of advice? 
If you are buying a house you should always make sure that your solicitor has conveyance expertise. I think it is always best to go by a referral. If someone has recommended a solicitor to you – go with them rather than looking for the cheapest alternative.
Padraig Mullins tips on dealing with the conveyance process 
It probably isn't a good idea to try and go it alone with conveyance. 
Cash buys remove the need to deal with the banks.
Make sure not to go outside of the time limit for drawing down a loan from the bank – otherwise you might have to go through the process again.
Conveyance generally costs somewhere between €1,200 and €2,000 plus VAT and other outlay.
Go by recommendations when looking for a solicitor.