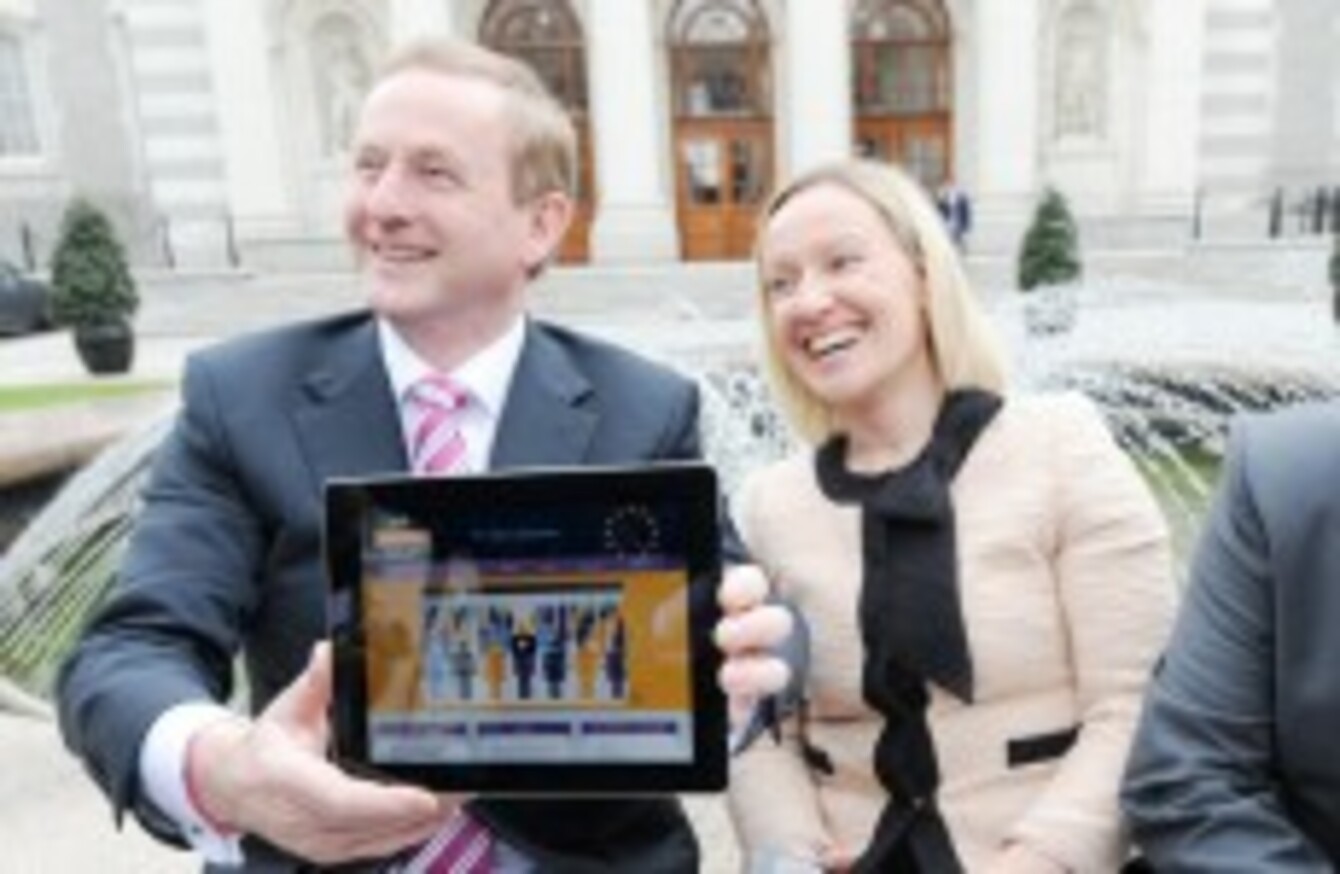 TDs and Senators will be supplied with their own tablets under an Oireachtas initiative - but few use the ones already made available to them.
Image: Laura Hutton/Photocall Ireland
TDs and Senators will be supplied with their own tablets under an Oireachtas initiative - but few use the ones already made available to them.
Image: Laura Hutton/Photocall Ireland
IRELAND'S TDS will soon be provided with their own individual tablet computers to be used for work activity – even though they rarely use the facilities that Leinster House already provides for them.
TheJournal.ie has learned that tablet-style devices, bought and paid for by the Oireachtas, have been available for TDs to use for six years – but that interest among the current crop of TDs in using them is minimal.
Oireachtas records obtained exclusively by this website show only seven of the 20 Toshiba devices as having been borrowed for use by members since the current Dáil was elected in February 2011.
Furthermore, the records – which run from 2006, when the tablets were bought, until May of this year – show that the devices have only been used on 25 occasions by the 167 members of the 31st Dáil, and on only two occasions since last August.
The records, released under Freedom of Information legislation, also indicate that two of the devices have only ever used once – by any TD – since they were purchased six years ago.
A spokesman for the Oireachtas confirmed that 25 tablet-style devices had been purchased in 2006 – with 20 provided for the use of members, while the other five were retained by the ICT units for support and backup purposes.
The 20 devices provided for use by members were purchased a cost of €38,782.50, inclusive of VAT and the price of docking stations to charge them.
A comprehensive log of Oireachtas assets also obtained by TheJournal.ie, however, lists only 22 of the devices – suggesting that three of the units have been disposed of in the meantime.
Though it is possible that the devices could be considered obsolete, the fact that they are used so infrequently – just over 250 times in all, an average of 13 times each, since they were first acquired – means their performance is unlikely to have deteriorated in the meantime.
Fine Gael TD for Carlow-Kilkenny, John Paul Phelan, said it was "remarkable how few times these existing devices have been used" – though he admitted he was "not surprised, as I've never actually seen one".
'Cost-neutral process'
Earlier this week the Oireachtas confirmed its intention to issue a tender seeking suppliers for tablet devices for each member of the Dáil and Seanad.
The Oireachtas plans for its new tablets would have 3G functionality, with the ability to share a member's mobile phone data package. The cheapest model of Apple's iPad with 3G capability costs €599.
Alternative cheaper tablets, however, could potentially be sourced for less than half this price – helping to keep down the cost of buying devices for the 224 members of the Oireachtas who don't already have them supplied.
Fine Gael senator Martin Conway, who is partially sighted, already has an iPad supplied for him; the Seanad chairman Paddy Burke is also provided with an iPad in order to aid Conway's use of his device.
A Leinster House spokesman said, however, that Oireachtas would aim for the new purchases to be cost neutral, as the use of tablets would mean a reduction in the Oireachtas's printing costs over the following three years.
"Additionally, the tablets will form part of a general shift to electronic communication between TDs and Senators and their constituents and the general public," the spokesman said, saying it could ultimately save €1m through eliminating or reducing its printing costs.
#Open journalism No news is bad news Support The Journal

Your contributions will help us continue to deliver the stories that are important to you

Support us now
Members will also be required to provide their own 3G SIM cards for the devices if they use to use them on a mobile basis, though each device will already have WiFi capability so that they can be used in wireless areas.
Modern parliament
The plan to increase the use of tablet devices has been bill as "another step in modernising our national parliament", by being able to provide members with electronic copies of bills or enabling them to check facts online during debates.
The new tablets are being considered a direct replacement for the 20 tablets already provided. A spokesman said the devices would remain the property of the Oireachtas, and merely be loaned to members for the completion of their duties.
The spokesman added that members would be offered training for use how to use the devices, and would be expected to take this train – or to confirm that they were already able to use them – before the tablets would be handed over.
Phelan said he believed the proposal to give tablets to every member should be reconsidered.
"Members clearly like the existing system, tablet use hasn't been huge and – if it's necessary – I think we should just buy our own," he said last night.
"Many people are struggling to pay their bills and make ends meet right now and I think it would leave a very bitter taste in the mouth to see 226 Oireachtas members getting iPads."
Tablet devices are preferred for use by Leinster House authorities to traditional laptops because the absence of keyboards means they are not noisy to type on.