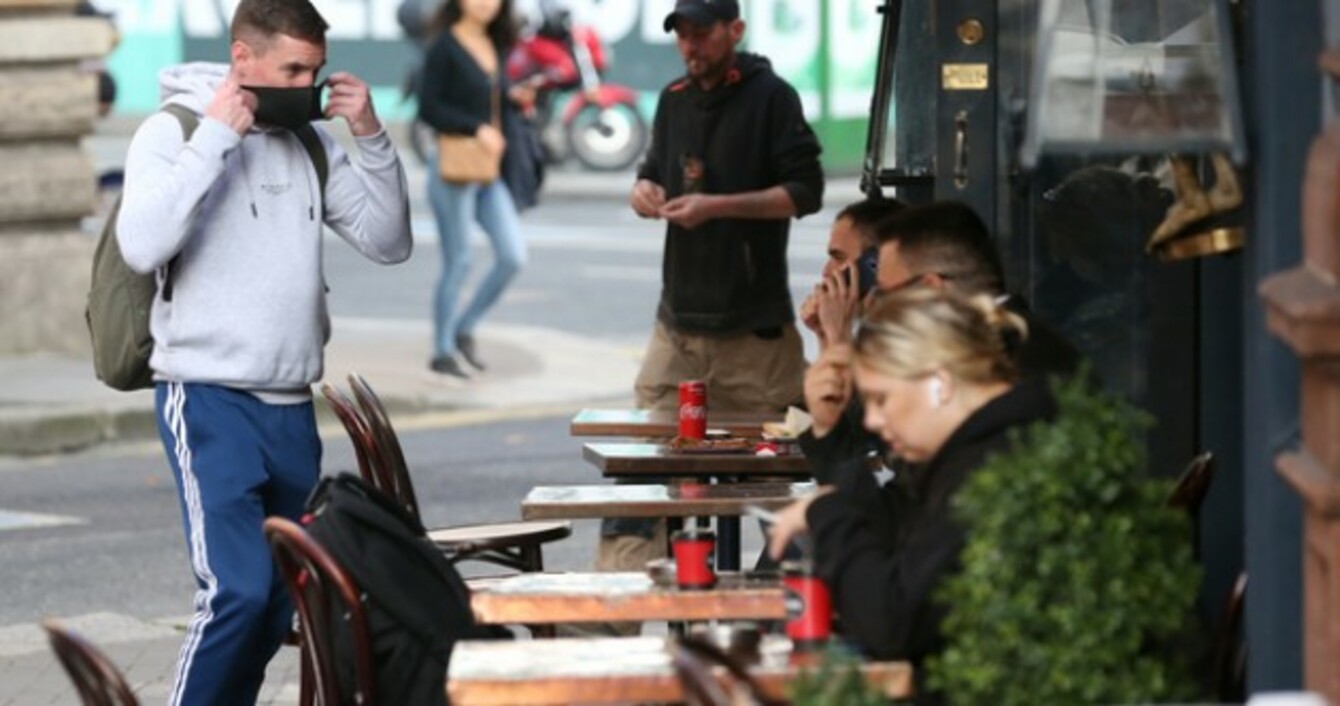 There has been a significant backlash from Dublin businesses over plans to close restaurants and pubs to indoor dining.
Image: Sasko Lazarov
There has been a significant backlash from Dublin businesses over plans to close restaurants and pubs to indoor dining.
Image: Sasko Lazarov
Updated Sep 18th 2020, 5:07 PM
THE CABINET HAS accepted the advice from the National Public Health Emergency Team (NPHET) that Dublin should move to Level 3 Covid-19 restrictions. 
Taoiseach Micheál Martin is expected to make a statement at about 6pm confirming the move, but sources say Cabinet has accepted NPHET's recommendations in full.  
Last night, NPHET also recommended that indoor dining in Dublin's restaurants should also stop for a period.  
The advice prompted strong criticism from hospitality groups but it's understood that Cabinet has decided not to deviate from the advice from public health experts. 
It's understood that outdoor dining is to be permitted up to a maximum of 15 people.
Martin is expected to deliver his statement this evening after an earlier meeting of the Cabinet sub-committee on Covid-19 and then a full Cabinet meeting. 
NPHET's recommendations were first considered by a new oversight group chaired by the Department of the Taoiseach's Secretary General Martin Fraser yesterday evening. 
Breaking: Cabinet has accepted NPHET advice without deviation. Dublin to move to Level 3

— Christina Finn (@christinafinn8) September 18, 2020
The move to Level 3 in Dublin was widely expected after a spike in cases in the capital over the last two weeks.
The 14-day incidence of Covid-19 per 100,000 people in Dublin is at 104, followed by Louth on 76.8 and Leitrim on 71.8, according to figures from the Health Protection Surveillance Centre.
The government can expect a serious backlash from businesses following the decision to close dining inside restaurants. 
Commenting earlier on the NPHET recommendation for additional restrictions for the hospitality sector in Dublin, Ibec CEO Danny McCoy said:
"Moving beyond Level 3 to a '3.5' would undermine the credibility of the codified system, and framework process introduced this week, for the entire business community.
"It would damage the certainty which the framework was supposed to deliver and is worrying for businesses in all sectors of the economy across the entire country. Government's decision must preserve the certainty and credibility of this week's new framework." 
He said businesses will want to see clear, scientific data that is being relied upon, stating that based on the transmissions data that is currently in the public domain, it is difficult to see the logic for a recommendation which would disproportionately target one sector of the economy at such short notice.
The small and medium business group is not alone in its condemnation of the advice to stop indoor dining. 
Chair of the Drinks Industry Group of Ireland, Liam Reid said further restrictions would have "grave implications for the future viability of the drinks and hospitality industry". 
"While public health is, and must continue to be, the priority, it is important that any decisions are backed up by evidence – in the case of the proposed closure of all indoor spaces in bars and restaurants, and the ongoing closure of wet pubs," he said. 
He highlights that Ireland would be in an outlier with such a move, stating that other European countries and capitals, some with higher incidence rates, have not imposed such restrictions.
"There is no evidence brought forward to suggest that this will work, and indeed governments and public health experts across Europe have avoided implementing such measures," said Reid.
Vintners groups have also condemned the measures while the Restaurants Association of Ireland CEO Adrian Cummins said last night he was "shocked". 
A complex picture
Health Protection Surveillance Centre data suggests that there have only been a handful of Covid-19 outbreaks in pubs and restaurants since they re-opened. Many more are linked to private homes.  This has also been confirmed by NPHET representatives at recent Covid-19 briefings.
But senior health officials have stressed to TheJournal.ie that this isn't the full picture. 
One senior health official said that often the contact tracing process will only seek out contacts for the last 48 hours – the period during which an individual is infectious. 
They stressed that contact tracers are not interested in where the disease came from, but are instead focused on where the disease is going as it's passed to more recent contacts. 
This means that if family members or housemates, as close contacts, are tested and are confirmed to have Covid-19, the HPSC labels it as 'household' outbreak – even if the virus was originally picked up in a pub or restaurant.
International evidence 
This afternoon, Professor Philip Nolan, Chair of NPHET's Irish Epidemiological Modelling Advisory Group, said: "We would like to go back and find out where people are getting the virus, but we don't have the time or resources to pursue this academic exercise."
On Twitter, he said: "We have lots of international evidence from better resourced systems on how the virus transmits: we know that social settings, including bars and restaurants, drive community transmission."
He said that the virus was being picked up houses, gyms, bars and restaurants. "Sadly, unless we stop mixing in these settings, we know the disease will spiral out of control," he said. 
Data from elsewhere seems to bear this out. One recent study, carried out by the Centres for Disease Control and Prevention in the US, suggested that adults with Covid-19 were twice as likely to have reported dining at a restaurant in the past 14 days before becoming sick. 
'Crossroads'
This morning, HSE chief Paul Reid had said that the country is now at a "crossroads".
"Whatever decisions emerge, it is about everyone taking the issue very seriously," he said. 
"No one wants to go back into lockdowns," he added. 
On the issue of pubs and restaurants, Reid said that the evidence was clear that cases occur in places where people "gather and congregate". 
"It is about transmission in various settings being brought back into the home," Reid said. 
What else does Level 3 mean in practice?
A number of more tightened restrictions apply when an area is at Level 3.
People from just one other household can visit your home or garden, which is a restriction already in place in Dublin now. No social or family gatherings should take place in other settings.
People are urged to stay in their county apart from work, education and other essential purposes. Schools and creches will remain open, as will outdoor playgrounds and parks.
Under Level 3, people should work from home unless it is absolutely necessary to attend work in person.
#Open journalism No news is bad news Support The Journal

Your contributions will help us continue to deliver the stories that are important to you

Support us now
Visits will be suspended for nursing and care homes, aside from critical and compassionate circumstances.
Those aged 70 years and over and the medically vulnerable are advised to "exercise judgement regarding the extent to which they engage with others and in activities outside home".
The number of people who can attend a wedding is reduced to 25, with the same number allowed to attend funerals. Weddings of 50 people that were to go ahead this weekend can still go ahead at that number, however.
Weddings of 50 can go ahead this weekend, Cabinet has agreed.

— Christina Finn (@christinafinn8) September 18, 2020
Religious services are to move online with places of worship remaining open for private prayer.
Gatherings of up to 15 people can take place outdoors, such as non-contact sports training or an outdoor arts event. Horse racing is also permitted to continue.
No matches or sporting events can take place, with the exception of professional/elite/inter-county/club championship events.
Gyms, leisure centres and swimming pools can remain open, for individual training only, once protective measures are in place. No exercise or dance classes should take place.
All museums, galleries and other cultural attractions must close.
Capacity on public transport will be limited to 50%, and people advised to walk or cycle where possible.
With reporting by Michelle Hennessy, Seán Murray, Christina Finn, Dominic McGrath, Daragh Brophy and Rónán Duffy.