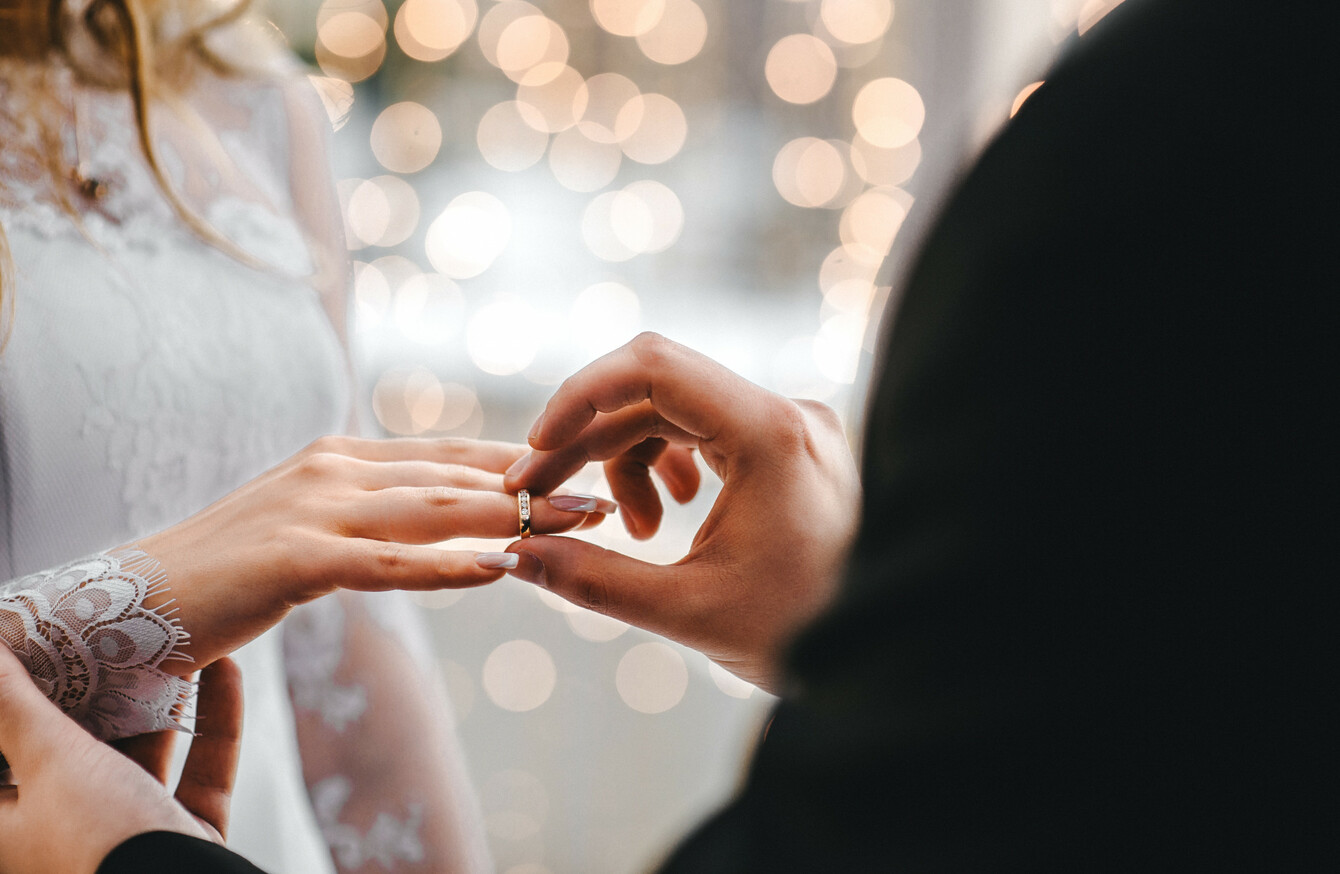 Image: Shutterstock
Image: Shutterstock
Updated Wed 5:46 PM
COUPLES PREPARING TO get married next month should "operate on the basis" that 50 people will be permitted at wedding receptions, the Tánaiste has said.  
Numbers at wedding receptions are currently restricted to 50 people but the limit was set to potentially increase to 100 next month dependent on the Covid-19 situation. 
Speaking to reporters today, Leo Varadkar said the limit "might change to 100″, but he would not advise people to "plan on that basis". 
"As has always been the case, we'll often set an indicative date or a target date for the further easing of restrictions but we always say to people to operate on the basis that they won't change," he said. 
Don't assume that they will change. So, I'd say to anyone who's planning a wedding in August, operate on the basis that it will be 50.
He added that he "doesn't anticipate" that there will be many restrictions lifted over the coming few week beyond Monday's reopening of indoor hospitality. 
"While restrictions will be eased in relation to indoor dining from Monday, I don't anticipate there being very much easing beyond that for the next few weeks, at least until we have a better idea as to where we are," he said. 
Taoiseach Micheál Martin said that a final decision would be made next week on whether the numbers at weddings are increased and he defended the short notice at which the decision would be taken.
"We will be giving notice, I think we've already extended it to 50 but we'll be doing that, we will be making a decision on those and other issue's next week," he said. 
Delta variant
Martin said that the context for cautious approach is the growth of the Delta variant of Covid-19 which he said was causing concern. 
He was speaking as it was confirmed by the Department of Health that 1,378 new cases of Covid-19 were confirmed in Ireland. The country's 14-day incidence has increased from 93 cases per 100,000 population in the last week of June to 246 cases per 100,000 today. 
"We have to work in a very focused way to try to manage what will be a continuing spike in cases over the coming weeks. Monitor the relationship between that spike in cases and hospitalisations and ICU numbers, so it will be a challenging period ahead," Martin said. 
Martin met yesterday with Deputy CMO Dr Ronan Glynn and NPHET's head of modelling Philip Nolan and said that "one of the core messages was the uncertainty around this in terms of the actual numbers of cases and so on."
He added: "The experts are not certain as to how this will play out."
All of us have to be vigilant, vaccinated and unvaccinated. Vaccination protects us from severe illness, protects us from hospitalisation to a far greater extent than unvaccinated status does, but it doesn't prevent you from being infected. So the need for vigilance is on all of us.
Speaking about the increasing infection rate, Varadkar said Ireland is "without a doubt now well into a fourth wave, a Delta wave of infections. "
He echoed the Taoiseach's comments by saying "nobody knows for sure how it will turn out" but that cases may peak at between 3,000-4,000 per day. 
"I'm taking the optimistic view that we'll follow a similar course to Scotland, maybe peak around 3,000-4000 cases a day in the next few weeks, then fall back and not see hospitalisations rise much above 500, ICU not much above 50 but we can't know for sure," he said. 
Varadkar said the wave "needs to be taken seriously" but that vaccinations have seen the fatality rate during the Delta wave fall to a fraction of what it was earlier in the pandemic. 
He said the case fatality rate is currently between 0.1-0.2%, so for every 1,000 cases there may be one or two deaths, whereas during the Alpha wave in January it was at about 2%.
The case fatality ratio for Delta is one-tenth of what it was for Alpha because of the vaccine program. So when it comes to deaths, 2,000 cases a day is more like 200 cases a day back in January. It's not exactly the same when it comes to hospitalsations, we're still not really sure when it comes to the hospitilsation ratio.
#Open journalism No news is bad news Support The Journal

Your contributions will help us continue to deliver the stories that are important to you

Support us now
He added: "We could see hospitalisation certainly in the hundreds, in and around 400-500, ICU numbers around 40-50, and if that's the case it is manageable. We need to bear in mind that we have 900 more hospital beds than we had a year ago and about 800 more since pandemic began."
- With reporting by Órla Dwyer