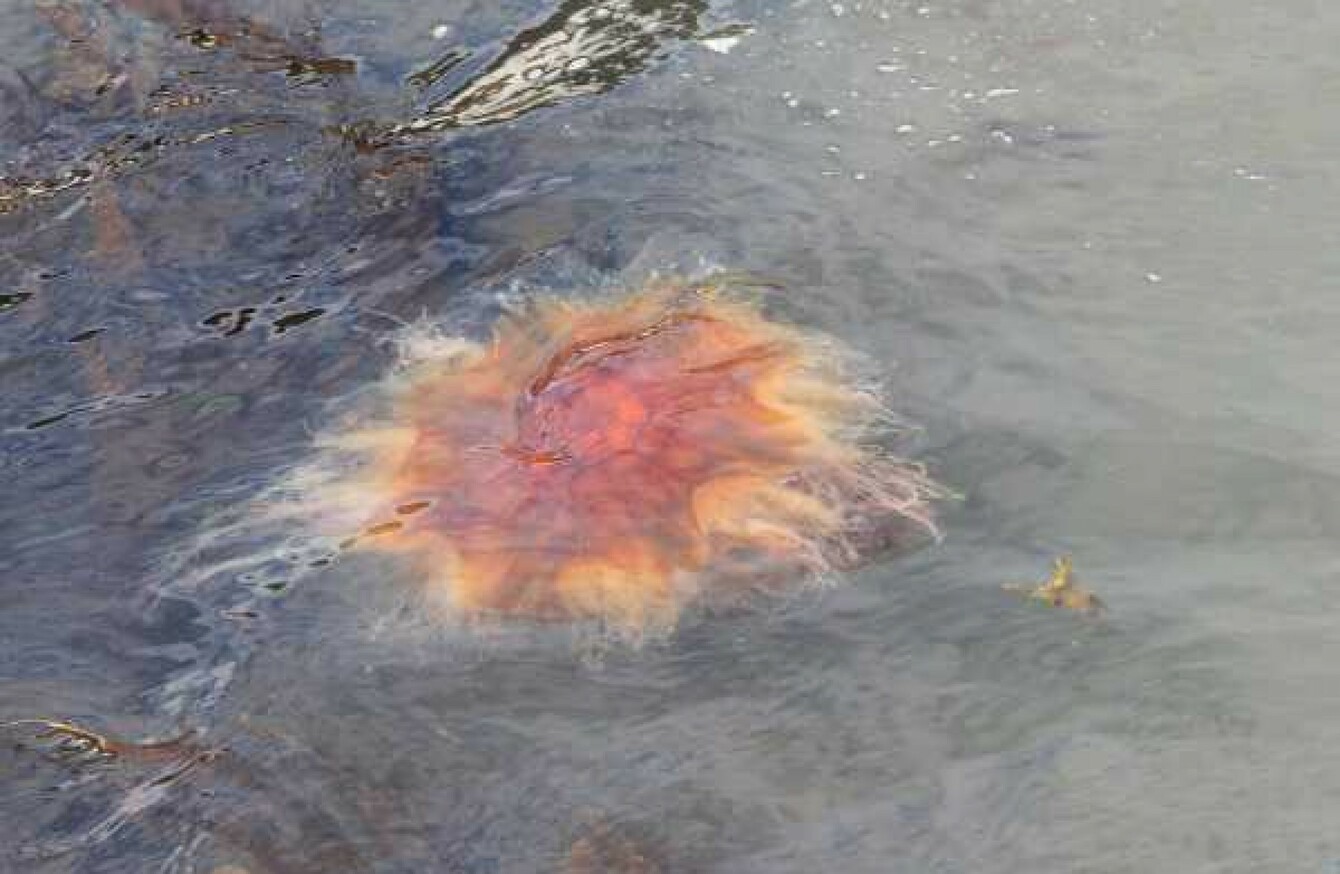 Lion's mane jellyfish in Dublin Bay in 2014.
Image: Rollingnews.ie
Lion's mane jellyfish in Dublin Bay in 2014.
Image: Rollingnews.ie
IRISH WATER SAFETY has issued a jellyfish warning for Ireland's beaches, as temperatures soar across the country.
Roger Sweeney, deputy CEO of Irish Water Safety, said that swimmers should keep an eye out for lion's mane jellyfish while enjoying the good weather.
The jellyfish have hundreds of long hair-like tentacles that can inflict very severe stings on bathers.
"It's more giving a caution rather than scaring people," Sweeney told TheJournal.ie
"Because the weather is beautiful right now, and people will obviously be going to the beach and there is a risk that somebody could be stung by a jellyfish.
This lion's mane is one of a number of jellyfish we get, and of the more common visitors, the most dangerous.
He urged people to swim in lifeguarded waterways, where medical attention is readily accessible, and to inform themselves about jellyfish by looking at the IWS website.
Treating jellyfish stings
Do not rub the affected area.
Rinse the affected area with seawater instead.
It's a popular myth that urine will rinse the affected area.
Don't use vinegar, alcohol, urine or fresh water.
Wrap a t-shirt containing ice around it.
The Portuguese man o war is actually more dangerous but less common than the lion's mane, which could result in anaphylactic shock, an extreme, often life-threatening allergic reaction to a poison.
Irish Water Safety also urged swimmers to look after children with constant supervision, and advised swimmers to swim within their depth, in lifeguarded swimming lanes.
Children
The warning comes as new IWS statistics show that 122 people drowned in Ireland last year.
A total of 30 children aged 14 or under drowned in the last 10 years.
"Children make a lot of noise, so if you can't hear your kids, get straight over to them," Sweeney added. "Don't wait.
Drownings often happen next to people that are completely unaware that something is happening.
"When people drown, the muscles cool down, so they're not able to splash about like you see on television.
"People don't shout for help, because they're gasping for air, they won't be waving, people can drown quite quietly."