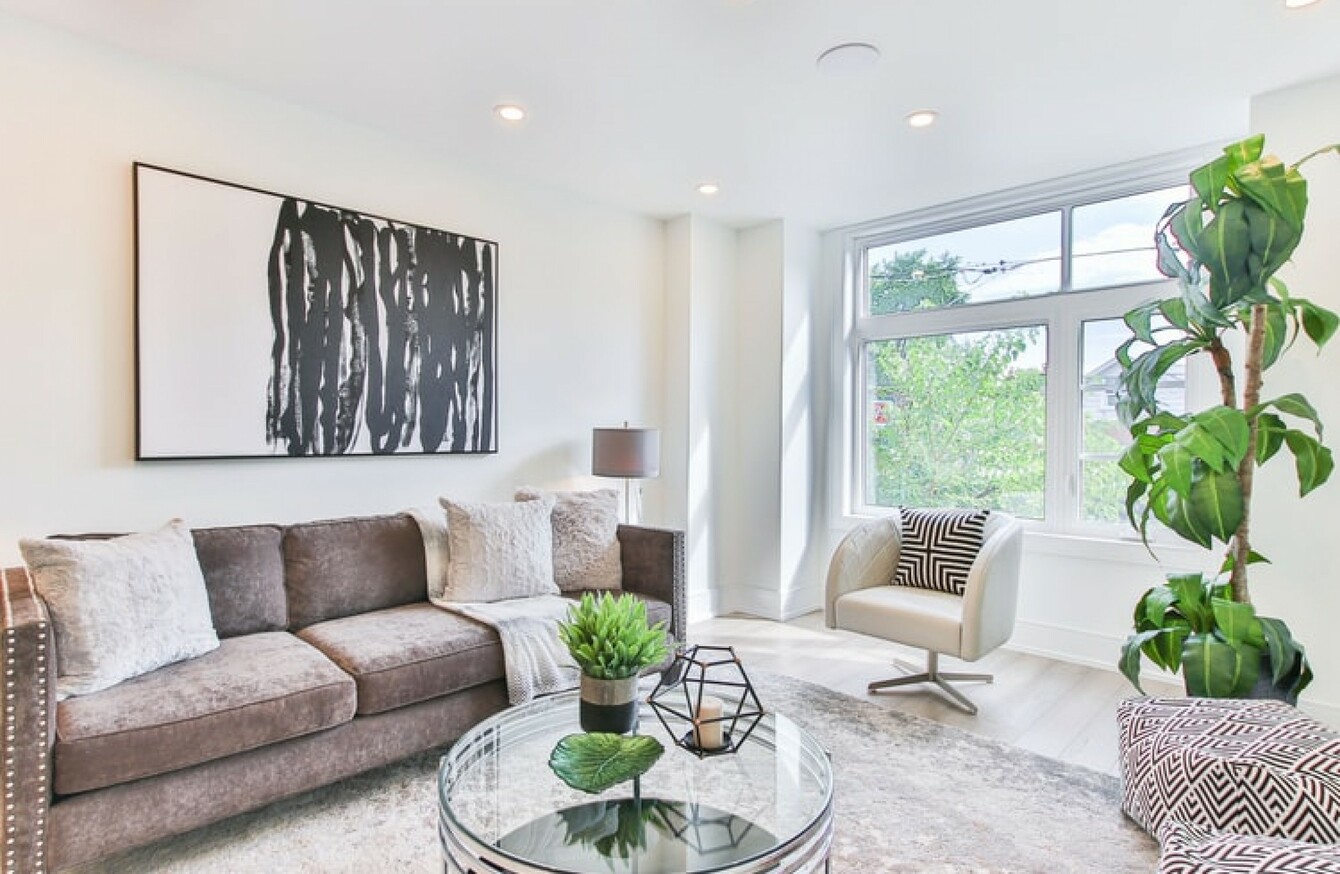 SINCE THE TELEVISION was first invented and homeowners were lucky enough to buy their first 'set', living room layouts have typically centred around that big black box.
These days, however, layouts that prioritise conversation and relaxation are becoming more commonplace. Whether you've decided against a TV altogether, have a second sitting room or have a TV stand with doors to conceal the screen, you may find that your furniture no longer needs to face the box.
An alternative layout is good for the soul, particularly in the times we're currently living through where it might do you well to step away from the news bulletins from time to time. Here we look at alternate ways of laying out your living room…
1. Sofas facing each other: The easiest way to take the focus off the TV is to position two equally sized sofas facing each other. If you have the space, try positioning your couches in the centre of the room, making them the focal point of the area, and freeing up surrounding wall space for lovely sideboards, book cases, mirrors and art. Take your inspiration from @oldvictoriannew and make the fireplace a part of the action too.
2. Open plan living: In open plan living spaces, there is a tendency to zone the open space into sections to create different rooms within the one larger room. Typically, this means facing the couches away from the kitchen/dining area and toward the TV. Instead, consider facing your sofa the other way, toward the kitchen/diner, to enhance the open plan space. This option would work particularly well with a corner sofa that can hug the perimeter of the room.
3. Choose an alternative focal point: If it's not a TV, what else could it be? The obvious answer is the fireplace, but if you live in an apartment or a new build, you may have a living room that's fireplace-free. If that's the case, try centring  your living room arrangement around house plants. You can get really creative with your arrangement of plants, using different plant pots and holders, positioning plants at different heights. Oliver Bonas and NEXT Home are your best bets for affordable planters. A striking piece of art or a gallery wall would both work well too.
4. Two for one: When you remove the TV from the equation, the traditional three-piece suite isn't entirely necessary. Instead, opt for one cosy sofa plus an arrangement of armchairs elsewhere, giving you two separate zones in the one living room. This is ideal for those who want to create a more eclectic look with different styles of seating, perhaps opting for some statement armchairs. Changing up your seating in this way really lends itself to socialising (which we will get back to at some point in the not so distant future).
5. Face the view: Okay, we're not all blessed with a view like the one below, but that doesn't mean we can't enjoy what's outside our own windows. If you have back garden views, or live in an apartment that's up a few floors, make the most of things. Whether it's a cityscape or the birds in the garden, consider switching up your furniture positioning so the view takes centre stage.
6. Repurpose the space: Right now we've all got working from home on the brain. Unfortunately not all of us have the luxury of a home office, and the kitchen might be too busy a space to concentrate. In smaller open plan spaces – apartments in particular – why not repurpose the space normally dedicated to a TV to a gorgeous desk situation? It doesn't have to look like a typical office. You can be clever about what you use. A vintage bureau that opens out to become a desk works wonderfully with a laptop, allowing you to fold it back up again to sit pretty as a piece of statement furniture with a lamp on top, along with some artwork. This gives a fluidity to your living space, making it multi-functional but retaining the aesthetic you're after.