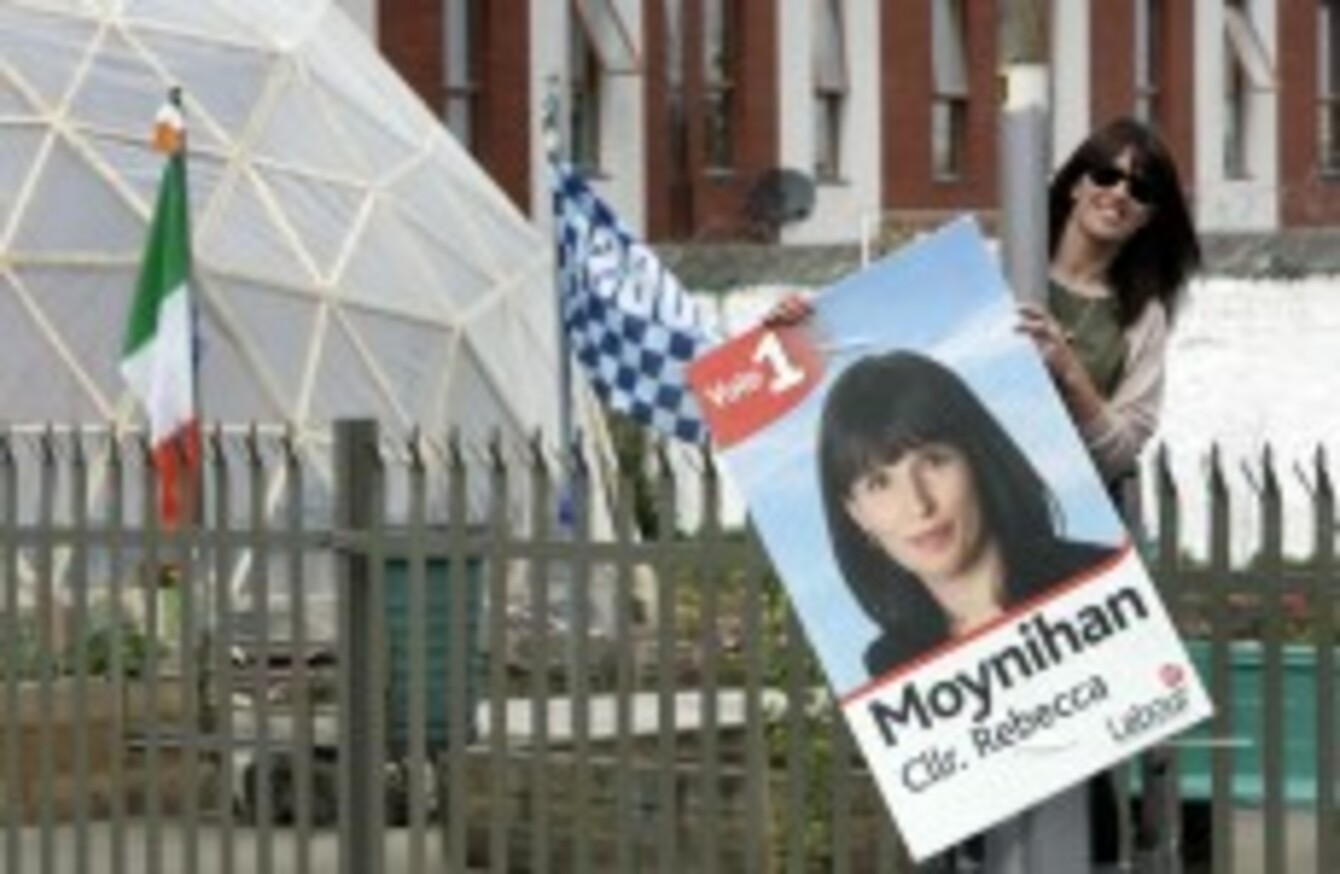 Image: Mark Stedman/Photocall Ireland
Image: Mark Stedman/Photocall Ireland
IN JUST UNDER three weeks, thousands of candidates will learn whether the public has selected them to become county councillors.
With just 31 local authorities, down from 114, and 950 seats, down from 1,627, competition is keener than ever.
Councillors sit on local authorities and direct policy. Many major decisions are made without their input, with county and city managers wielding the bulk of power.
So, what are these candidates letting themselves in for? Can they achieve some of their loftier aims? And is it tough to navigate the system?
The Job
Kieran Dennison of Fine Gael has been a councillor for the Mulhuddart ward of Fingal County Council since 2009 and has been mayor of the county since last year.
He says that working in a council is "like working in any large business".
"You have to work with people to get work done."
Labour's Rebecca Monihan has been on Dublin City Council since 2009 and says that the job is diverse but challenging.
It's very busy. Every day is different.
"For example today there was a call about improvement works in Rialto , a call about dumped rubbish and one person who thought they had not had a bin collection but had put their bin out on wrong day."
Sinn Féin's Eoin O'Broin was co-opted on South Dublin County Council in September 2013. He says that the challenge is in knowing what powers you hold.
"Councillors don't have as much power as European counterparts. But there are lots of areas in which a councillor can do things.
"For example, housing is a major problem. The reality is there aren't the houses, but one thing councillors have power over is policy.
"I proposed setting up a housing trust because council's can't borrow money for housing, but an arms-length company could. The council is now considering the proposition.
"Maybe next year if the plan comes off, we can increase the housing stock.
"Councillors have more power than they sometimes let on."
The Process
Local authorities can sometimes be labyrinthine places to navigate. Different departments and officials as well as no small dose of red tape mean that it can be daunting for outsiders.
But Moynihan says it's a learning curve.
"As you are on the council, you get to know who does what and who can solve what problems. You start to talk to people and learn what they can do to help constituents."
Dennison says that it can be a case of looking out for your own area.
"[When you become aware of a problem] you ensure that it is listed and prioritised so that when the budget is there, it can be done.
It's not so much a jungle, but if you're in an area, you want your project prioritised and that could mean over another area.
"You have to work behind the scenes.
The Promises
The election has sharpened minds, but has brought with it a number of election promises.
Some of these, including the repeal of water charges or large-scale job creation, are outside the remit of councillors, something that frustrates all three sitting councillors.
"There are things you can do, but there things that are outside your power," says O'Broin.
"The Labour Party says that they will cut the property tax in council. But, if we reduce property tax, where will the council get the lost revenue? Because Central Government isn't going to make up that money. The only option is service cuts.
Any party saying they will cut a tax owes it to the electorate to explain where the lost money will be made or what services they will cut.
Dennison says that many candidates may not have experience of councils.
"I am quite sure that most people running have never been to a council or to a council meeting.
"Many might like the idea of being a councillor or of being on councils. Sometimes it's a thankless job, so the best councillors are sometimes those who come from community work.
"It's frustrating when people talk about national issues and have no council interest. Council elections should be about council issues."
#Open journalism No news is bad news Support The Journal

Your contributions will help us continue to deliver the stories that are important to you

Support us now
Moynihan thinks that many people know what councillors can and can't do, particularly when councillors are engaged in local issues.
"I think a lot of people know that councils are focused on the local area.
"We had a problem with Dublin 8 lacking in green space, but we brought groups together and now we have secured a park on Cambridge Street because we worked with local groups and organisations."
O'Broin says that people appreciate forthright politicians.
"I was at an estate recently where there is a lot of mature trees. We've been trying to get the trees pruned back, but the council policy is against that.
"We were straight from the beginning, we told the residents that we couldn't do anything, but we would look at changing the policy. And I think people appreciate that."
The Reward
The hours are long for what is a part-time job. The pay isn't massive, either. So why do it?
"When you get things done it can be very rewarding. It's very busy but a lot of fun," says Rebecca Moynihan.
"Genuinely, I really enjoy it," says O'Broin.
"It's tough, particularly dealing with people who are being made homeless.
But you are also in a position to get stuff done. They may not be huge, but they are important because they affect peoples lives.
"It is rewarding when you get a result, but you have to know what you're getting into," says Dennison, while Moynihan has advice for new candidates.
"Talk to people and listen to people and stay with them for the five years.
"It's not just about an election.
Be realistic about what you can achieve, you may not change the world, but what you do achieve can have a big impact on people's lives.