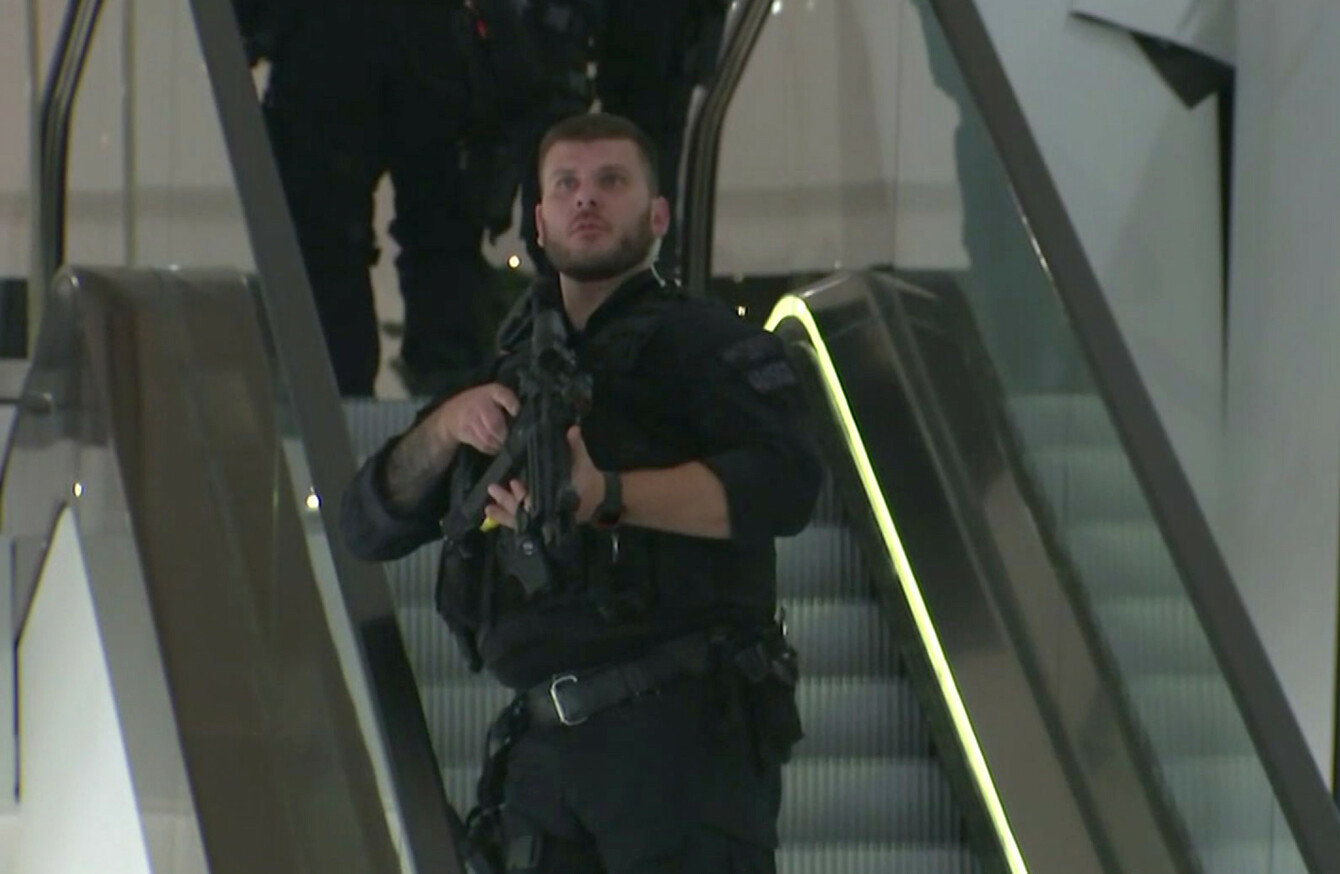 In this grab taken from video, an armed police officer patrols in Selfridges.
Image: AP/PA Images
In this grab taken from video, an armed police officer patrols in Selfridges.
Image: AP/PA Images
SIXTEEN PEOPLE WERE hurt today in London's busy Oxford Street shopping area after reports that shots had been fired, sparking fears of a terror incident and leaving 16 people hurt as panic swept the area.
After locking down the area for more than an hour, the Metropolitan Police said officers had not found "any trace of any suspects, evidence of shots fired or casualties".
Crowds ran from the scene, many rushing into already packed shops for safety, reflecting the nervousness in a country that has sustained five terror attacks since March.
But police later said they found no evidence of any incident, and tweeted: "Our response on #OxfordStreet has now been stood down."
The incident showed, however, that incorrect information can spread in already panicked situations. With hundreds and possibly thousands of tweets – some from people who aren't on scene – rumours can easily spread.
The Mail Online, one of the most visited sites in the world, reported an eyewitness account from Twitter user Dan Smallbone. Smallbone tweeted about a lorry stopped on Oxford Street with "police all around it and blood on the floor".
The story was shared over 1,000 times and tweeted out by the site, the online arm of the Daily Mail. However, Dan Smallbone's tweet was posted on 14 November – ten days ago. The incident he tweeted about surrounded a window cleaner hurt after falling from a building.
The Mail subsequently deleted the copy and tweets. No clarification has been posted on the site's current story.
Misinformation
Misinformation about the incident was also spread by Pegida UK member and notorious right-wing speaker Tommy Robinson, who deleted tweets saying the incident was extremist Islamic terror.
Singer and TV presenter Olly Murs has also found himself at the centre of a row with Piers Morgan after his tweets from the scene.
Murs tweeted that there had been gunshots, something that police said they found no evidence of. However Murs, like many people, tweeted that shots had been fired.
The store was evacuated as a precaution. Murs later tweeted that there had been no shots and he was safe. He then clarified that the situation was confusing for shoppers.
Murs later said:
Despite what actually happened I'm so glad it was nothing serious and I hope everyone got home safely.
British Transport Police said this evening that the evacuation was caused by "an altercation" between two men.