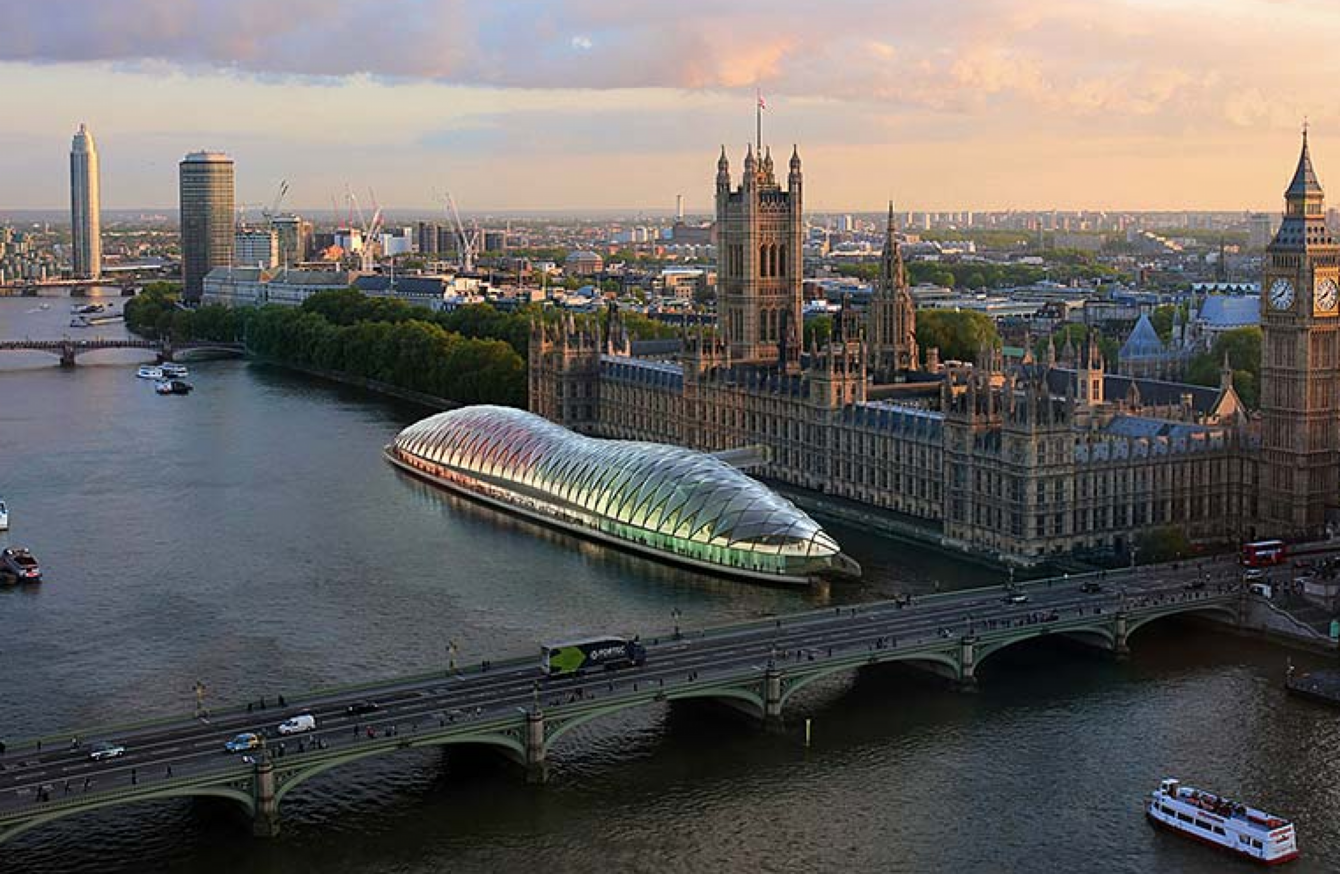 How the structure would look
Image: Gensler
How the structure would look
Image: Gensler
LAST MONTH, A report said that repairs to the home of the British parliament could cost as much as £4 billion (€4.47 billion).
Behind its neo-Gothic facades topped by the world-famous Big Ben clock tower, the iconic Palace of Westminster has been eroded by air pollution and is overrun with mice, prompting warnings it may have to be permanently abandoned unless urgent renovations are carried out.
After a year of deliberations, the Joint Committee on the Palace of Westminster recommended last month that MPs from the House of Commons move into the nearby health ministry building, saying there was a growing risk of a "catastrophic event".
The repair bill would actually cost the UK exchequer an extra £2 billion if MPs were still on site.
"The Palace of Westminster, a masterpiece of Victorian and medieval architecture and engineering, faces an impending crisis which we cannot responsibly ignore," said the report.
"If both houses fully vacated the palace this would take the least time and would avoid disruption to parliament from construction works," it concluded.

Plan
But a radical plan from international architecture, design and planning firm Gensler promises to minimise the disruption – by putting politicians in the River Thames.
The proposed modular structure located on the river could provide what Gensler calls "a flexible and secure home that helps save the British taxpayer more than £1.8 billion".
The design would have the same components as the existing palace, but would be placed in the river along the Members' Terrace.
The design maintains the relationship between both Chambers and their supporting Committee Rooms.
The concept overcomes some of the initial concerns about a river location by ensuring the structure does not interrupt the navigable channel along the centre of the river.
Ian Mulcahey, Managing Director at Gensler, says the plan makes sense for a number of reasons.
"The concept provides a simple solution to what is a very complex problem. The challenge has been to find a location that enables all the key components of Parliament to be located together in close proximity to the wider Government estate in Whitehall.
"The objective has been to minimise disruption and reduce the cost of the refurbishment to the taxpayer. The Palace of Westminster is one of the most important symbols of democracy in the world. This scheme provides a powerful expression of continuity and reinforces the UK's world-leading creative expertise."