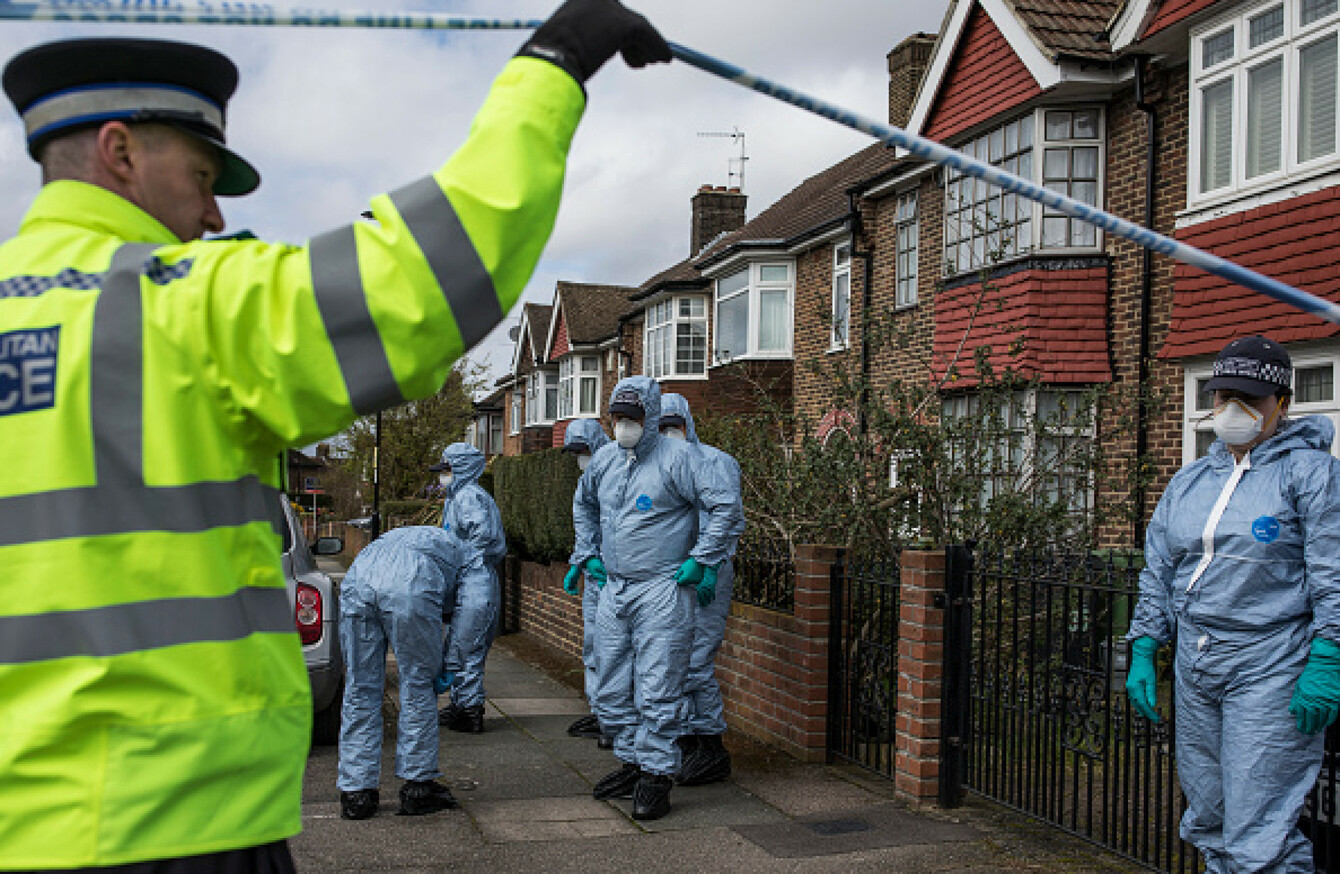 A forensic team search the street
Image: Dan Kitwood/Getty
A forensic team search the street
Image: Dan Kitwood/Getty
A BRITISH PENSIONER who was arrested after an intruder was stabbed in his home will face no further action, the Metropolitan Police says.
The man, named as Richard Osborn-Brooks, was arrested earlier this week.
Officers detained the 78-year-old homeowner after responding to his call reporting a burglary in progress in the early hours of this morning and finding Henry Vincent, aged 38, with a stab wound nearby, police said.
One suspect, armed with a screwdriver, forced the elderly man into his kitchen when he discovered them inside his home in the Hither Green area, while the other suspect went upstairs, the force added.
A struggle ensued between the homeowner and one of the men.
"The man, aged 38, sustained a stab wound to the upper body," a police statement said.
Tonight the Met Police confirmed Osborn-Brooks will not face criminal proceedings, following consultation between the Met and Crown Prosecution Service. Officers have explained the decision to Henry Vincent's family.
Detective Chief Inspector Simon Harding, of the Met's Homicide and Major Crime Command, said:
"This is a tragic case for all of those involved. As expected with any incident where someone has lost their life, my officers carried out a thorough investigation into the circumstances of the death.
"We have approached the CPS for early investigative advice, as required under the guidance. We have received and considered that advice, and, at present – on the evidence available – we will not seek a charging decision. Therefore, no further action will be taken against the man.
"Whilst there might be various forms of debate about which processes should be used in cases such as this, it was important that the resident was interviewed by officers under the appropriate legislation of the Police and Criminal Evidence Act; not only for the integrity of our investigation but also so that his personal and legal rights were protected.
"There will be an inquest in due course which will further review the circumstances into Mr Vincent's death in a public forum."
Neighbours said the area had seen a recent spate of burglaries, and the homeowner had been retired for "many years".
The second suspect in the burglary fled the scene prior to police arrival and remains at large.