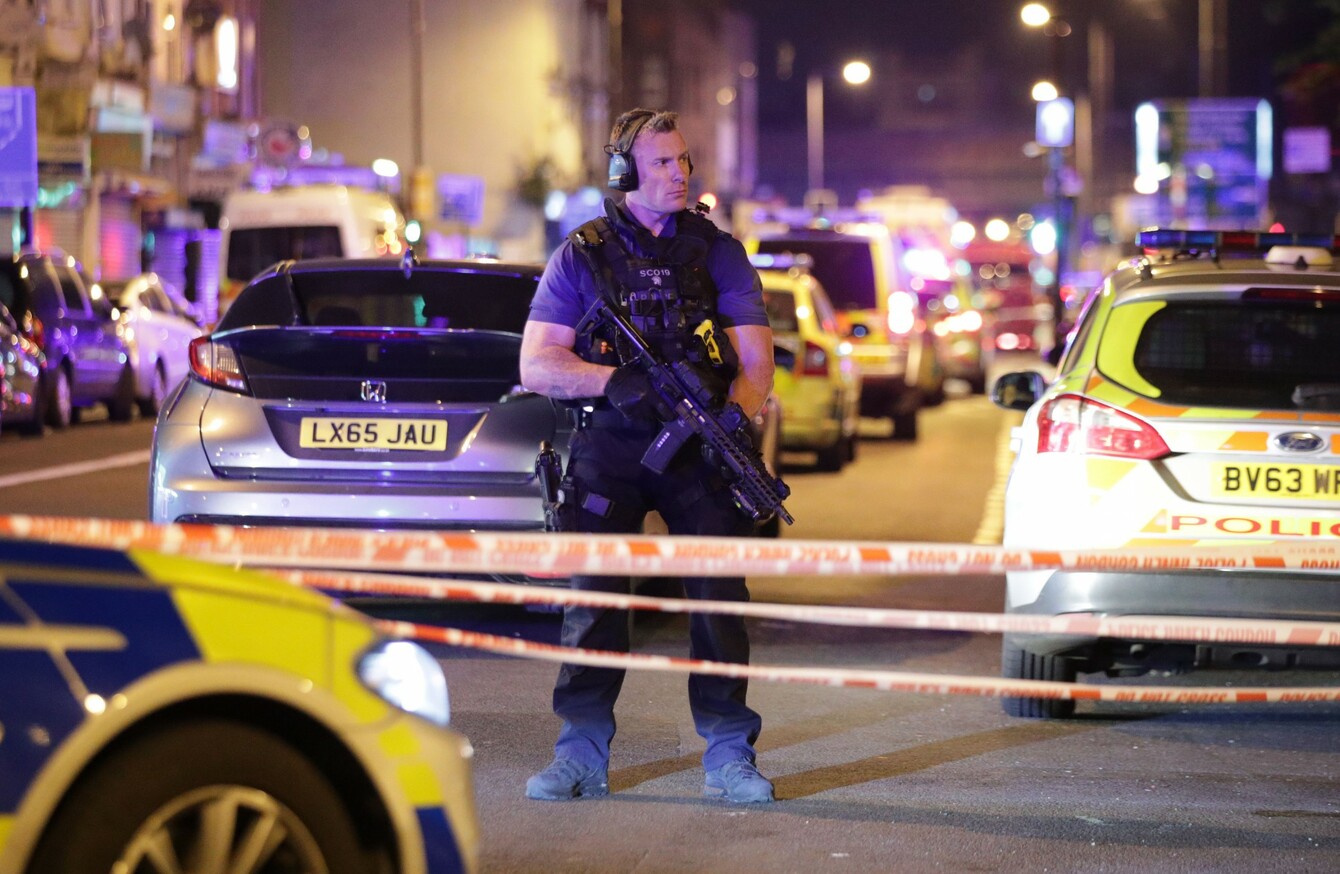 Image: Yui Mok
Image: Yui Mok
Updated 7.15pm
A MAN HAS been arrested after a suspected terror attack in London that saw a van crash into pedestrians outside a mosque.
The van crashed into a footpath where an elderly man had collapsed. He later died, though it is unclear if he was killed in the attack.
British media have named the suspect in today's mosque attack as 47-year-old Darren Osborne, a father of four who was living in Cardiff, Wales.
Minister of State for Security Ben Wallace said authorities were aware of rising far-right activity but were not aware of the suspect prior to the attack near a north London mosque.
"What I can say on this case is this individual, so far as we know at the moment, was not known to us, but we are aware of a rise in the far right," said Wallace.
Earlier today, British Prime Minister Theresa May called the attack "sickening".
May this afternoon met with religious leaders at the Finsbury Park mosque. She promised extra police resources to protect places of worship.
Counter-terrorism police are investigating the incident, which occurred after 12.20am this morning.
Police were called to the incident on Seven Sisters Road in the Finsbury Park area of the city. They have confirmed that the attack is being treated as terrorism.
One man was pronounced dead at the scene. Officers are in the process of informing next of kin.
Another eight people were injured and taken to three area hospitals. At least two are being treated for "very serious" injuries.
The driver of the van – a white man aged 48 – was found detained by members of the public at the scene and then arrested by police in connection with the incident.
He has been taken to hospital as a precaution, and will be taken into custody once discharged. He will also be subject of a mental health assessment.
A number of armed police units are on the scene.

Ramadan
Muslim leaders said worshippers were specifically targeted after leaving prayers near Finsbury Park mosque in north London shortly after midnight and linked the incident to a recent rise in anti-Muslim hate crime.
Witness Abdiqadir Warra told AFP the van "drove at people" and some of the victims were carried for several metres along the road.
London Mayor Sadiq Khan said it was a "horrific terrorist attack," calling it "deliberate" and aimed at "innocent Londoners, many of whom were finishing prayers during the holy month of Ramadan".
It comes after two deadly Islamist attacks this year that used vehicles to ram pedestrians — one earlier this month in the London Bridge area and a March attack in which a man drove a car into crowds on Westminster Bridge.
Sickening
In a statement this afternoon, Prime Minister Theresa May called the attack "sickening".
"It was an attack that once again targeted the ordinary and the innocent going about their daily lives – this time British Muslims as they left a mosque having broken their fast and prayed together at this sacred time of year.
Today we come together – as we have done before – to condemn this act and to state once again that hatred and evil of this kind will never succeed.
"Today's attack falls at a difficult time in the life of this city, following on from the attack on London Bridge two weeks ago – and of course the unimaginable tragedy of Grenfell Tower last week, on which I will chair another meeting of Ministers and officials later today.
But what we have seen throughout – whether in the heroism of the ordinary citizens who fought off the attackers at London Bridge; the unbreakable resolve of the residents in Kensington; or this morning the spirit of the community that apprehended this attacker – is that this is an extraordinary city of extraordinary people.
"It is home to a multitude of communities that together make London one of the greatest cities on earth.
"Diverse, welcoming, vibrant, compassionate, confident and determined never to give in to hate.
"These are the values that define this city.
"These are the values that define this country.
"These are the values that this government will uphold.
"These are the values that will prevail."
May said that she had chaired a meeting of the British government's emergency committee Cobra earlier today.
With reporting from AP
Comments have been closed for legal reasons.