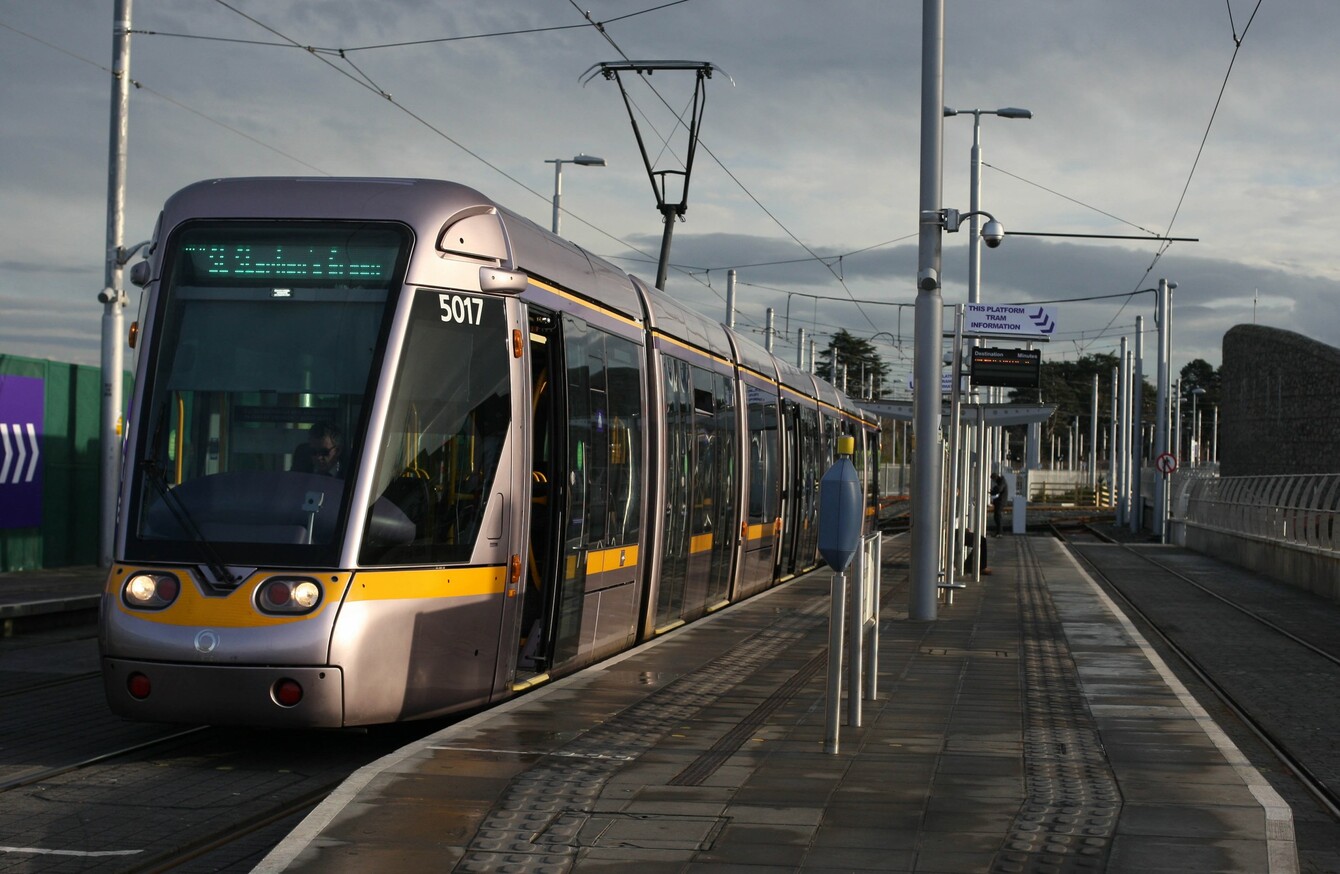 Image: Niall Carson/PA Wire
Image: Niall Carson/PA Wire
A FORMER COUPLE who smashed beer bottles over a man's head in a "frenzied" assault on a late night Luas have been given partially suspended four-year sentences.
Aoife Molloy (24) and Martin O'Connor (25) claimed they "snapped" when their victim "retaliated" after being kicked by Molloy as he tried to get to his feet after slipping when the tram jolted.
The 46-year-old man suffered a fractured eye socket as well as wounds to his scalp and lip.
Molloy, of South Circular Road, and O'Connor, of Elmdale Park, Ballyfermot, Dublin pleaded guilty at Dublin Circuit Criminal Court to assault causing harm to Noel O'Rourke, violent disorder and production of a Budweiser bottle on an outbound Luas red line between the Smithfield and Museum stops on 11 December 2014.
Molloy has seven previous convictions and O'Connor has six. They were identified by gardaí from CCTV footage of the attack and DNA evidence from the beer bottles. Both accused, who are no longer in a relationship, said they were intoxicated and expressed remorse for the attack.
Judge James O'Donohue imposed a sentence of four years on O'Connor and suspended the final two. He imposed a sentence of four years on Molloy and suspended the final 18 months on condition she pay over €3,000 to her victim.
He said it was impossible to tell from the CCTV what went on in the "banter" between the parties prior to the assault but whatever it was, the physical reaction was way out of proportion.
Evidence heard
Garda Karl Colgan told Gerardine Small BL, prosecuting, that Mr O'Rourke was a passenger on the Luas on his way home from a night socialising when the tram jolted and he "went flying". He was trying to get to his feet when he said he got a kick.
A witness on the tram described a noisy group, who were drinking Budweiser and shouting, boarding the tram prior to the assault. He pushed the emergency button after witnessing the "frenzied attack". He alerted the driver and gardaí were called.
CCTV footage taken from the tram showed Molloy and O'Connor boarding the tram with another person. Mr O'Rourke was across from them and he had a "verbal interaction" with Molloy.
He slipped on the floor and as he tried to get up Molloy kicked or pushed him with her foot twice.
Mr O'Rourke kicked Molloy back and was then grabbed by O'Connor. Molloy hit Mr O'Rourke three times to the top of his head with a bottle before it broke. She jabbed him with it on his lip.
The footage shows O'Connor hit Mr O'Rourke, who had grabbed Molloy's hair, with a bottle twice to the head before it smashed. Mr O'Rourke appears to be stunned and O'Connor punches him a number of times around the head. The pair then leave the Luas.
Gda Colgan said Mr O'Rourke was being treated by paramedics when he arrived. He was distraught and in a lot of pain.
Gardaí were able to identify Molloy and O'Connor as suspects from the CCTV. DNA samples taken from the pair linked them to bottles which had been recovered from the tram.
A victim impact statement stated Mr O'Rourke had been "traumatised" by the assault and he had lasting scarring to the back of his head.
Gda Colgan agreed with Mark Lynam BL, defending Molloy, that the kick or push she had delivered to Mr O'Rourke after he slipped did not have much force.
He agreed with John Dunne BL, defending O'Connor, that Mr O'Rourke had retaliated and it was at that stage O'Connor became involved.
Mr Lynam said his client wished to express deep shame for the severity of the assault and the injuries caused. He said Molloy also wished to offer €3,000 as a token of remorse.
He said she had suffered a number of significant traumas in her life, including a diagnosis of cervical cancer at the age of 18, and had abused alcohol and tablets to deal with the stress.
Mr Lynam said Molloy was a traumatised young woman doing her best and submitted she had "snapped" on the night.
O'Connor's counsel said he had also "snapped" when he saw Mr O'Rourke kick his partner. He said he thought he was being "chivalrous" by standing up for his partner but accepted he went too far.
He said O'Connor, a father of three, suffered depression and the incident was on his mind haunting him daily. He submitted his client was "serving a sentence in his own mind."
Judge O'Donohue said it seemed to him Molloy was more culpable as the instigator of the violence and had participated in the assault to a further extent by jabbing him with a bottle.
Defence counsel for the pair had asked the court to consider community service or referring the case to The Probation Service. They outlined difficulties in their clients backgrounds and the fact that neither had any history of violent offending.