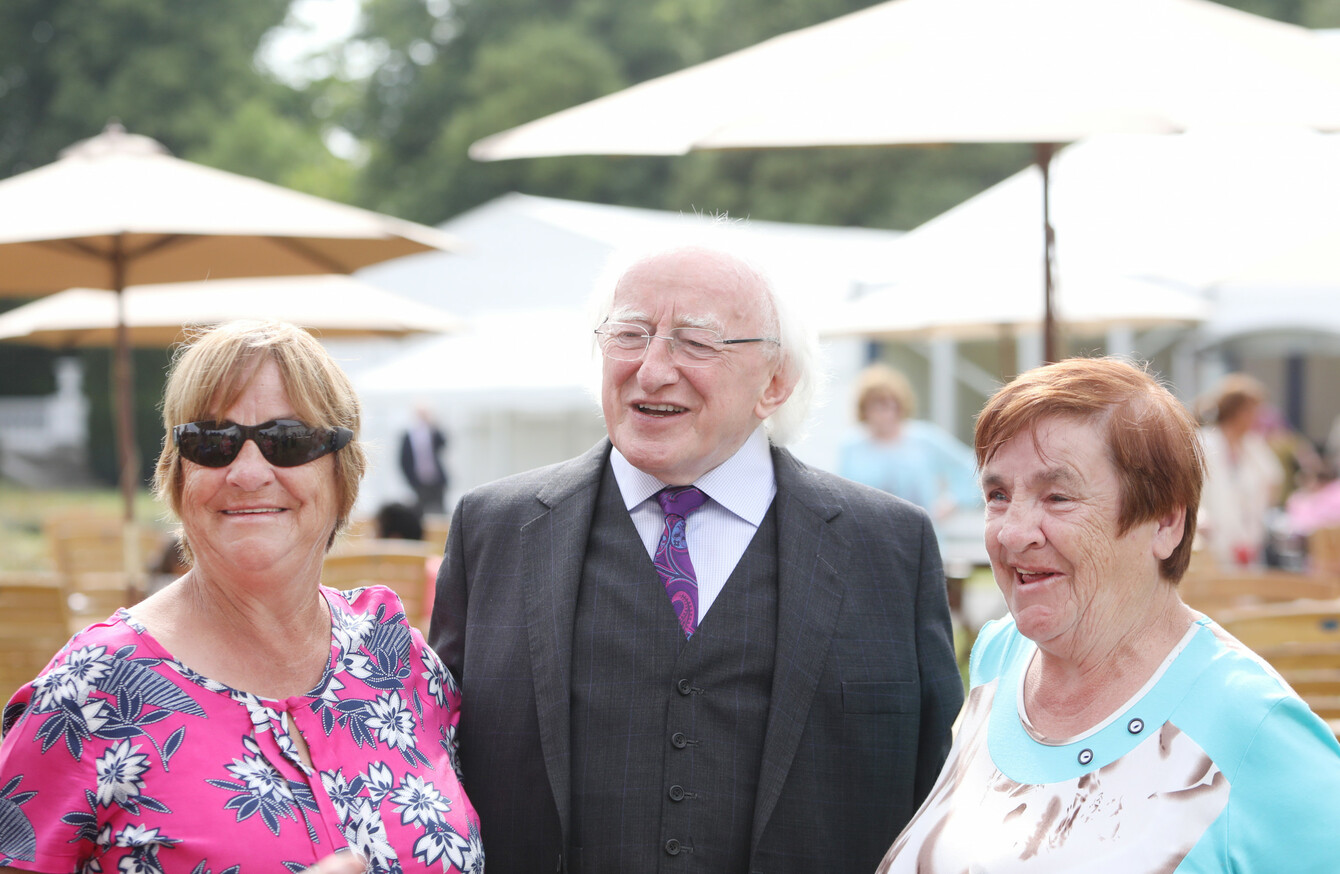 Michael D Higgins with Mairead Manley and her twin sister Breda Kennedy, who were former residents in the Goldenbridge orphanage.
Image: Leah Farrell/RollingNews.ie
Michael D Higgins with Mairead Manley and her twin sister Breda Kennedy, who were former residents in the Goldenbridge orphanage.
Image: Leah Farrell/RollingNews.ie
PRESIDENT MICHAEL D Higgins told a group of Magdalene laundry survivors that Ireland failed them today – as Dublin honoured some of the women who survived the homes.
Around 220 women, now in their 80s were in Dublin today as part of the Dublin Honours Magdalenes event, which saw them attend events at Áras an Uachtarán and the Mansion House.
Magdalene Laundries were institutions run by the Catholic Church which took in so-called 'fallen women' and gave them manual labour to do. Many survivors said they were cruelly and brutally treated during their time there, with reports of women being beaten, put into solitary confinement, their hair cut, threatened, and verbally abused.
At the Áras, Higgins told the women that what happened to them was a continuing stain on the country.
The treatment of vulnerable citizens in our industrial and reformatory schools, in the Magdalene Laundries and in Mother and Baby Homes represents a deep stain on Ireland's past, a stain we can only regard today with great shame, profound regret and horror. It is sobering to consider that many women were also victims of the cruel and degrading regimes of Industrial or Reformatory Schools before being referred to the Laundries, and so many were intimidated into a silence by the abuse of authority of one kind or another.
"Ireland failed you. When you were vulnerable and in need of the support of Irish society and its institutions, its authorities did not cherish you, protect you, respect your dignity or meet your needs and so many in the wider society colluded with their silence.
"As a society, those with responsibility pretended not to know or chose not to know. The denial of all of this continued for many, many years until one by one you, the victims and survivors of that time, began to come forward, began to tell your stories, began to force Irish society and institutions who had conferred an immunity on themselves to look you in the eye and listen to your personal histories."
Higgins added his words to the 2013 apology by then Taoiseach Enda Kenny to the women.
Today we also mark a new and positive turn on the long journey from darkness to light that has been undertaken by you personally over so many years, and by Ireland as a nation in more recent times. We have moved from a time of disbelief, denial and even hostility towards your experiences, to a time where we acknowledge that we must deliver compassion, listening and a genuine and heartfelt will to hear, to share and to learn from your testimonies.
The women were also honoured at Dublin's Mansion House this evening, with Justice Minister Charlie Flanagan telling them:
This State allowed you be incarcerated, and made to work in Magdalene Laundries. We had a duty of care, we had a job of inspection, and we failed. Indeed we even took on the role, in some cases, of referring agent. And in so doing… we let you down.
"So as I said, it is difficult to stand here representing the State, even though we have apologised. That apology, made by former Taoiseach Enda Kenny, and recalled by the Lord Mayor earlier, was heartfelt and sincere. And I know that in making it, we have acknowledged much of what you went through, and I know we have made efforts to make redress… but I also know that what happened to you cannot be undone."
The women, their families and organisers arrived at the Mansion House this evening. They will be entertained by Christy Moore, Mary Byrne and Philomena Begley among others.