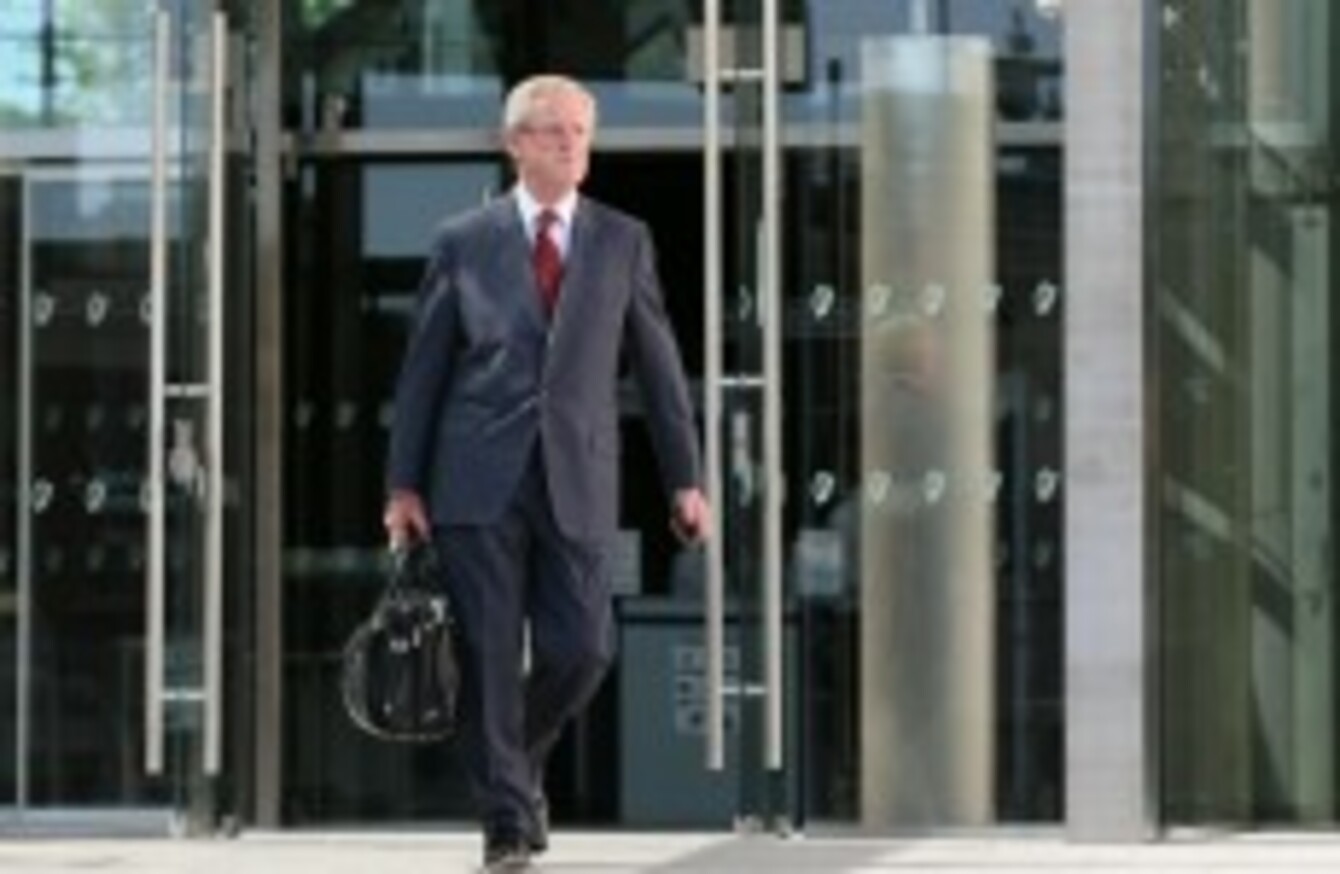 Frank Dunlop leaves the Dublin Circuit Criminal Court earlier this month
Image: Photocall Ireland
Frank Dunlop leaves the Dublin Circuit Criminal Court earlier this month
Image: Photocall Ireland
THE FINAL CHAPTER of the Mahon Tribunal Report has found that lobbyist Frank Dunlop bribed councillors in Dublin thousands of pounds for the rezoning of land in Carrickmines along what's now the route of the M50, after receiving funds from businessman Jim Kennedy.
Publication of the last section was delayed as a result of the (now collapsed) trial involving four former politicians in Dublin who were alleged to have received payments in return for council votes on the rezoning of land for development.
The chapter finds that council members – including those involved in the court case; Liam Cosgrave, Don Lydon, Colm McGrath and Tony Fox – accepted bribes for the rezoning of land.
Liam Cosgrave
Regarding Fine Gael's Liam Cosgrave – son of former Taoiseach Liam Cosgrave – the tribunal found the councillor had received payments totalling £9,000. Its findings state:
(i) The Tribunal was satisfied that Mr Dunlop paid IR£2,000 to Cllr Cosgrave in June 1992, as well as IR£5,000 (in two amounts) and IR£2,000 in late 1997. The Tribunal was satisfied that the aforesaid payments

totalling IR£9,000

were made in return for Cllr Cosgrave's support (including his signature on Motions) for the rezoning of the Carrickmines lands.

(ii) The Tribunal was satisfied to accept Mr Dunlop's evidence that IR£7,000 of the IR£9,000 paid to Cllr Cosgrave was directly solicited by Cllr Cosgrave.

(iii) These payments were corrupt
Don Lydon
Regarding Fianna Fáil's Don Lydon, the tribunal found the former councillor received £3,000. The final chapter states:
(i) The Tribunal was satisfied that Cllr Lydon sought money from Mr Dunlop and was paid a sum of IR£3,000 in return for signing the Paisley Park motion which came before Dublin County Council on 12 June 1992 and in return for the support provided by him at that date.

(ii) In particular, the Tribunal accepted Mr Dunlop's evidence (both in its oral and its documentary form) that, as indicated in his diaries, Mr Dunlop met with Cllr Lydon by arrangement on both 1 and 4 May 1992. The Tribunal accepted that at the first of these meetings, Cllr Lydon sought a payment from Mr Dunlop in return for signing the motion, and that at the second meeting he signed the motion and was paid the sum of IR£3,000.

The payment of IR£3,000 was corrupt.
Tony Fox
The Tribunal found that Dunlop had made two corrupt payments totaling £7,000 to Independent Councillor Tony Fox and was "in frequent contact with Cllr Fox" in the periods leading up to council meetings on the rezoning of lands in Carrickmines in 1991, 1992, 1997 and 1998.
Colm McGrath
The Tribunal found that Frank Dunlop made a corrupt payment of £2,000 to then Fianna Fáil Councillor Colm McGrath in June 1992, stating as "simply not credible" McGrath's assertion that the payment was unconnected to land rezoning and was a political donation.
Others who allegedly accepted bribes
Tom Hand – The Tribunal  also concluded that the late Fine Gael Councillor Tom Hand received a corrupt payment of £3,000 from Frank Dunlop in connection with rezoning, and stated that the councillor "had a propensity to request money from Mr Dunlop in return for supporting particular rezoning projects".
Sean Gilbride - It was found that Fianna Fáil councillor Sean Gilbride sought and was paid the sum of £1,000 in cash by Dunlop in return for his support for the rezoning of the lands at Carrickmines. The Tribunal also concluded that Dunlop "demonstrated a clear recollection of Cllr Gilbride seeking money in respect of, and being paid money for, his support for the rezoning motion on 12 June 1992″.
Other findings
John O'Halloran – Dunlop made a number of "improper payments" – several in the region of £500 each – to Labour/Independent Councillor John O' Halloran in the period between 1991 and 1993, the Tribunal found, but it could not determine which of Dunlop's development projects the payments related to. However, the Tribunal said it was satisfied that O'Halloran "was aware Dunlop was a lobbyist in relation to rezoning issues when the payments were sought and made".
Cyril Gallagher – The Tribunal was not satisfied that Frank Dunlop had a clear and definite recollection of paying £1,000 to late Fianna Fáil councillor Cyril Gallagher. Dunlop had alleged he handed the money over in early 1991. Gallagher died in 2000 and therefore did not give evidence before the Tribunal.
Jack Larkin – A similar finding was made in relation to Jack Larkin of Fianna Fáil, who died in 1998: "The Tribunal found Mr Dunlop's evidence regarding an alleged payment of IR£1,000 to Cllr Larkin in connection with the PP/JW lands to be unreliable, and in the absence of any relevant corroboration, the Tribunal did not find that any such payment had been made".
The Mahon Tribunal – officially known as the Tribunal of Inquiry into Certain Planning Matters & Payments – was established in 1997 to in investigate allegations of corrupt payments to politicians. It made its final report in March of last year.
A decision was made to withhold the last chapter due to concerns that it could have interfered with criminal proceedings involving four of the councillors mentioned in it.
- additional reporting by Ronán Duffy & Aoife Barry