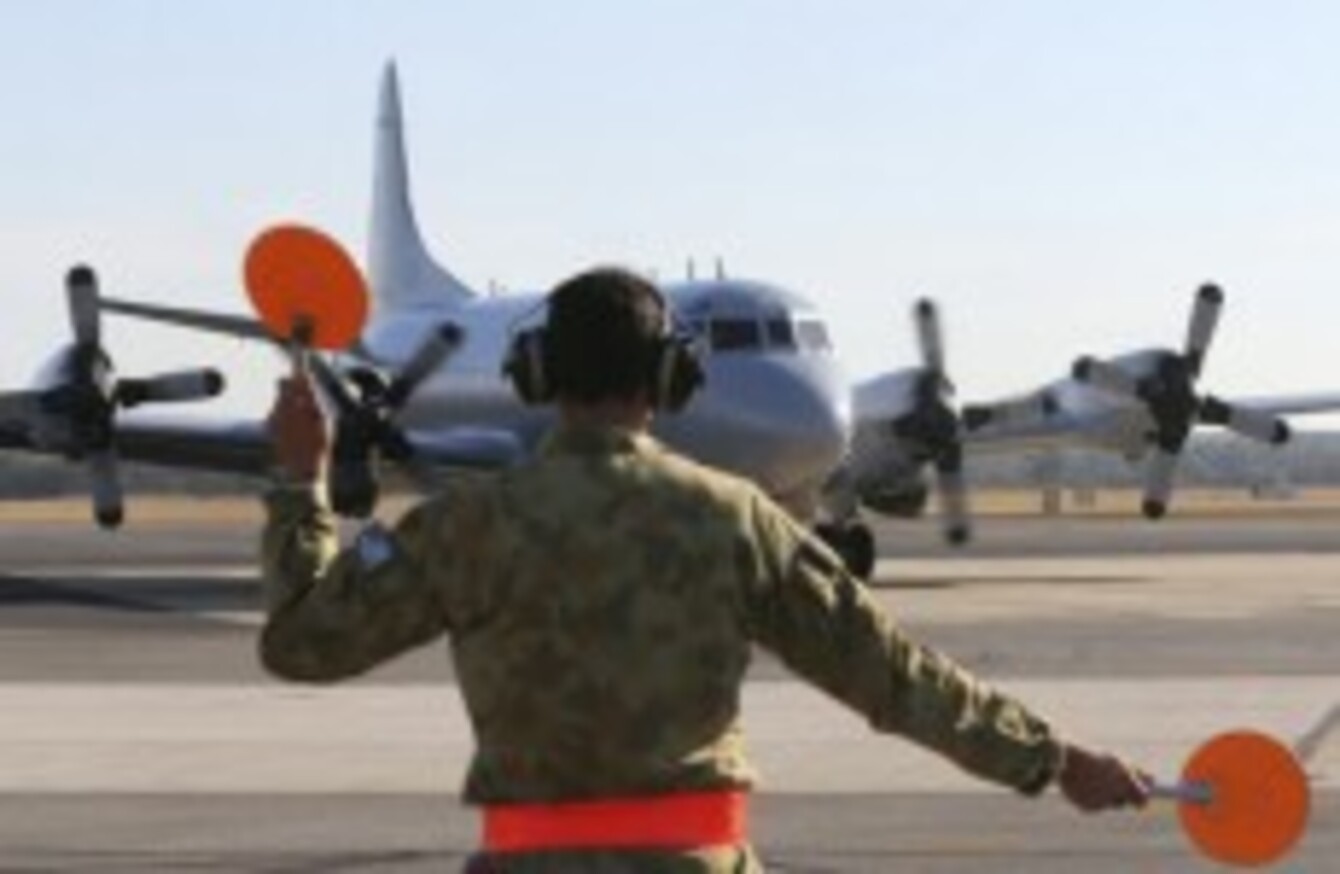 A Royal Australian Air Force AP-3C Orion is guided by a ground crew man on the tarmac at RAAF Base Pearce
Image: AP Photo/Rob Griffith
A Royal Australian Air Force AP-3C Orion is guided by a ground crew man on the tarmac at RAAF Base Pearce
Image: AP Photo/Rob Griffith
Updated 11.40am
AUSTRALIAN OFFICIALS HAVE said that a plane taking part in the search for the missing Malaysian airline has spotted objects in the new search area.
The Australian Maritime Safety Authority (AMSA) said it was awaiting imagery from the aircraft.
What the objects actually are is yet to be determined by the Royal New Zealand Air Force airplane which noticed them.
The crew said there were 11 items in the area of the Indian Ocean, about 1,850km west of Perth, Australia.
The sightings will need to be confirmed by ship tomorrow.
Earlier…
A MULTINATIONAL FLEET of planes and ships raced to a fresh search zone after a "credible new lead" that Malaysia Airlines Flight MH370 was flying faster than first thought before it plunged into the remote Indian Ocean.
Ten aircraft from six countries — Australia, China, Japan, New Zealand, South Korea and the United States — diverted to an area 1,100 kilometres (685 miles) northeast of where they have been looking for a week, far off western Australia.
Five Chinese ships and an Australian naval vessel were also steaming to the new zone of interest after the weather cleared following the suspension of the air search Thursday due to thunderstorms and high winds, the Australian Maritime Safety Authority said.
"The new information is based on continuing analysis of radar data between the South China Sea and the Strait of Malacca before radar contact was lost (with the missing plane)," AMSA said.
"It indicated that the aircraft was travelling faster than previously estimated, resulting in increased fuel usage and reducing the possible distance the aircraft travelled south into the Indian Ocean."
The new area is closer to land, meaning planes can spend more time searching before having to return to refuel, and the weather is expected to be better there.
The new search area "has moved out of the Roaring Forties (strong westerly winds), which creates very adverse weather frequently", AMSA chief John Young told reporters in Canberra.
Satellite sightings of unidentified debris in recent days have raised hopes of finding wreckage from the Boeing 777, which vanished on March 8 with 239 people on board after veering sharply off course during a flight from Kuala Lumpur to Beijing and flying thousands of miles southwards.
Malaysia believes the plane was deliberately redirected by someone on board, but nothing else is known.
Thailand has reported a sighting of 300 floating objects. Japan also announced a satellite analysis indicated around 10 square floating objects, although it was not clear if these were in the zones the new search would focus on.