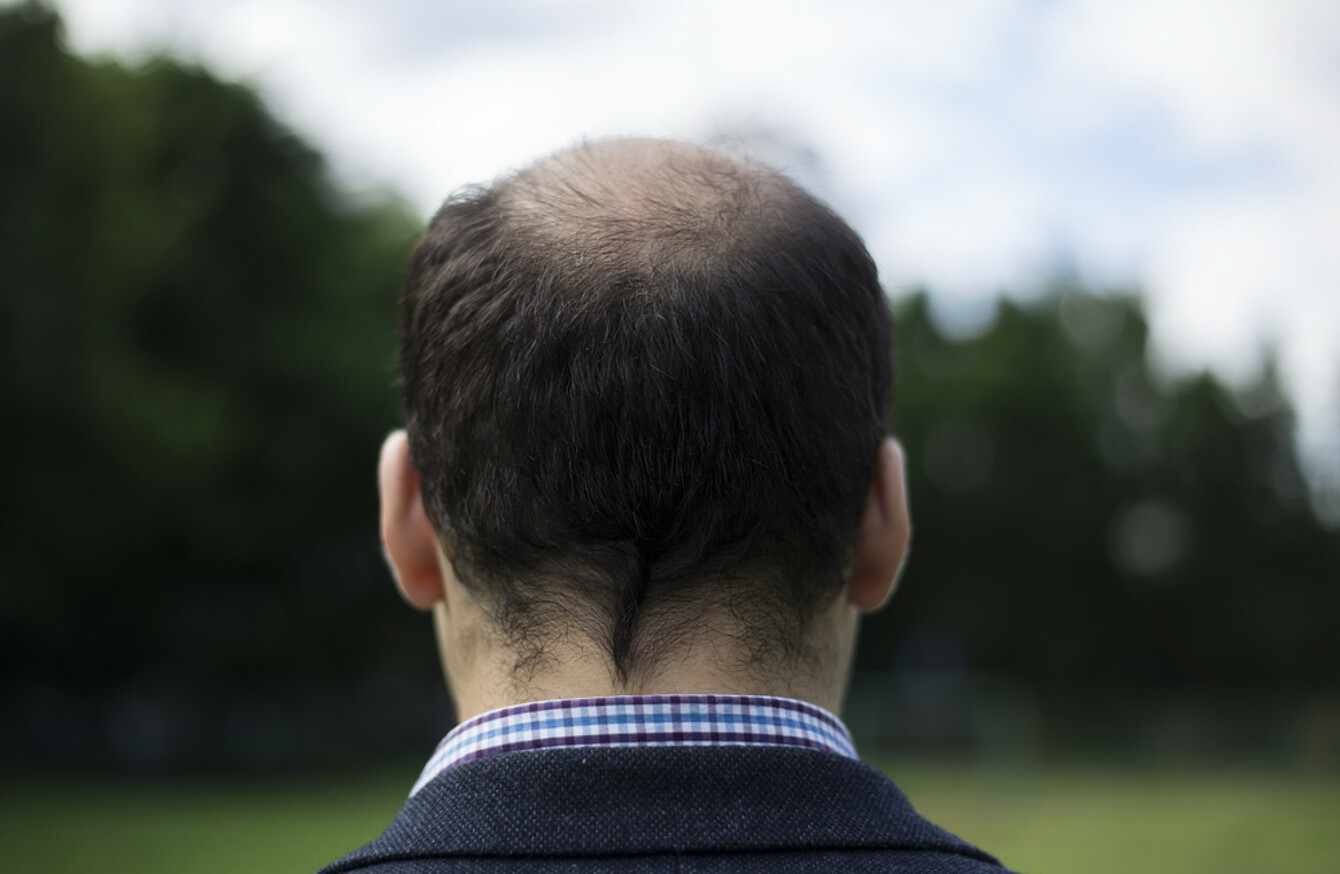 Image: Shutterstock/Evg Zhul
Image: Shutterstock/Evg Zhul
MALE-PATTERN BALDNESS and premature greying are associated with a more than fivefold risk of heart disease before the age of 40, according to new research.
Experts from the European Society of Cardiology (ESC) have also found that obesity is associated with a fourfold risk of early heart disease.
The study investigated the association of premature hair greying and alopecia patterns in young Indian men with coronary artery disease. The study included 790 men aged 40 years or younger with coronary artery disease, and 1,270 healthy men of the same age who acted as a control group.
All participants had a clinical history taken, and underwent a number of tests including an electrocardiogram (ECG), echocardiography, blood tests and coronary angiogram.
Participants were given a male-pattern baldness score of zero (none), one (mild), two (moderate) or three (severe) after analysis of 24 different views of the scalp.
A hair whitening score was determined according to the percentage of grey/white hairs: one: pure black; two: black greater than white; three: black equals white; four: white greater than black; five: pure white.
The researchers analysed the correlation between premature grey hair and alopecia with the complexity and severity of angiographic lesions (an indicator of coronary artery disease) and compared the results between the two groups.
The researchers found that young men with coronary artery disease had a higher prevalence of premature greying (50% versus 30%) and male-pattern baldness (49% versus 27%), compared with men from the control group.
After adjusting for age and other cardiovascular risk factors, male-pattern baldness was associated with a 5.6 times greater risk of coronary artery disease, and premature greying was associated with a 5.3 times greater risk.
Bigger predictor of coronary artery disease than smoking
Male-pattern baldness and premature greying were the strongest predictors of coronary artery disease in young Indian men followed by obesity, which was associated with a 4.1 times greater risk.
Diabetes mellitus, hypertension, family history of premature coronary artery disease, central obesity (fat around the stomach and abdomen), higher body mass index, dyslipidaemia (an abnormal amount of fat in the blood) and smoking were predictors of coronary artery disease, but to a lesser extent than male-pattern baldness, premature greying and obesity.
Principal investigator Dr Kamal Sharma said: "Baldness and premature greying should be considered risk factors for coronary artery disease.
These factors may indicate biological, rather than chronological, age which may be important in determining total cardiovascular risk. Currently physicians use common sense to estimate biological age but a validated scale is needed.
Dr Dhammdeep Humane, lead author of the study, added that men with premature greying and alopecia should "receive extra monitoring for coronary artery disease and advice on lifestyle changes such as healthy diet, exercise, and stress management".
"Our study found associations but a causal relationship needs to be established before statins can be recommended for men with baldness or premature greying."
The research findings were presented at the 69th Annual Conference of the Cardiological Society of India (CSI), which is currently taking place in Kolkata, India.