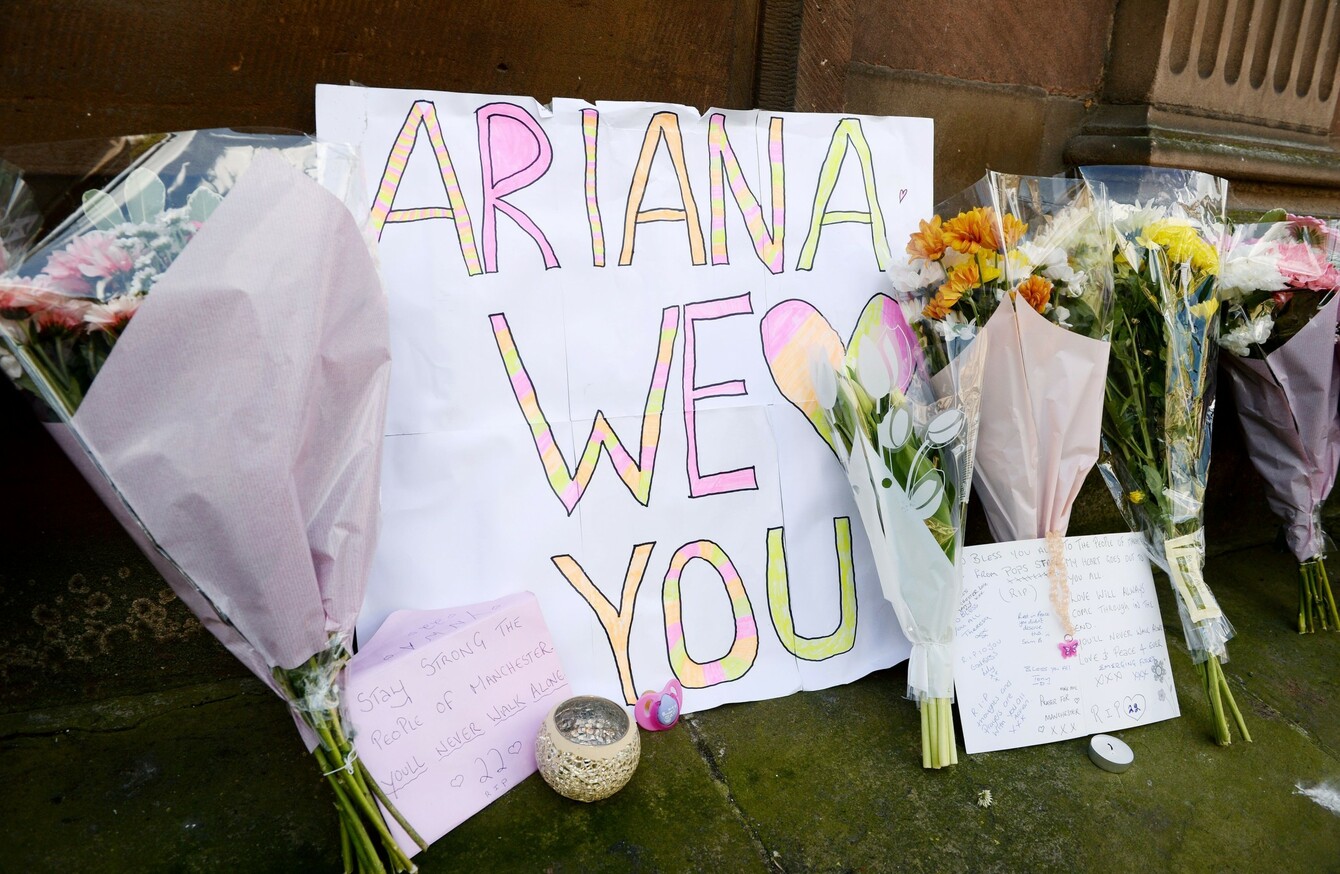 Image: Ben Birchall/PA Wire/PA Images
Image: Ben Birchall/PA Wire/PA Images
THOUSANDS OF CHILDREN, teenagers and parents were in the Manchester Arena last night when a suspected bomb exploded in the foyer area.
Children, including an eight-year-old girl, were among the 22 people killed in the blast.
For many of the children and families present, the effects of the scene will be life-long. Child counselling services and psychologists have spoken out advising parents of all children on how to deal with the trauma of such an event.
Due to the nature of the event, a concert full of positivity, the children present may begin to associate joy and happiness with feelings of danger and fear, according to counselling psychologist Sean O'Connell.
He says that when it comes to talking to your child about an incident such as this, the parent knows their child best.
First, he explained the impact being at the event could have on a child.
"It's an event where everybody is quite happy. There's a lot of chemicals running around the body and it's quite joyful and then all over a sudden it's time to head home and there's nearly release and then there's a bang noise, which could be quite triggering in itself," O'Connell told TheJournal.ie
One of the potential long-term effects is when someone is experiencing a lull after joy, or something associated with joy, there's potential with the brain to start associating that with danger.
"The brain will start to ramp up its defenses. A perceived threat is just as unhelpful as the threat actually occurring as well," he said.
The blast happened at the end of the Ariana Grande concert. Screaming fans, many of them children, ran towards the exits in panic and got separated from their families and friends after a suspected suicide bomber detonated his device.
O'Connell said that in the long-term, a traumatic experience like last night can trigger depression, anxiety and post traumatic stress disorder.
"The best thing is for the family to rally around them, but it would be very helpful for them to engage in some sort of psychotherapy as well," he said.
When it comes to the immediate trauma and how to care for the children in the short-term, O'Connell said it's vital to look at how the children can be made feel safe.
"The gatekeepers of safety for children are the parents or guardians. With kids, if there has been a traumatic event it can be nearly re-traumatising if things change quite a lot, so this can be quite acute in terms of the trauma there."
How to talk to your child about what happened
With so many young victims affected by the attack and millions of other children seeing the news on television today, there may be some parents who are unsure about how to talk about the incident with their own children.
It's important to remind children that they are safe, according to O'Connell.
He said that parents should sit down and think about how they're going to portray the issue to their children in an understandable way in case they mention it.
"It's about reminding them about safety and that the majority of the time things are safe because if you buy into the function of terrorism to create chaos and you're filtering that through to the child it's going to cause further chaos. That will feed into their anxiety," he said.
For children that are remaining quiet on the news today, O'Connell advised subtly questioning the child about what they may be thinking.
"A parent is an expert in their child. They'll know if they're acting a little bit differently," he said.
#Open journalism No news is bad news Support The Journal

Your contributions will help us continue to deliver the stories that are important to you

Support us now
"You could ask how they're getting on in school or if anyone was talking about anything in the news. Just use very minimal prompts and if they say no, it's not about following it up unless it seems worrisome."
Following last month's attack at Westminister, a UK-based charity for bereaved children, Winston's Wish, compiled a list of advice on how to approach the issue of trauma with a child.
They said: "Talk to children using words they understand and are appropriate for their age. It's best to use honest, clear language if possible. It's probably best to tell children information a bit at a time, giving them the opportunity to come back with more questions."
They recommended not to stop children watching television coverage or seeing the newspapers, even if it may be upsetting.
"The temptation is to try to prevent them hearing about it. However, because other children will have heard the news, it is better for your children to have the opportunity to ask questions and receive reassurance from people they trust," the organisation said.
The charity have advised parents to be honest about the topic of bereavement.
"It is normal that children, like adults, will try and make sense of this in their own way.  They will need the support of adults to do this.  If you feel you can, be honest and try to avoid euphemisms (e.g. say 'died' not 'gone away')," Winston's Wish said.
"This will avoid confusion, build trust and reassure children that it is ok to talk openly about difficult things."
Their guidelines are:
Talk to children using words they understand; give information to younger children a bit at a time
Try and encourage children to ask questions
Answer questions honestly and simply; talking about it won't make it worse
Accept that some things can't be 'made better'
Show willingness to talk about difficult things and use this as an opportunity to reassure them
If children are asking questions, it is a good thing – it shows they trust you and it is better than keeping questions and worries to themselves
Remember that 'super parents' or 'super teachers' don't exist. Just do and say what you can
Don't be afraid to show children how you are feeling