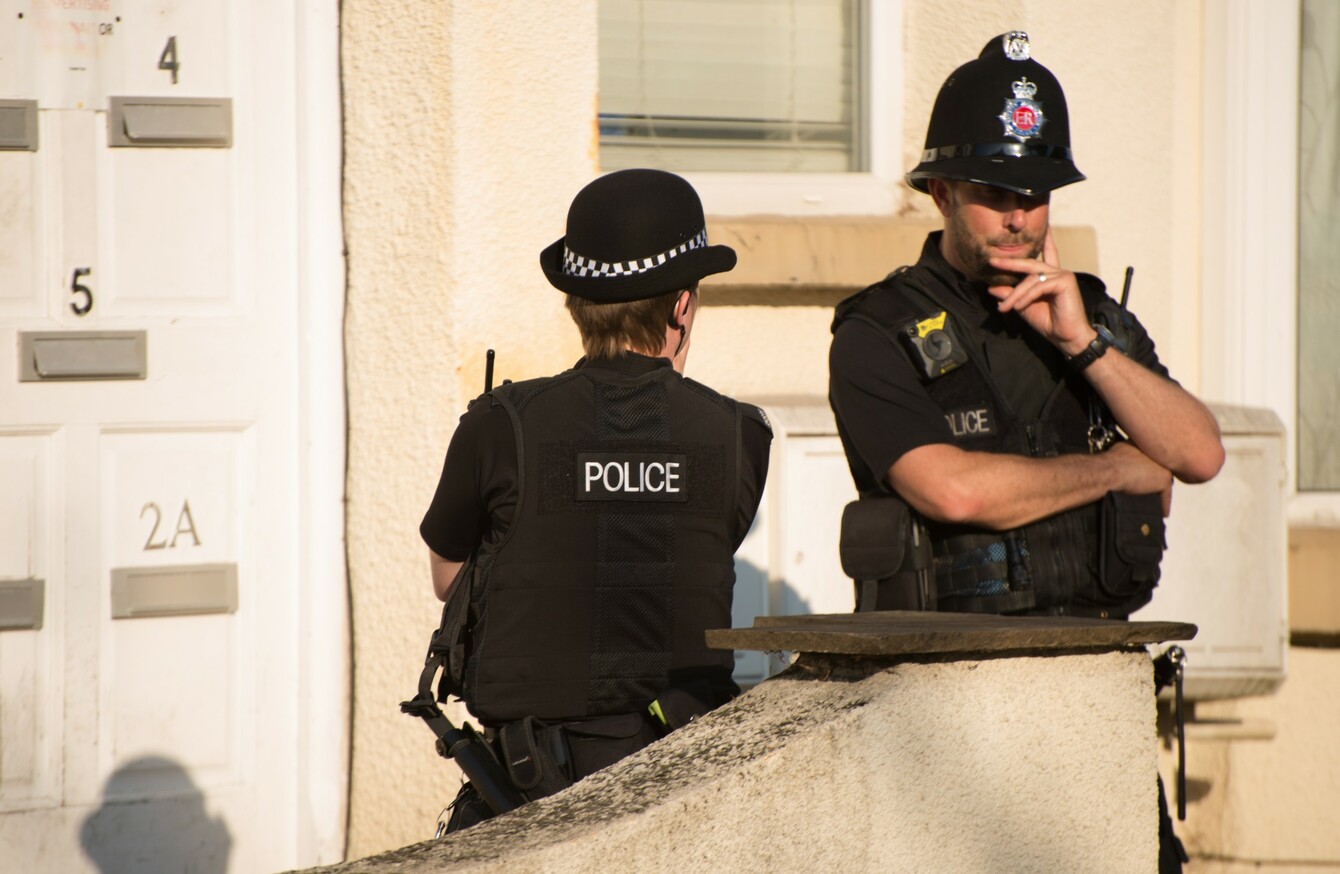 Police officers guard a residence in Manchester.
Image: SIPA USA/PA Images
Police officers guard a residence in Manchester.
Image: SIPA USA/PA Images
A "LARGE PART" of the network behind Monday's suicide bomb attack at a pop concert in Manchester has been arrested, the head of Britain's counter-terrorism police said today.
Police believe they have "got hold of a large part of the network," Mark Rowley said, adding that there had been "immense" progress in the investigation.
Police today carried out a search in the Moss Side area of Manchester and arrested a 44-year-old man in the Rusholme area of the city on suspicion of terror offences as the investigation into the blast continues. 11 arrests have been made thus far, with only a 34-year-old woman and a 16-year-old boy having been released.
Nine suspects are currently in detention on UK soil in connection with the blast, for which the Islamic State group has claimed responsibility, while police in Libya have detained the father and brother of 22-year-old suicide bomber Salman Abedi.
The British-born 22-year-old of Libyan descent detonated the blast on Monday evening, killing 22 people outside a packed Manchester Arena after a show by US pop star Ariana Grande.
British interior minister Amber Rudd on Wednesday described the bombing as "more sophisticated than some of the attacks we've seen before", adding that "it seems likely — possible — that he wasn't doing this on his own".
Abedi reportedly returned from Libya only a few days before the bombing and police are still trying to pin down his movements and determine whether he was part of a wider network.
The Times newspaper today said Abedi was believed to have planned the attack for at least a year, buying nails and screws for the device from hardware stores in the northwestern English city before his Libya trip.
Security sources fear he may have also made a second device which is now in the hands of other jihadists, The Daily Telegraph newspaper reported.

Challenging
In a statement this evening, Chief Constable Ian Hopkins said it had been a "challenging" week.
"There are still 12 locations that are being searched and activity will continue throughout the weekend. The cordon remains around Manchester Arena.
"We have hundreds of officers that are working on this investigation from across the national counter terrorism policing network and we have seized thousands of exhibits that are now being assessed.
"Through such a difficult time, we have seen the best from the people of Manchester, who have come together to support each other since the horrific events on Monday night. I have been inspired by their determination, compassion and solidarity that characterises this diverse city.
"Manchester is a busy place and this weekend we have the Manchester Games, the Great Manchester Run, the Courteeners concert and the start of Ramadan. All these events will be taking place and additional officers, including a significant number of armed officers, will continue to be on patrol.
"There will be additional security checks at some locations and we would ask people to be patient and work with us to ensure everyone can enjoy these events safely.
"Manchester has come together this week and it is important we continue to stand together, particularly in relation to hate filled views that have no place in Greater Manchester."
- © AFP 2017.